Scott Peak el 11393' is the highest mountain of the Beaverhead/Bitterroot complex, one of the longest mountain chains of the Rockies. Several nice descriptions of this mountain are found in guidebooks and on the internet, due in part to its proximity to the Clark County Idaho high point. I'll save for later a description of my first visit to Scott Peak, just days after the 1983 Borah earthquake.
Scott Peak does hold its secrets. Let's see what we can uncover.
The mountain is named for Winfield Abshier Scott (1848-1915). Upon arriving on the frontier of Idaho from the Sacramento area, he changed his last name from Abshier to Scott. We won't contemplate why this was done. Suffice to say, as a successful freighter and miner at Birch Creek Valley, Scott was a respected member in the local pioneer community.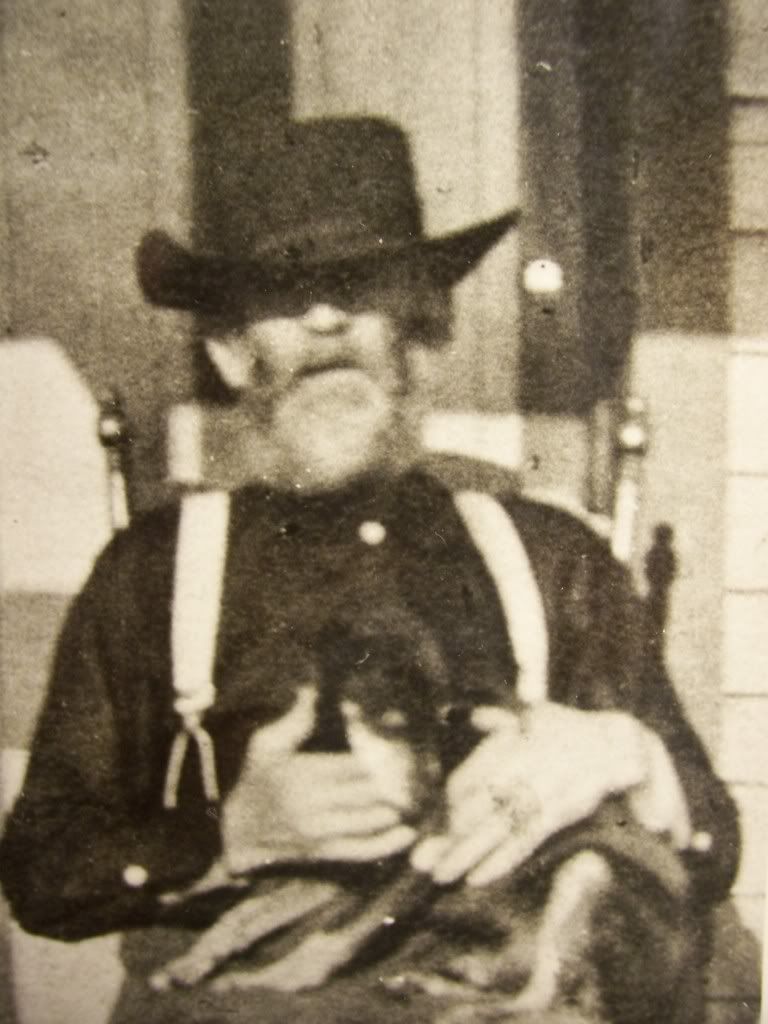 Photo of WA Scott, early 1910's, photographer unknown, Baugher collection
The story goes that Scott passed away in secrecy the morning of July 4, 1915 at Dubois,ID. Not wishing to dampen the spirit of a good old fashioned Fourth of July celebration, the organizers put the corpse on ice until the conclusion of the festivities.
Perhaps it was they who named the grand mountain in his honor?
Finding an early map with the name Scott Peak is elusive, but by 1957 the mountain name and 11393' VABM elevation appeared on the USGS 15' Scott Peak quadrangle.
Who first climbed Scott Peak? Another mystery. The large based stone surveyor's cairn on the summit resembles other monuments placed in the area by TM Bannon ca 1913, yet there is no record of Bannon being here.
It is possible the 1957 surveyors (Walter R Helm?) placed it, but my first guess is Bannon.
Around 1963 Pennsylvania State University geology Phd candidate Oscar Karl Huh, Jr (Huh pronounced like Hugh) climbed Scott Peak as part of his summer field work. Huh was having trouble reconciling the then accepted formation term 'Brazer Limestone' to account for the huge depth and variety of sedimentary rocks he was finding. Instead, Huh broke this down into four separate units, naming one the 'Scott Peak Formation'. After a bit of hesitation, the staid USGS names committee finally accepted the upstart grad student's proposal for names recognition.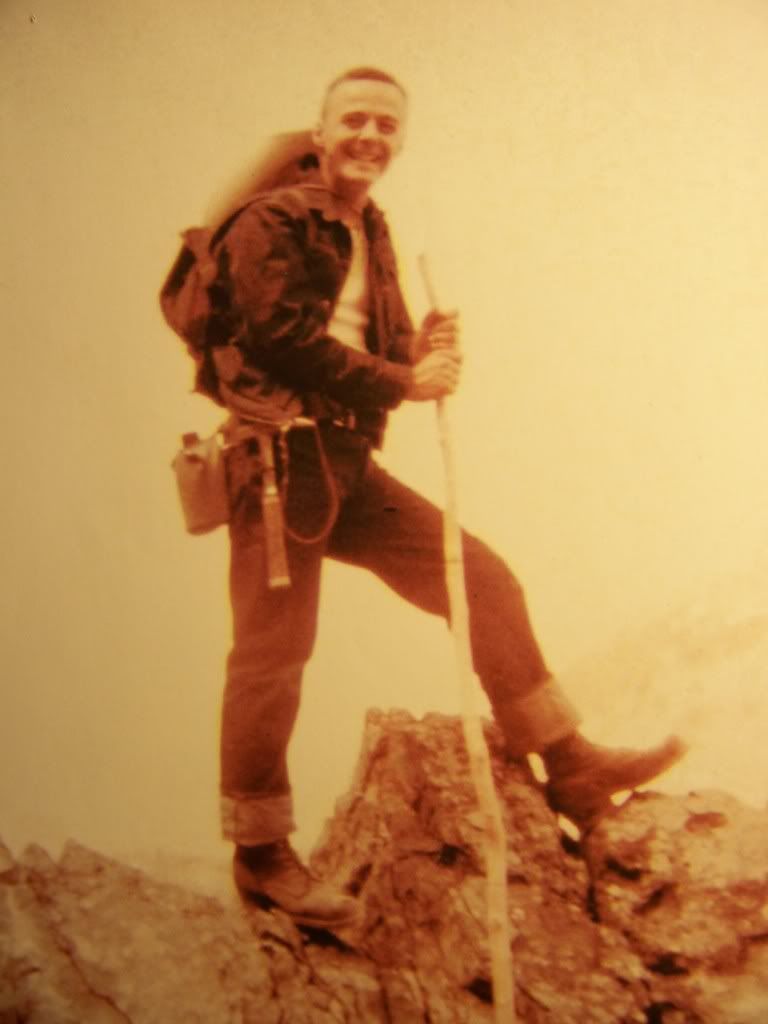 OK Huh (1935- ) doing geology field work in the Lemhi Range, Aug 1959. Tim Hait photo, courtesy Oscar Huh.
Fellow geologists affectionately call all this Paleozoic limestone 'Oscar's Rocks'.
Oscar served with distinction as professor Coastal Studies Institute, Louisiana State University. He and wife Wanda live in Baton Rouge.
In summer 2008 Wanda surprised Oscar with one last trip to his old haunts of Birch Creek Valley in Idaho. No longer able to hike, Oscar still had that twinkle in his eyes as we reminisced about good old times at the Lone Pine Inn.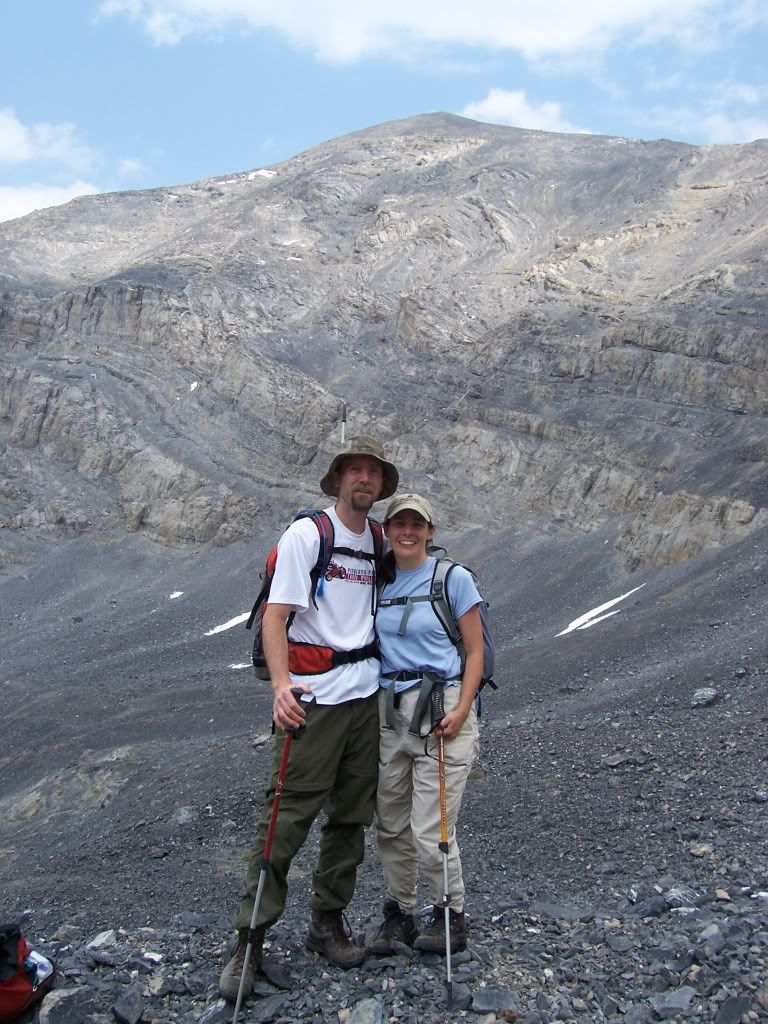 Here, on 7/16/08 Oscar's niece and nephew have climbed to the Crooked Creek headwall of Scott Peak to get a good view of Huh's Horn el 11292'. Oscar describes this as 'horn and col' landscape. Baugher photo