Today was my 513th non-summer ascent of Kelly Mountain el 6805'. I mention this only to point out that on literally hundreds of occasions I have run, hiked, snowshoed, and skied over a Native American artifact, oblivious to its existence.
Today, on the summit ridge of this mountain, near where Bonneville, Madison, and Jefferson Counties join, I saw embedded in the jeep roadway a piece of obsidian (black glass). Digging out the broken pieces, it was still possible to identify this 2" sized knapped tool as a triangular shaped biface scraper.
Based upon similar finds by Earl Swanson and other archaeologists in Birch Creek Valley, a date range of 400AD to 1700AD is reasonable.
(Note: the scraper was left in situ and not collected)
There are some folks out there who will say "Aw, Native Americans climbed all these mountains". I'm slow to agree with this statement, preferring instead concrete evidence, or at least specific compelling logic. It's such big country and there were so few humans.
Since Kelly Mountain, lying along South Fork Snake River, has always been a rich game area, and with an obsidian source in Kelly Canyon, it is intuitive to imagine prehistoric people being up here. Yet, it is satisfying to finally have concrete evidence.
For further discussion on Native American ascents in Idaho, see
http://climbingidaho.com/Native%20Ascents.htm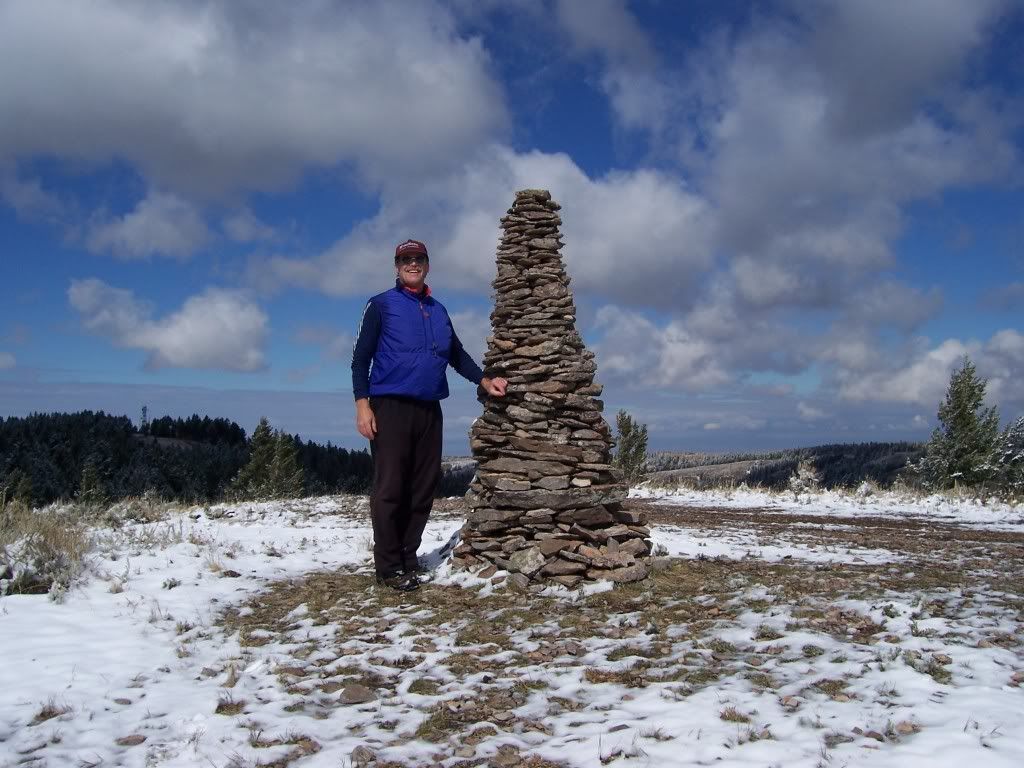 The 6805' true summit of Kelly Mountain on 10/12/07. View NW to the 6790' 'ComTower Summit', near where the scraper was found. Now a 175' tower makes that 45' one look like a toy.
The summit cairn is a fancied replication of alpine survey monuments placed by the Hayden Survey and USGS in latter 19th century.
Prior to Richard Heise's ferry, built after 1894, this north side of Snake River was remote and hard to reach.