There was no indication that Saturday would turn out exceptional. I barely slept the night before, worried about the gigantic smoky face looming above our campsite. My anxiety level was off the charts. My partner, Nick, had his own problem. A varmint ran off with one of his climbing shoes during the night and he was beating the bushes for the little rascal. The shoe was never found. I did not want to climb. I was scared. But Nick offered to go with one approach shoe and one climbing shoe and a half hour later, despite my misgivings, I was leading the first pitch on the vast east face of Peak 11280.
The face is massive and for all we know, unclimbed. Three weeks earlier we had climbed Sky Pilot, the awesome Northeast ArÍte of Peak 11,280. We were so captivated by the climbing, that we desired to came back for more. I shed my anxiety on the first four pitches which looked sketchy from camp, but were actually quite easy. The rock steepened by pitch 5 and poorly protect face climbing bypassed a series of overhangs to allow access to the upper face. Pitch 6 ended with a funky headwall to a crow's nest belay on Sky Pilot proper. We followed Sky Pilot for an additional 6 pitches to the summit. In total, the route was BIG, 12 pitches, all stretching our 60 meter rope.
Nick is a great partner. He kept me going when I wanted to bail. We named the climb "Flight 818 to Sky Pilot". Like its sister route, Sky Pilot, most of the pitches are 5.6 or easier. Pitch #5 (around the overhangs)is 5.9R and #6 is 5.8 or so. Let's call it Grade III, 5.9R. A person with good route finding skills may find an easier (and safer) variation to pitch 5.
The climb did not end at the summit. Our descent was down a scary path which bisects the north face of the adjacent (northern) unnamed peak. This narrow ramp was recently discovered by Marc Hanselman of Sawtooth Guides. Very freaky and exposed. Thanks a lot, Marc.
The dark smoky east face of Peak 11280.
Nick belaying on pitch 1 the black dihedral. (Hope this photo is no tilted.)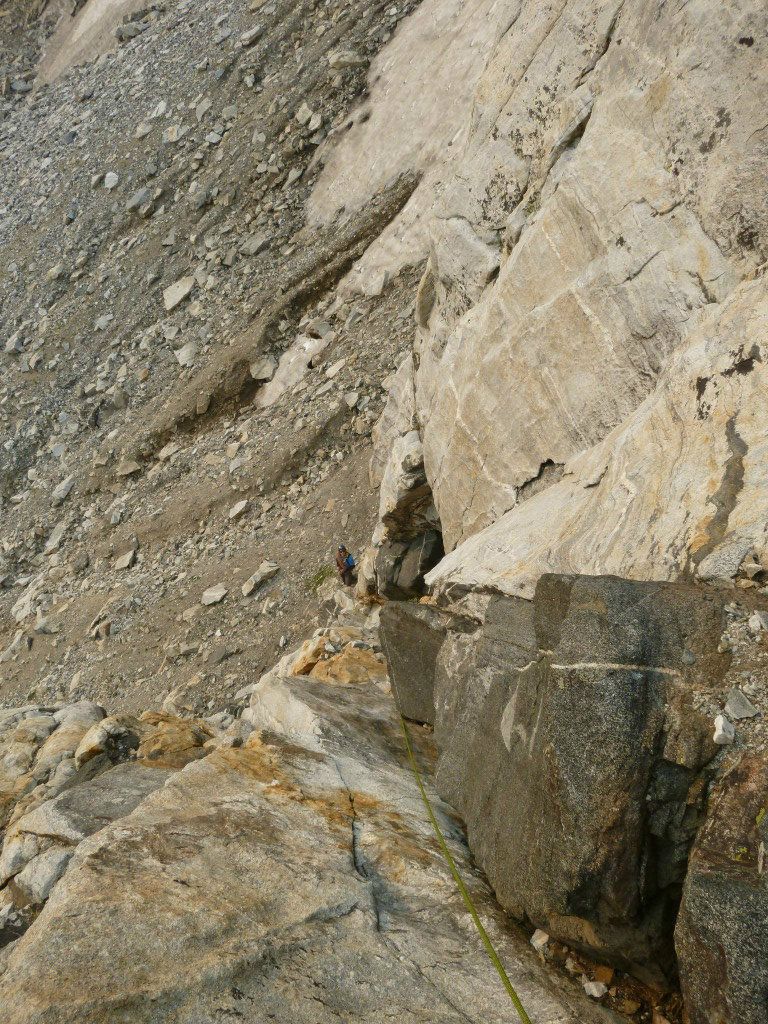 Pitch 3.
Nick leading pitch 4 as the route steepens.
The 6th pitch connects to Sky Pilot left if the diving board.
The Crow's Nest. Sky Pilot takes the ArÍte on the left and Flight 818 takes the face to the right.
We descended down a ramp on the steep north side (right).
Sunday brought blue skies. The red line marks the rout. The top is very foreshortened. There is still 6 pitches to go after reaching Sky Pilot.