Kind of stuck.
Lost (or used in some other project) the original striker spring and I don't have a good replacement. The lower power one that is in there maxes out at 150BAR. Even shimmed up, sweet spot is at 150BAR. When I buy/find a replacement spring, would be able to either get more power...or by adding that new spring and then strangling off the transfer port slightly, the same power as now and a longer shot count.
Also did not find the original top hat (the spring guide that fits into the striker). Found a lighter version (not ultra light, just spool shaped so its about 15% lighter).
[IMG]
[/IMG]
The odd thing is the stroke adjuster. As expected, shortening the stroke lowered speed and lengthening stroke increased speed. BUT, past about the middle point, speed decreased as stroke increased. Really not sure why.
Anyway, after a half dozen disassembles and changes, here is where I leave it for today:
[IMG]

[/IMG]
BAM 51
10X42mm 30mm tube
21gr. Baracuda
150-110 BAR
5 shot/25 yards
String:
785
785
788
786
785
787
789
794
800
800
806
810
809
806
807
800
803
800
801
794
Average: 798 / 29.7foot pounds
Works out to a bar-cc/fpe of about 14
(In case you are wondering, 14.3gr pellets average 922fps).
Which isn't real impressive. Thats only 20 shots inside of 25fps.
But it shoots decently well:
[IMG]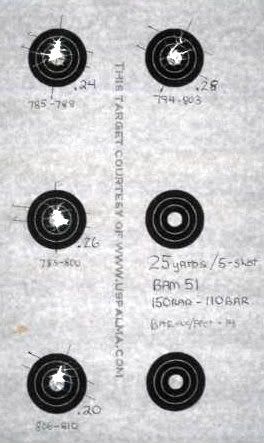 [/IMG]
So I'm thinking (in terms of your project):
If I can get the sweet spot up 25% to 180-185 BAR (new spring and a heavier top hat) and the efficiency a little bit better (10%) might get close to 28 foot pounds/30 shots.