Going to pull a few sections from several old posts with the hope it helps you out a bit (and likely post later a full take down prodeedure).
.177 version.
One I finnally got off work with enough daylight to shoot, this is what it did out-the-box.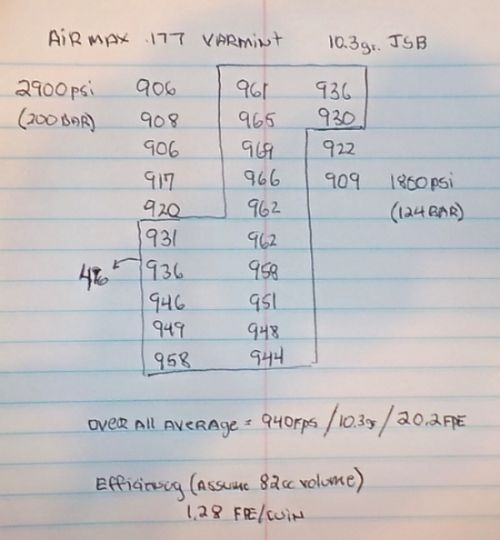 This is "out the box" performance. All I've done so far was to empty and destock the rifle, clean the bore, tighten all the screws, put it back together, and fill it (the above shot string is only the rifle's 2nd fill).
Sandbagged like a WWII Japanese pillbox in a John Wayne movie, mostly sheltered from the wind, old but always been reliable 12X scope, great light, and all the time in the world.
OK..give you that the 8.4gr. are shooting too fast.
The 10.6gr. crosmans were hard chambering, so a little "big headed" for this barrel. Results are slower than they should be with a lot more velocity varation (and poor accuracy).
21gr. Piledrivers just don't want to shoot in this barrel. Really good energy level, but not so impressive in the accuracy department.
Next day I tried again at 20yards, then doubled the distance (40yards) and tried the 10.3 JSB's against the 16.2 JSB's
For all that, EITHER (1) didn't shoot enough to tell the difference between pellets OR (2) there isn't enough accuracy difference to make a rat'srump.
You can tell I'm an airgun-nut...can't find a dime..had to use a penny ( abut .75") for comparsion... all my money is tied up in airguns and pellets.
Working with it exclusively for a couple of weeks, really figuring out how it ticks:
It's a lot of rifle fo the $.
1. 3k operation
2. High energy
3. good accuracy
4. Repeater if desired (mag is supplied).
5. Metal and wood construction, but still can easily come out below 6 pound weight.
6. trigger can be adjusted (just not externally).
NEGATIVES: Lets aslo rember that "cheapo" rifles are likely to be more variable in performance).
7. Trigger will lose safety operation if adjusted. #6 is still true, but the safety is likey to just go "click-click" and not actually stop the rifle from fireing when on safe.
8. Short shot count at the high energy level. It's only about 88-90CC's of air volume, so it pretty much gives 18-20 "good" shots at the +20 foot pound range. Efficency isn't bad, just a small gas tank.
9. As issued, it's "way-loud". LDC is just nto going to do much good on the PCP version as it's just got a tiny internal volume. Will need an aftermarket LDC.
10. Design is such that the rifle will need to have the tressure run to zero and the gauge unscrewed in order to safely get the stock off the metal.
11. Likely (like mine) to have been assembled with o-rings that tend to swell under pressure. Makes taking the "guts" out a PIA. Be ready to run out and get different o-rings to reassemble (or use the "spares" in the o-ring kit that comes with the rifle, and then be ready with different spares).
HAve been inside, and will post that seperately just in case you have the urge or need to go in there to change or repair something. Played with the spring settings and the transfer port size, but found it really wanted to run well (efficently) as a fast .177.
Did pull the almost decorative issue LDC and added a much more functional one.