HAd been hoping someone would take another stab at a QB PCP.
Back when, just before Compasseco was bought out by PA, they offered a QB PCP and actually delivered a few. Might have been 2006 or 2007....anyway, the economy was in the dumpster and lots of small machine shops were looking for some way to keep open. As I remember it, the tube was outsourced to some machine shop in Tenn. rather than overseas (but I could remember that wrong).
Total turd. Tube seemed a good one, but all they did to the QB was jackass the mainspring to higher tension (by adding 1/3th of another mainspring) and and add valve retention screws into the valve. Used a standard QB co2 valve (still with the piercing stem and fiber washer, which disintigrated under 3K air pretty quickly), standard squish transfer port (which didn't much care for 3K air either).
Lets see if I can find some old pictures.
Pretty much out-the-box back in 2007-2008:

OK...here is the sping-and-a-third. two seperate springs, just a standard spring with 1/3 of another standard spring added on. Only words to describe this are "chicken-ship-cheap"..seriously...how much could a real spring have cost?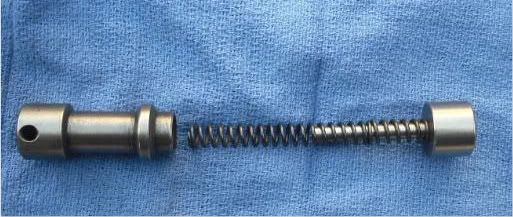 Fate of the fiber filter in a standard co2 valve when 3K air blows though:
Eventally, with a good bit of work, ended up making a good (if long) .25 out of the mess. New barrel, new (lighter) striker, one-piece mainspring, heavily revised/simple valve, cleaner air passages/trasnfer port,etc....been a work horse for the last 8 years.
So basically, back then, it was a make-shift effort from folks that obviously hadn't a clue how PCP's really worked.
THE ONE YOU SHOW...even though you didn't go inside, is likely a GOOD RIFLE. IF they went to the trouble to make a new sized breech...add a gauge...go to cock on opeing....it's likey that the folks who designed/built that actually understand something about how PCP's work.
So lets stop for a moment in time (2/14/17) and count.
How many Sub $200 (new) PCP choices will there be shortly?