Not sure who made them, another poster sent me a sample for testing. Definately swaged and about 30gr. Made my last run of cast slugs a little shorter to come ou at 35gr. and tossed in some JSB 25.4's for comparison.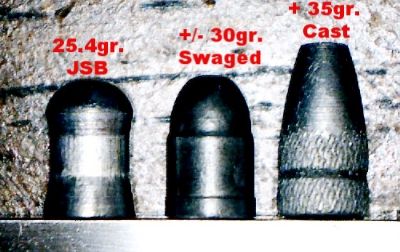 Recovered slugs got mangled. Cast slug is a bit harder than I had hoped for considering the lead was all from airgun pellet (tend to clean the traps and save the lead). Got an idea of engravement.
Shot well...one one test target, so not enough data to claim a real "winner".