that regulator needs some attention as it is "creeping". The basic way regulators work is that spring tension is applied to a piston with a seal on the end of it, the air adds to that tension. The difference between the spring tension and the air tension is the regulated output.
What is happening with your 13ci bottle is that the little sea that is suppose to shut off the air is leaking. Slow leak, so the pressure creeps up over time. given enough time, and the out put would equal whatever the pressure inside the bottle (3K if it's filled to that level).
Basically, you need to either send that reg. in for a rebuild, or if it is one that can be self-serviced, will need to replace that little piston.
(it's also why i'll store the HPA guns with the RAP4 on/off on "off".)
From an old post:
Here it is set up on one of the HPA conversions:
[IMG]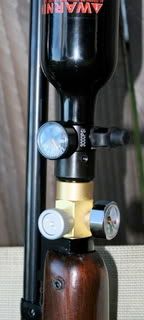 [/IMG]
Pressure is a safety concern.
Inside your reg . is a piston. That piston turns the air on and off by way of a little seal in its back end. Regulation can be controlled by washers or a coil spring, but if that little seal doesnt seal, the pressure will creep up.
(In simple terms, a regulator works by spring pressure that is not enough to seal that little piston. Needs a bit more pressure to seal. The amount (pressure) of air needed to make that little piston seal is the output pressure.)
Have had one regulator do this, slowly creeping up from its 1100psi setting. Inside of 10 min., it was at 1300psi. In another 15 min, had crept up to 1500psi. If I didn't have the on/off gauge to show me, or if I had put the gun away in storage, would sooner or later creep up to whatever the pressure was in the tank (3,000psi).
The burst disk should have blown before anything really nasty happened. Key word here is "should".
You could figure out a case of creep with a chronograph. If the gun shoots faster the longer you wait between shots, its creeping and the bottle needs to be taken out of service for repair.