> So Edlebrock shows these numbers on their intakes.
> A=4.42 B=5.70 on the Performer
Those are incorrect. Edelbrock's numbers are A=3.50", B=4.30 for the Performer.
> A=4.48 B =5.56 on the Air Gap
Those seem close. For comparison, here are some of my own height measurements.
Measurements are in inches and the forum software will likely remove the format
spaces:
A B
Edelbrock Performer LB 3 1/2 4 3/8
Edelbrock Performer RPM Air Gap 2V 4 1/2 5 5/8
Holley Street Dominator 2V 4 3/8 5 3/8
Offenhauser Dual Port 2V 3 1/2 4 1/2
Offenhauser Port-O-Sonic 2V 3 7/8 4 7/8
Parker Funnel Web 2V 6 1/2 6 1/2
Parker Funnel Web 2V 6 7/8 6 7/8
Weiand Xcelerator 2V 4 1/8 5 1/16
Weiand Xcelerator 2V 4 3/16 5 1/8
Scott Cook (1st version CHI 3V, 4V, A3) 3 3/4 5
Bud Moore Engineering Maxi-Plenum 6 5/8 6 5/8
Edelbrock Torker 4V 4 1/2 5 1/2
Offenhauser 360 4V 3 1/2 4 1/2
Parker Funnel Web 4V 6 3/4 6 3/4
Holley Strip Dominator 4V 4 5/16 5 3/8
Blue Thunder 4V 4 7/16 5 3/8
Edelbrock F-351 Performer 2V 3 1/2 4 3/8
Ford aluminum 4V 3 1/4 4 3/8
Offenhauser 360 4V 3 1/2 4 1/2
Weiand tunnel Ram 9 1/16 9 3/8
base 6 1/4 6 1/4
top 2 3/4 3 1/8
A331 (Edelbrock version, not Roush) 4 3/8 5 5/16
Motorsport A331 (Roush) 6 3/4 6 3/4
Motorsport A351 (Roush) 6 3/4 6 3/4
Motorsport B351 (Roush) 6 3/8 6 3/8
Ford Motorsport C351 (Edelbrock) 7 7
Coffield IR EFI (to air cleaner top) 9 1/2 9 1/2
CHI 3V single plane 7 7
I still have a few more (D1ZX FA, Boss 351, Shelby, Offy Dual Port 4V, etc.)
I need to measure and add to the database.
> What does that mean? My feeble mind see's this and thinks that they should
> be close to the same height.
Lay a straight edge across the carb pad. A is the distance from the straight
edge down to the end seal rail (bottom) at the front of the intake. B is the
same thing at the rear of the intake. On a Pantera, the B measurement is the
important one. The Pantera mounts the engine level but these intakes are
designed for front engine applications which mount them tail down. In the
Pantera, the back of the intake ends up higher than the front. Installing a
round air cleaner amplifies the effect and can cause interference at the edge
of the decklid (not just the engine screen) so sometimes you need to go to a
smaller diameter (or oval) air cleaner. Even though the difference in "B"
measurement is only 1 1/8" (Performer to Air Gap), the effect is amplified by
the cant angle and the diameter of air cleaner. This is a link to a picture
of my red Pantera when it had an Aussie 2V headed 351C with Weiand Xcelerator
single plane. The air cleaner is a drop base with a 2 1/4" tall K&N filter
element which puts the top lid very close to the carb choke horn and vents: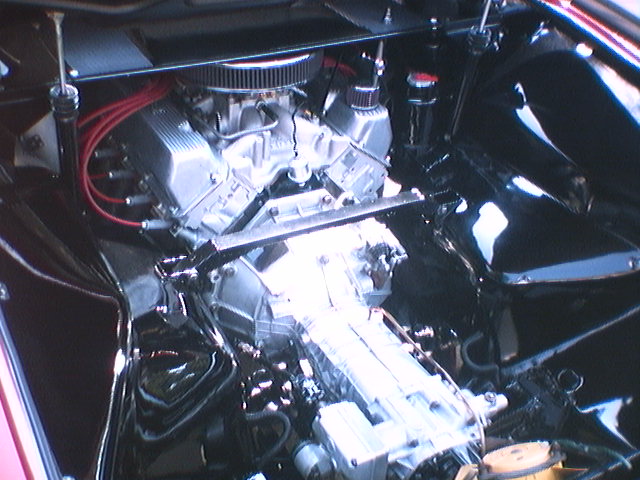 Notice how the air cleaner top sticks out past the stock engine screen.
On my white Pantera, I ran a 13" diameter air cleaner and it was right at the
edge of the engine screen. Since there are shims in the transaxle mounting
ears and you can swap around the motor mounts, you can change the fore-and-aft
placement of the drivetrain but the distributor cap to firewall clearance
becomes the limiting factor on the other end.
> Larry has got some new Edelbrock's on a engine and has his dyno operational.
> Had to work some magic on them and says the CHI' are a better choice right
> out of the box.
I've not had any of the aftermarket 2V heads on the flow bench but there are
some independent user numbers posted on the internet. The Edlebrocks are
decent heads but, if the advertised numbers are to be believed, the TFS 2V
heads are considerably better and slightly cheaper. Given the exchange rate,
the TFS heads are considerably cheaper than the Australian heads. CHI 2V
assembled are $1800 bare and $2500 to $2700 USD assembled (shipped). TFS are
$1080 per pair bare, $1900 for 190 cc assembled to $2400 to $2750 for the CNC
ported 225 cc assembled versions.
> What combo would you say works best with the CHI 2V 190's
What cubic inch displacement? What RPM range and shift point? Do you need
to retain the stock engine screen? Hydraulic or solid? Flat or roller
lifters?
Dan Jones