Take a good look at the photo...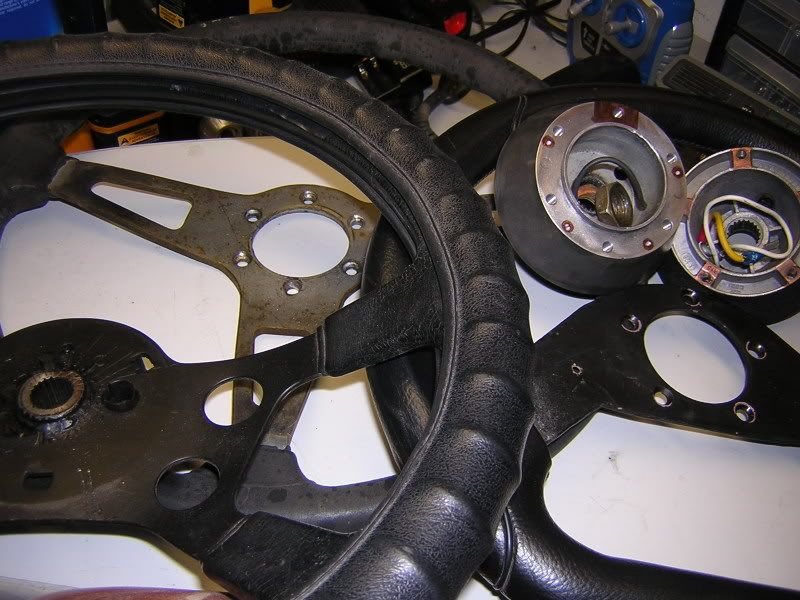 http://i46.photobucket.com/albums/f108/Black-Tooth/steering3.jpg
Stock wheel on left, 124 wheel in middle with silver center and 6 hole (MOMO) mounting.
APC/Grant wheel with 5 hole (GRANT) mounting.
Also note the bolt circles, be they 5 or 6 holes, they are the same... and that the top center hole works to align either wheel on either mount.
I've marked and will drill FOUR holes and tap them on the 124 mounting hub... and also drill and countersink FIVE holes in the APC/Grant wheel. The Grant 5 hole hub is on the right, P/N 6504... about 55 bucks through Summit, and notice on the Grant hub, there is not enough webbing to redrill and tap a 6 hole mounting.
Anyway, all four will now be interchangeable!!!
Just be aware that drilling any 5 hole wheel (for 6 holes and visa versa for 5) will need a horn button to cover just for aesthetics. But this gives us a whole new variety to choose from... and inexpensively.
ALSO... Grant sells an adapter for 6 holes to be mounted on 5 and visa versa... P/N 4009 and 4008, respectively I think. Available through Summit for about 17 bucks plus shipping.
LASTLY... the stock wheel could become a donor hub with a bit of work...
My best,
Tony
Black Tooth and me... since 1983!