... troubleshoot the problem.
On 87's there is a HIGH BEAM relay in the fuse box... and I believe this circuit is addressed when the low beams are operational also. I haven't had the need to trace one out... but if you look closely, you can swap out the high beam relay with one of the other LIKE relays (two types used) to PROVE or DISPROVE the relay as the problem.
This can be done rather quickly and eliminate that part of the circuit.
Most late model folks don't seem to have a NEED to add an addional relay for the low beams like us EARLY folks... who need to add TWO in order to get any real power to the lamps. BUT, it wouldn't hurt, especially if you prove the problem to the headlight switch itself.
(Also look for burnt wiring and connectors at the ignition switch CONNECTORS.)
Keep in touch and we can probably SYSTEMATICALLY find the problem.
Lastly... I don't think there is a SINGLE one of us that hasn't had a similar problem with our headlights... just no COMMON remedy!
My best,
Tony
Black Tooth and me... since 1983!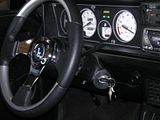 Disclaimer: This message does not necessarily reflect the views of the sender, or, for that matter, any other carbon-based life form; Any resemblance to actual persons, living or dead, is unintentional and coincidental; All models are 18 years of age or older; Dry clean only, do not use bleach, Tumble dry and remove immediately; Do not bend, fold, staple or mutilate; Anchovies, cheese or jalapenos may be added to orders upon request for an additional charge; Professional driver on a closed course, do not attempt to duplicate; Your actual mileage may vary; No substitutions are allowed; Available for a limited time only while supplies last; Offers are void where prohibited by law; Humor is provided "as is" without any warranties expressed or implied; The user assumes full liabilities and originator is not liable for damages due to use or misuse; We are an equal opportunity employer, with no regard to race, religion, sex, or sexual preference; No shoes, no shirt, no service; Read at your own risk; This post may contain material some may find to be objectionable; Parental advisory: Explicit lyrics; keep away from pets and small children; limit one-per-family please; No money down; No purchase necessary; Ask us about our guns-for-dope trade-in plan; You need not be present to win; Some assembly required; Batteries not included; Action figures sold separately; Contents were packed full at the factory, but may have settled during shipping; Peanuts and peanut products are produced in this establishment and also consumed by the author; Sanitized and sealed for your protection; Do not use if safety seal is broken; Do not use while operating a motor vehicle or heavy equipment; Safety goggles may be required during use; Use gloves when handling; Call before you dig; Use only with proper ventilation; For external use only, if a swelling, redness, rash, or irritation develops, discontinue use; Do not place near a flammable or magnetic source; Keep away from open flames; Avoid inhaling fumes or contact with mucous membranes; Contents under pressure, may explode if incinerated; Smoking may be hazardous to your health; No smoking allowed, except in designated areas; The best safeguard, second only to abstinence, is the use of a good laugh; Text is made from 100% recycled electrons and magnetic particles; No animals were harmed while writing this post; No salt, MSG, preservatives, artificial color or flavor added; If ingested, do not induce vomiting, If symptoms persist, consult a comedian; Ribbed for your pleasure, slippery when wet; Must be 18 to enter; No one under 21 allowed; We check IDs to age 40; Seniors Welcome; Ask for our Senior Menu; Present discount coupons to cashier before totaling; An 18% gratuity will be added to the total for parties of 8 or more; We reserve the right to refuse service to anyone. Return all carts to the store; No dogs allowed, except for the visually impaired; Penalties for early withdrawal, one size fits all; Offer is valid only at participating sites; Prices slightly higher west of the Rockies; Allow four to six weeks for delivery; If defects are found, do not attempt a repair, return to an authorized service center; Please remain seated until the vehicle has come to a complete stop; Objects in the mirror may be closer than they appear; Fasten seat belts; In the unlikely event of a loss of cabin pressure, oxygen masks will fall from above, cover your face first, then assist those around you. Your seat cushion may be used as a floatation device. This disclaimer is invalid in the event of hurricanes, floods, earthquakes, sonic booms, vibration, electromagnetic radiation from nuclear blasts or any other act of war, unauthorized repair, improper installation, misuse, typos, misspelled words, missing or altered signatures, and incidents owing to computer or disk failure, accidental file deletions, and Acts of God. Other restrictions may, or may not apply.