Heh heh. S&M Christmas cards.. where would I find such a thing??
Seriously, this is worse than what she was doing before. I actually headed her last letter off at the pass because she mentioned to me that she was writing it.. It was before L and I got engaged, and apparently the whole thing was all a guilt trip about how he "wouldn't marry me" and how he was "taking advantage" and all sorts of crap. Never mind that I wasn't even ready to consider remarrying yet!!! I guess in the JW mind, if you date for more than 3 months, you SHOULD be at least engaged!!! I told her that if she sent that letter, I would never speak to her again, and furthermore I would never even send her a picture of any future grandchildren, and I would send a letter to the elders detailing all her contact with my evil, DF'd-ness for the past 10 years. LOL
She is really a piece of work. I could write the funniest novel on the planet earth just using real stories from my f'ed up family.
I am still steaming about this, though. It's completely typical of her, but I still can't believe she did it!
--b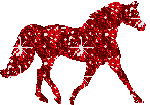 My horse loves me no matter what you think.