Thanks for the comments, everybody. I am almost recovered from the craziness involved with the wedding. And I do mean craziness.. My sister and I had an "episode" that we are still not over. I'm not looking forward to addressing that.. but otherwise, the wedding was the most beautiful and incredible experience I have ever had! It was amazing!!!
Trigger wasn't part of the ceremony, unfortunately. It's winter, so he's all fluffy and silly looking, and I don't think he would feel very good about large crowds and poufy white dresses. LOL He was happy at the barn, i think.
:-D
BTW, being married is GREAT... when you marry the right person. L hasn't even taken his ring off, not even once, since I put it on his hand. He is (if it's possible!) more excited about this than I am.
Now I think I understand what all the fuss is about..
--b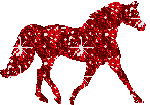 My horse loves me no matter what you think.