There is a place called the Grand Canon of France and the French call it "Les Gorges de Pennafort". It is located in the department of the VAR in Southern France, not far away from Draguinan and belongs to the village Callas.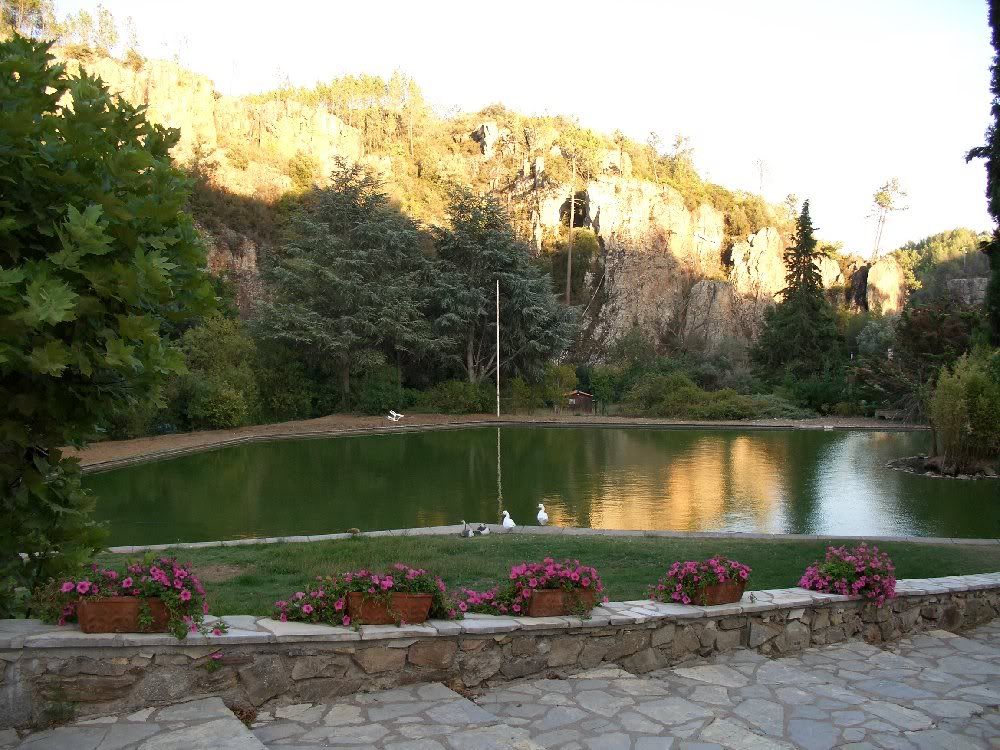 Very close is a great restaurant, also called "Les Gorges de Pennafort". It has a rating of one star * by the Michelin Guide and 16 points by the Gault et Millau Guide.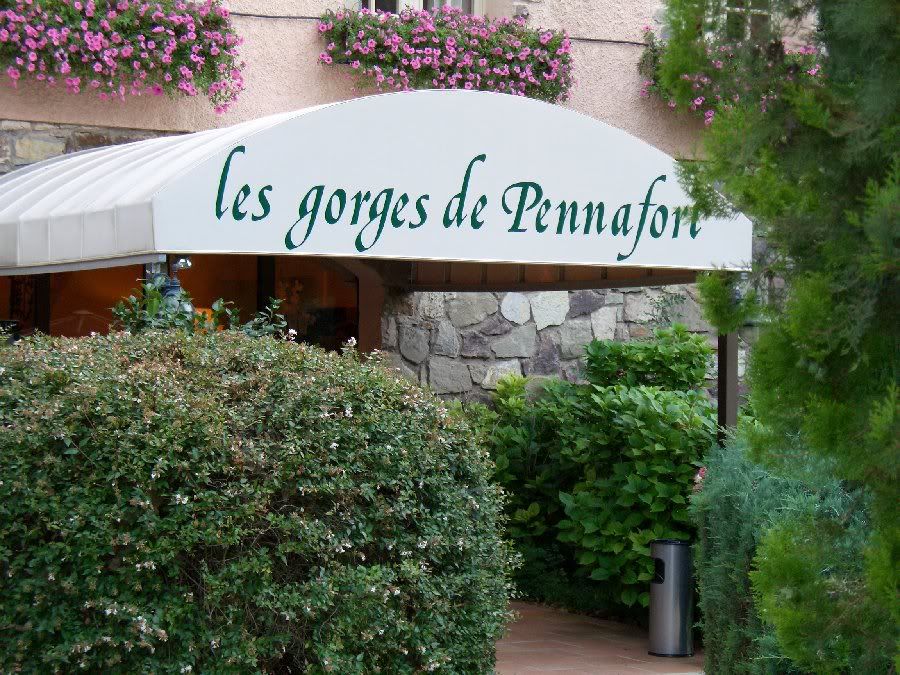 A friend of mine has celebrated his 40 years of marriage and invited me to an absolutely outstanding dinner at this place. Here are a few of the party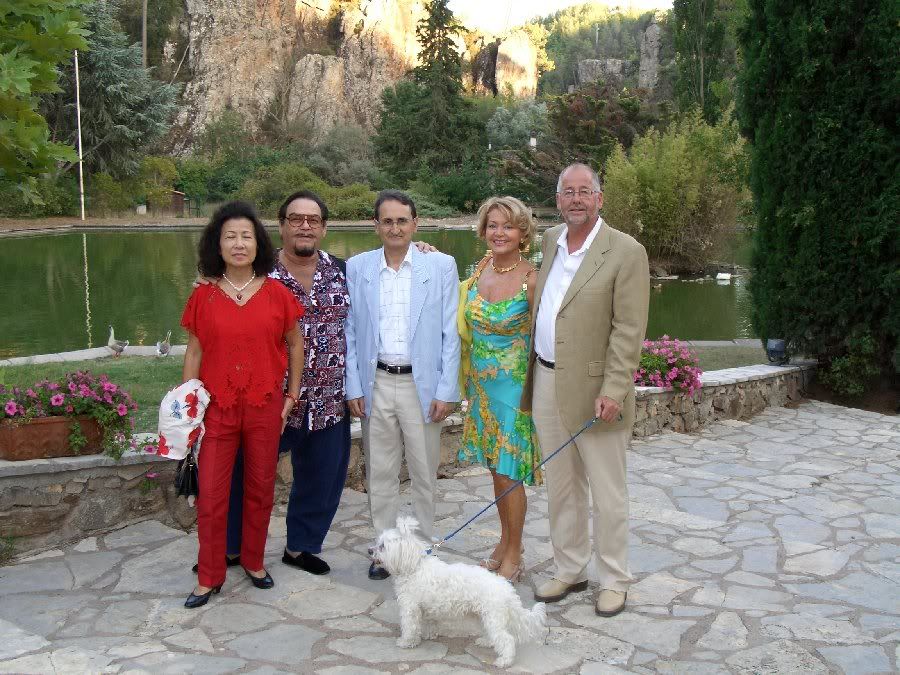 And the happy couple having been married for 40 years
A photo of the owner and chef, Philippe Da Silva
We started with a glass of champagne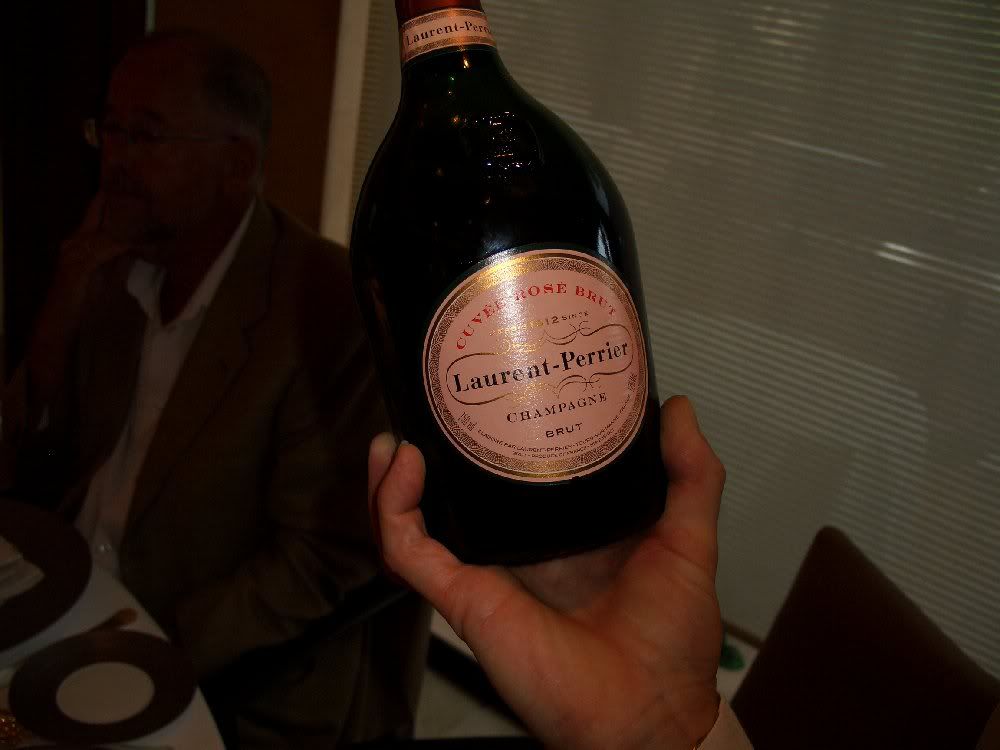 And for the 16 course dinner (if you count the amuse bouche at the beginning and the mignardises at the end) we had a great red Bordeaux wine, Pomerol, La Fleur Petrus, at 250 Euros a bottle (around 320 US Dollars)
A glimpse on the less expensive menus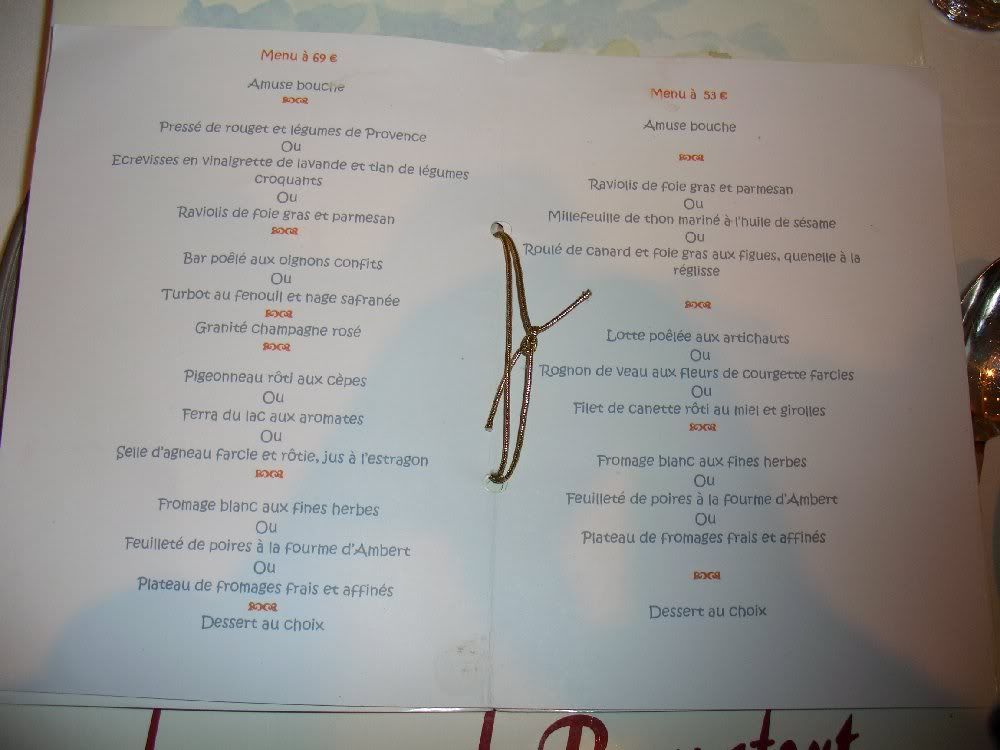 And the rather more expensive menu at 130 Euros (around 165 US Dollars)which we were treated with
As a starter we had wonderful "amuse bouche", in English literally translated "mouth amusers'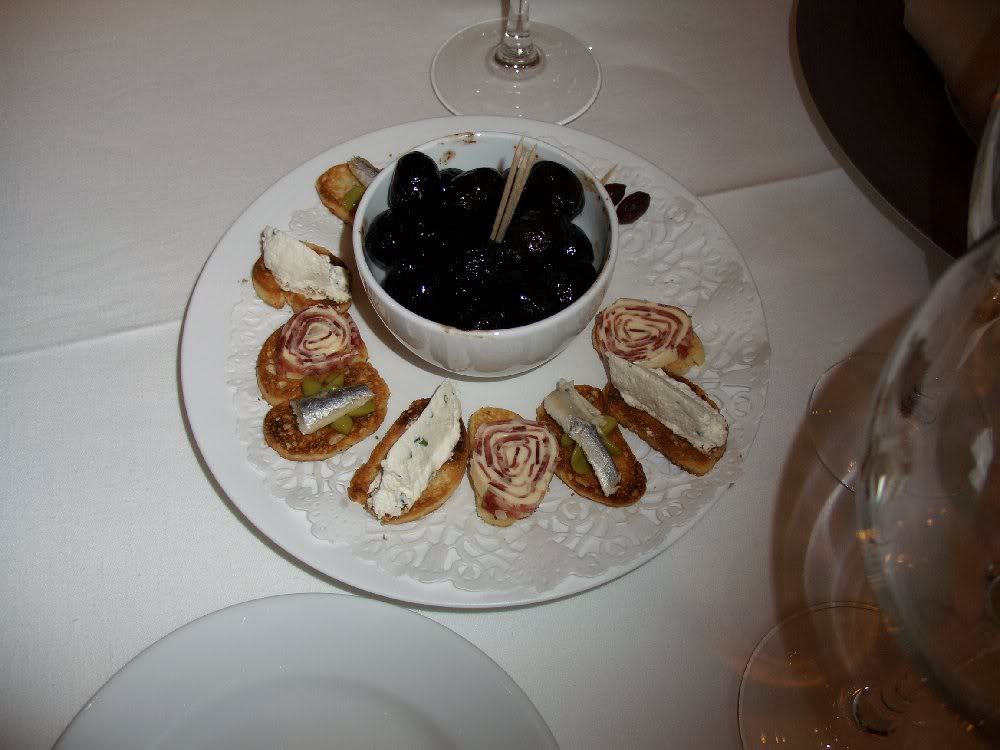 Then we started the dinner with a cold Gaspacho (not on the menu)
A salad of giant shrimps came next with asparagus and salad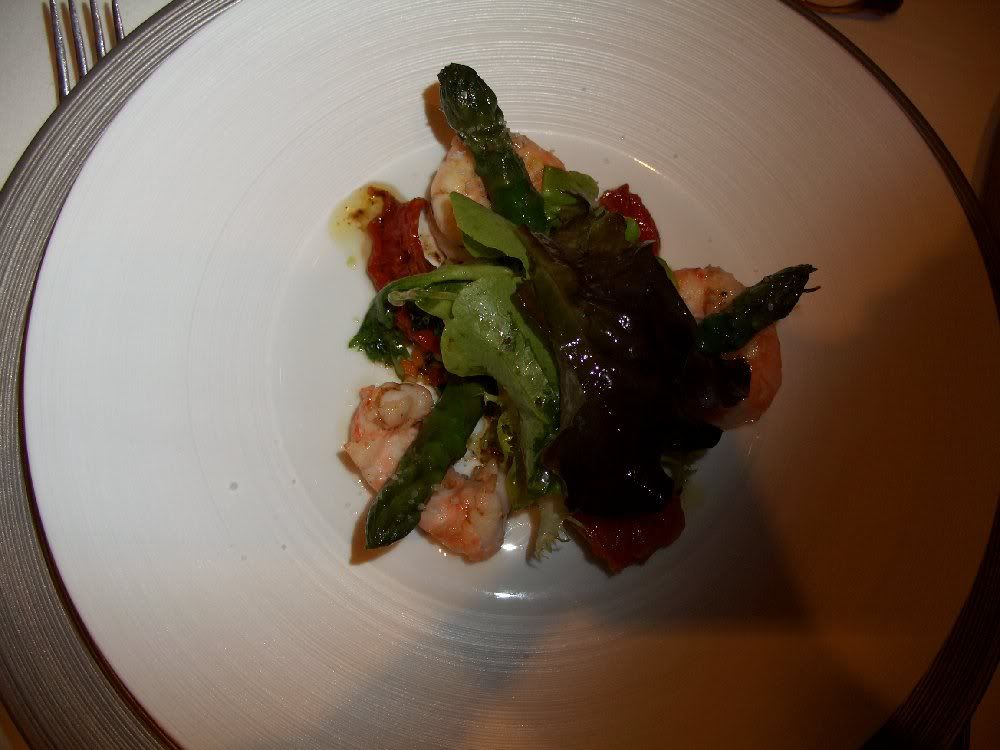 Another high light were Ravioli stuffed with warm goose liver
Followed by pan fried goose liver and nobody minded at all to have two dishes with goose liver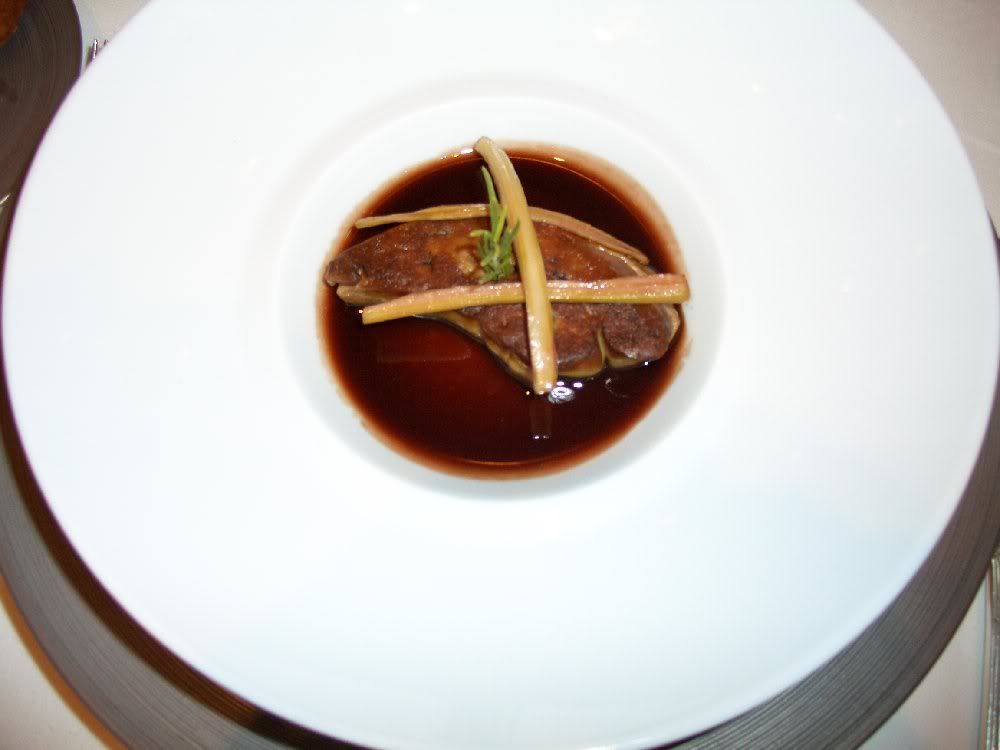 Then we had flounder in a wonderful sauce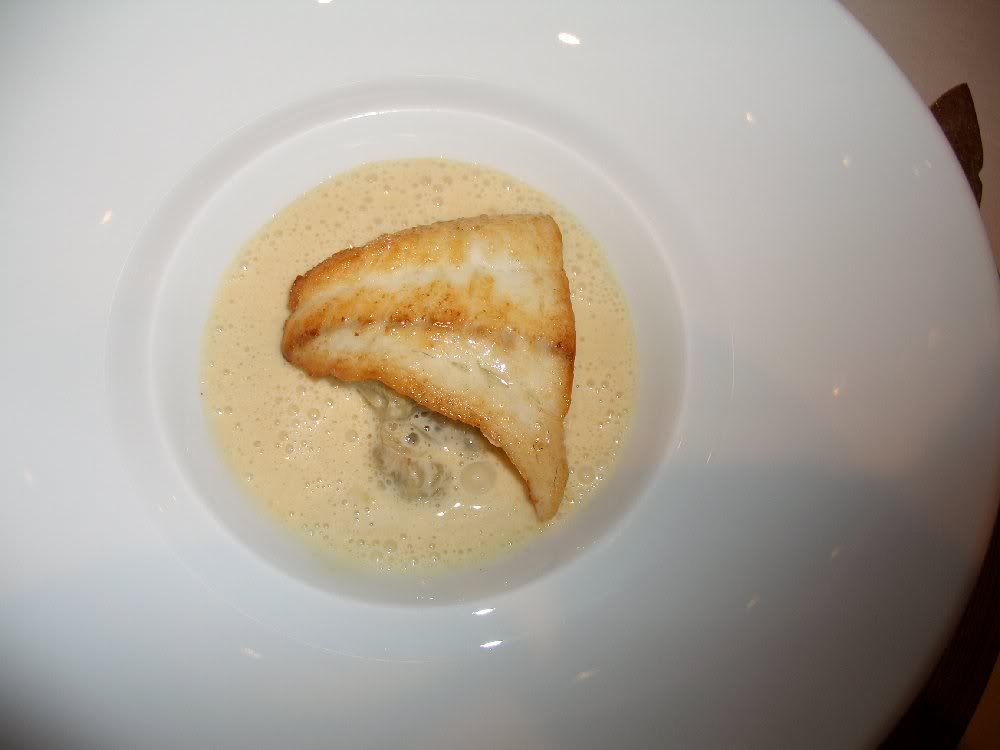 The next photo is an accident with my arm over something, but I thought it might be worth wile to show the photo anyway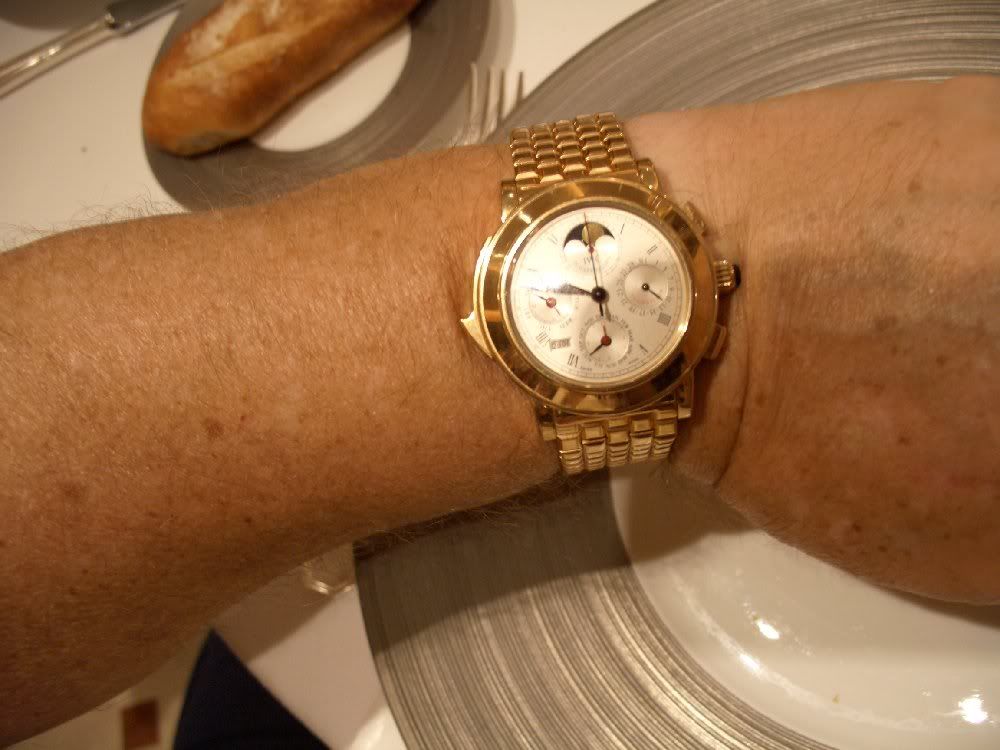 Now we had lobster with mushrooms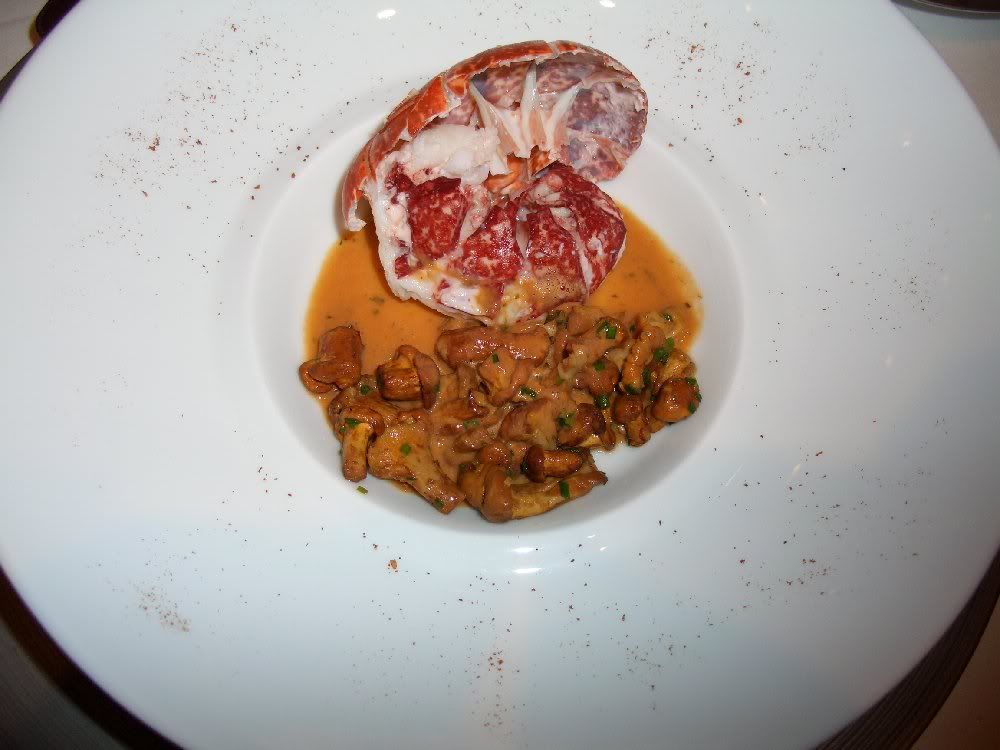 Then a fish from the Atlantic pan fried on onions
Followed by small grains of ice made of pink Champagne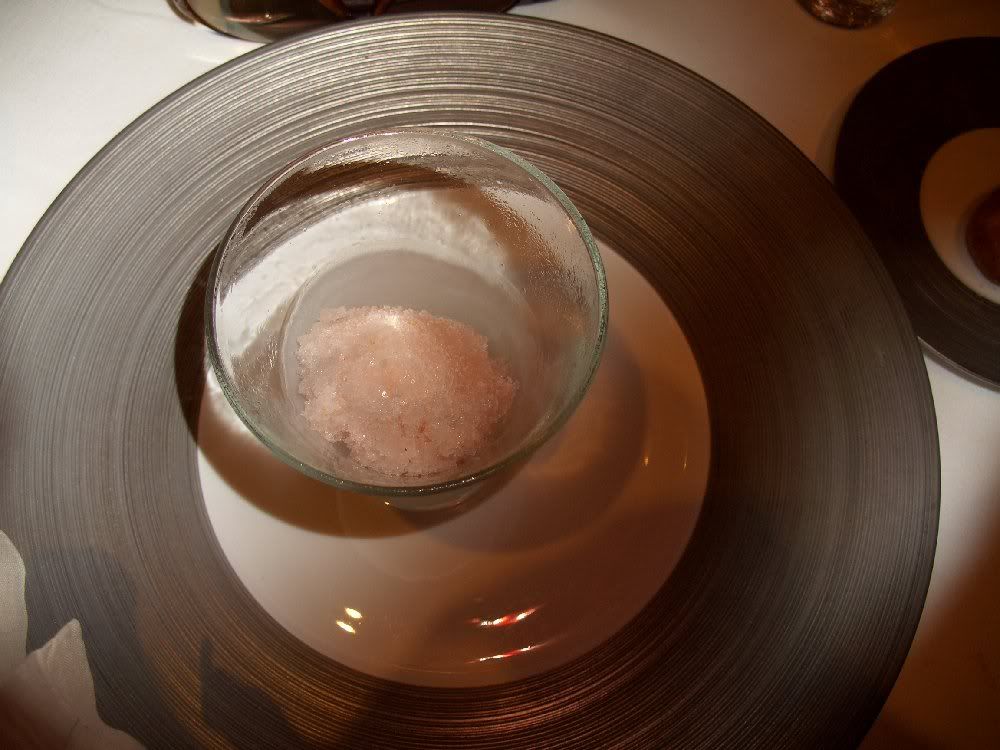 For the main dish some had pigeon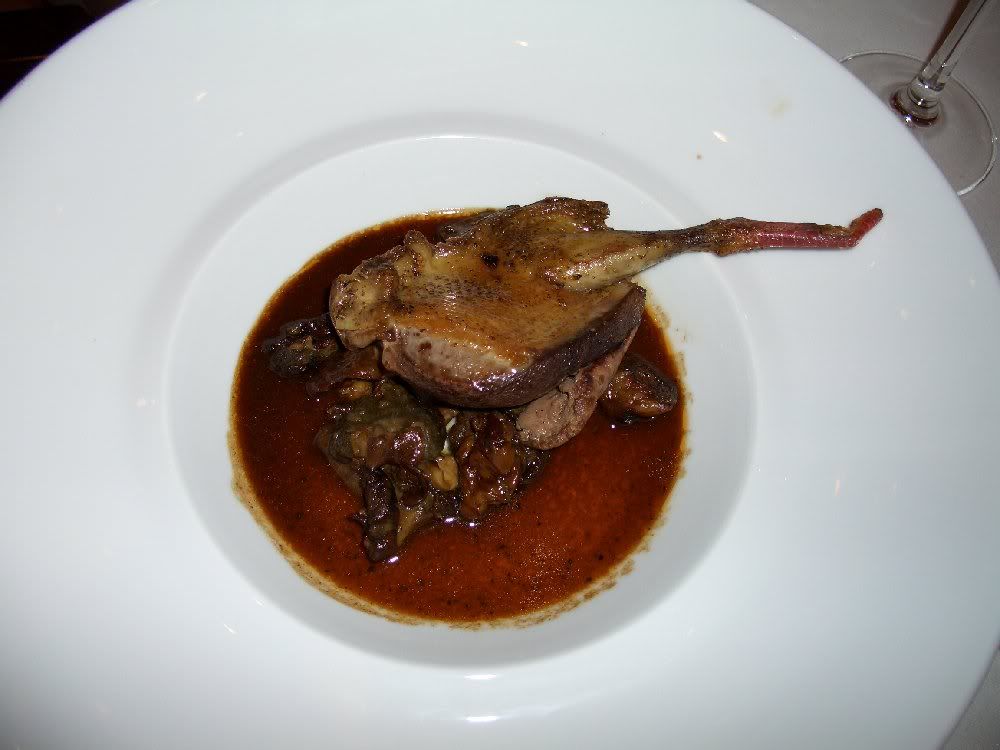 But most of us took the Sweet Bread with asparagus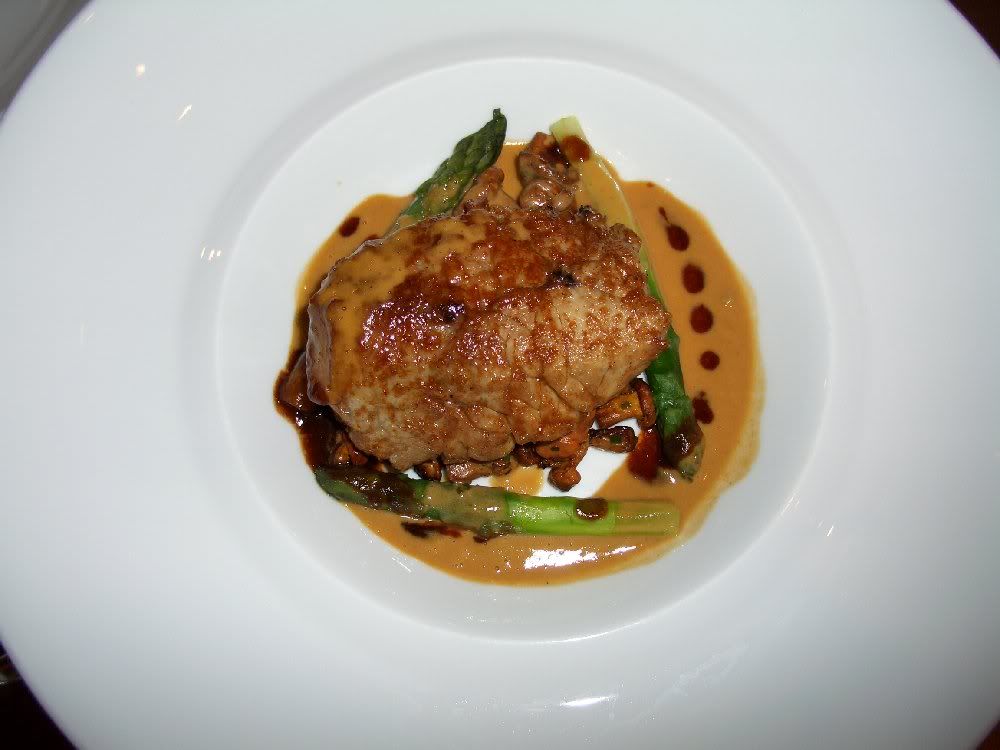 Now we had one of many desserts, so called pre- desserts consisting of a water ice, a mocca cream, cooked fruit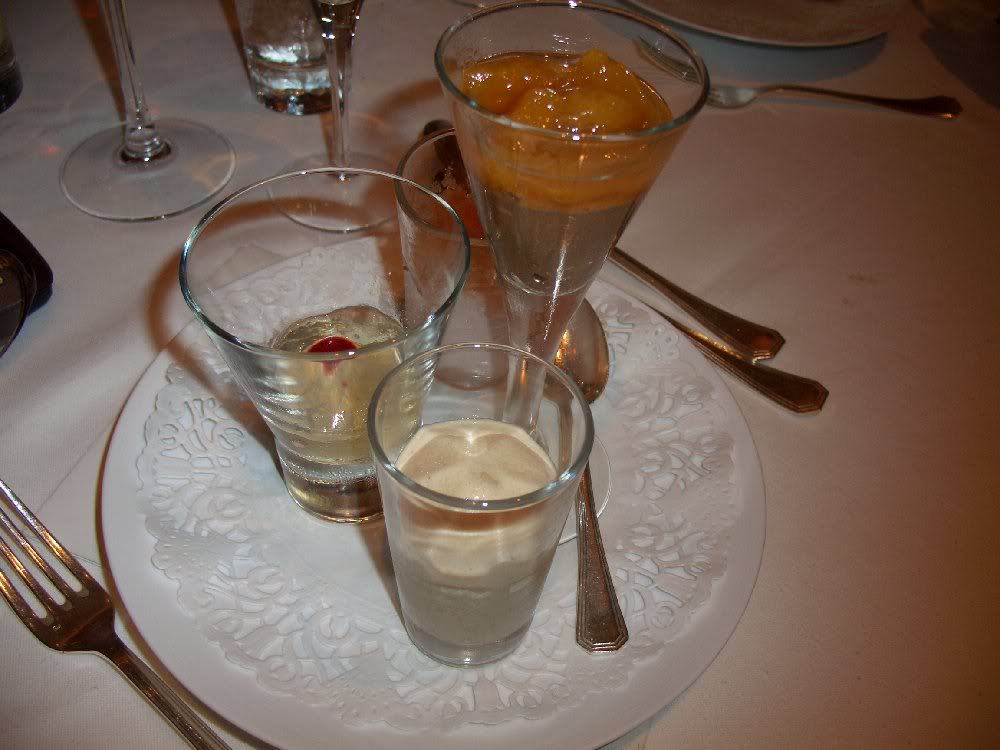 Then came a raspberry sherbet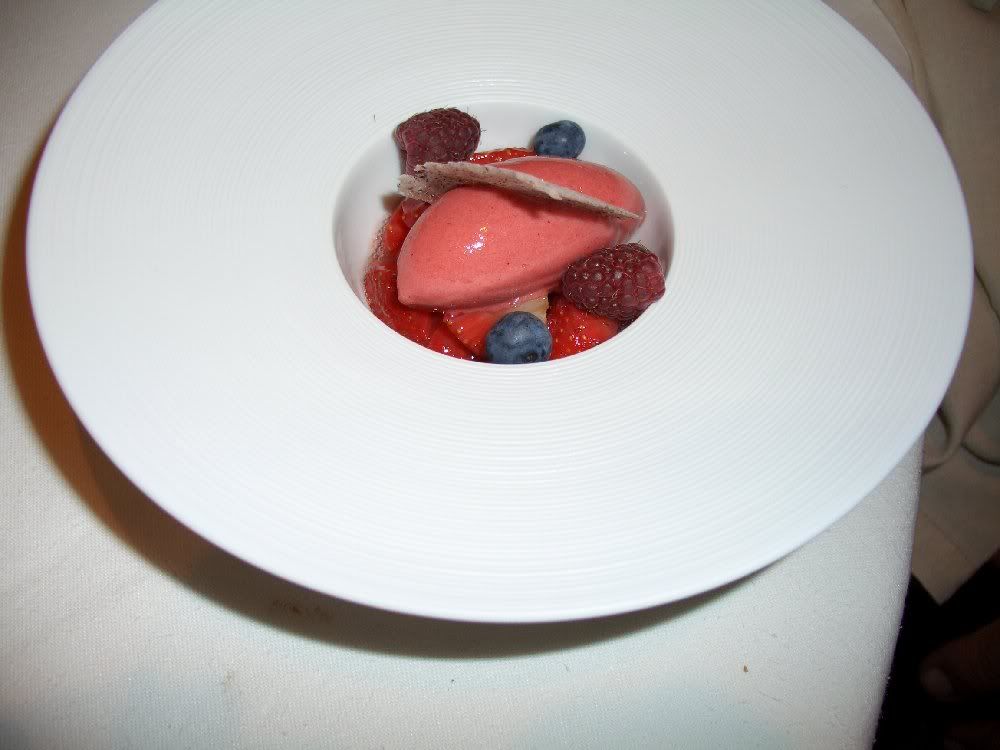 Then the cheese platter
After a warm goat cheese dish with fruits underneath
Finally a chocolate stick and so called Genova bread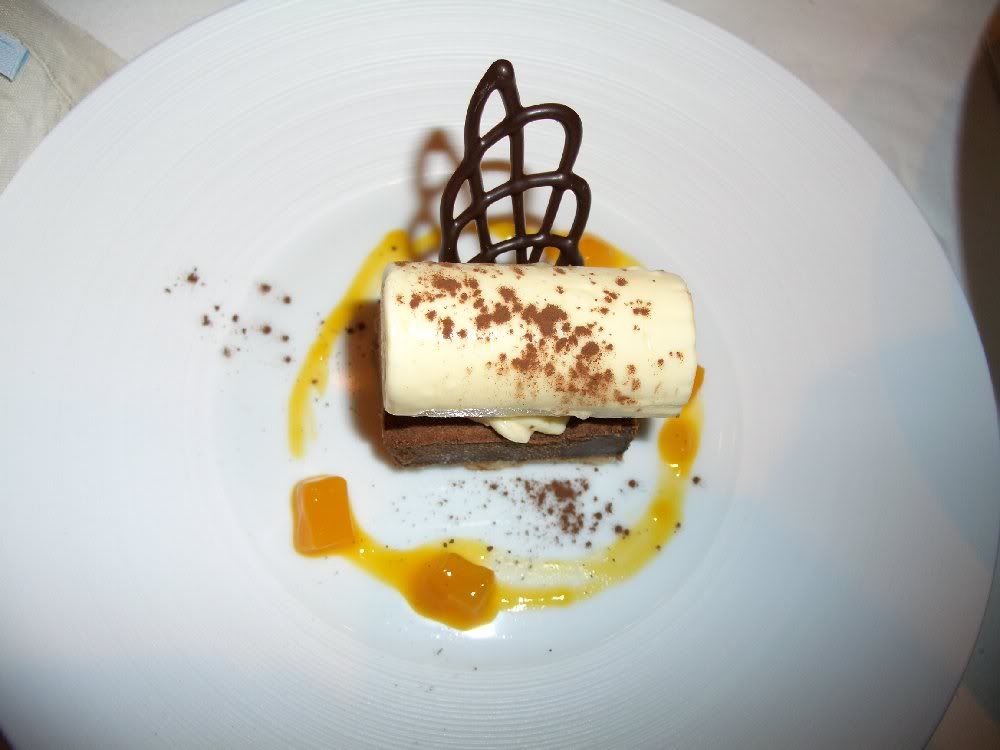 Followed by various mignardises (petit fours)
This was a great evening and we dined during about four hours. All of us were happy and of course replete. Non of us needed a sleeping pill for the night.
I can recommend this restaurant warmly and we shall not forget it anytime soon.
Warm regards to all Epicureans out there.
Lord Arran