I just got back from a vacation in Paris and wanted to share this great experience I had at Le Meurice.
Le Meurice is a 3 star Michelin restaurant located at the Hotel Le Meurice on rue de Rivoli across from the beautiful Le Tuileries park and a short walk to the Louvre. Chef Yannick Alleno has been with Le Meurice since 2003 and after only 6 months achieved a 2 Michelin star rating. Then in 2007, he earned his 3rd Michelin star:
DRMW and I arrived a little early, so we walked around the area and stopped by Jean-Paul Hevin Chocolatier to sample a few macaroons and picked up a few boxes of chocolates to bring back home as souvenirs:
The dining room was amazing, one of the prettiest I've seen and much more formal than the contemporary setting of Guy Savoy:
The service was fantastic, they even had these small foldable stands to hold our chocolates and Nikon camera. It was made by Hermes! I noticed that the waiters also brought this out for other guests that had purses or briefcases:
The menu included ala carte items and two prefix courses. While we were perusing the menu and chatting with our waiter, a few amuse bouche were brought to our table. The first was a Le Meurice 'maki' roll, with mixed mushrooms wrapped in sauteed cabbage: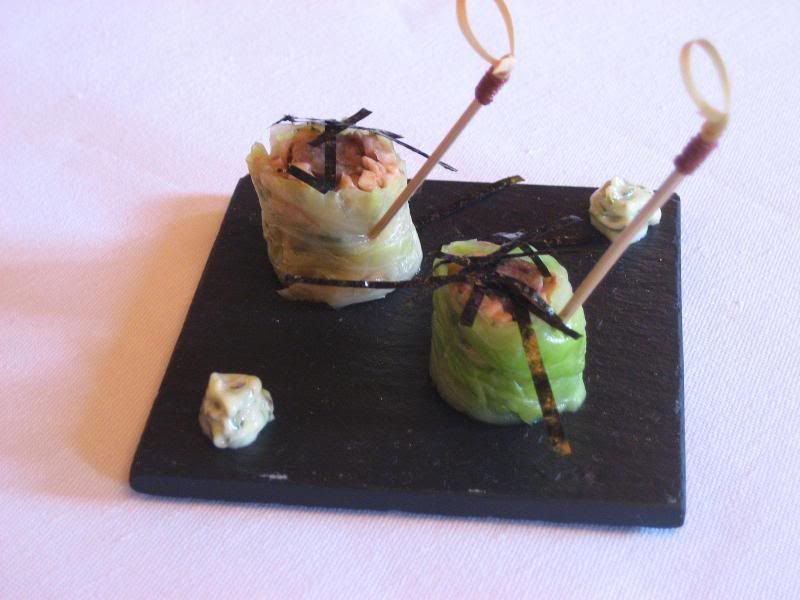 And a beautifully presented potato croquette:
We decided on the Dejeuner en Liberte pre fix:
The breads were excellent and was accompanied by a butter from Normandy that was salted with Fleur de Sel:
After we placed our order, we were served another complimentary amuse bouche. This was a delicious steamed crawfish in a spinach emulsion with a lemon foam: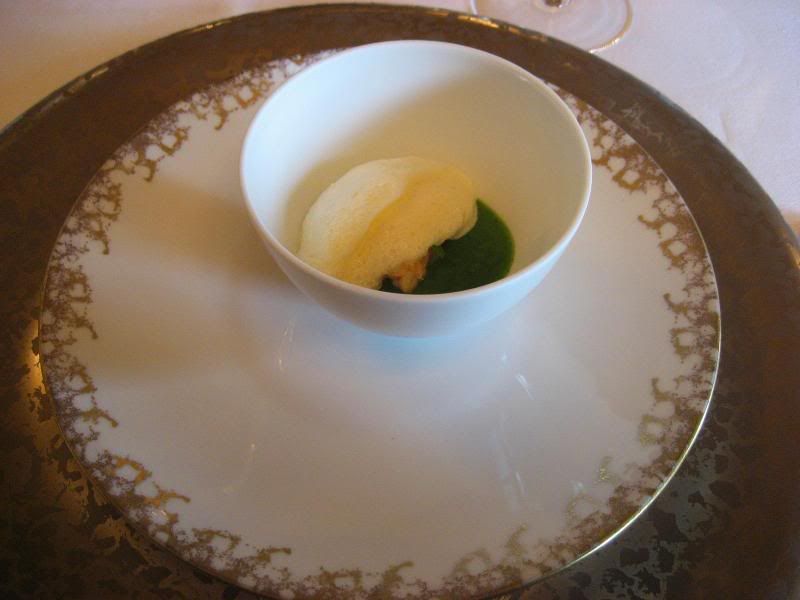 For my first course, I had the cepe mushroom and spinach sandwiches. I love mushrooms and this was a perfect time of the year to enjoy them:
The other starter was sauteed frog legs with fresh herbs and potato cream. This was just as good as the cepe mushrooms:
Our entrees were very good, we had the fillet of brill with pork mash anchovy, cockles, caramelized onions and melted potatoes:
And a wonderfully prepared sauteed 'bresse' free-range chicken with vinegar juice, cepe and chanterelle mushrooms, artichokes, and grey shallots. It was prepared table-side and the aroma from the mushrooms was incredible: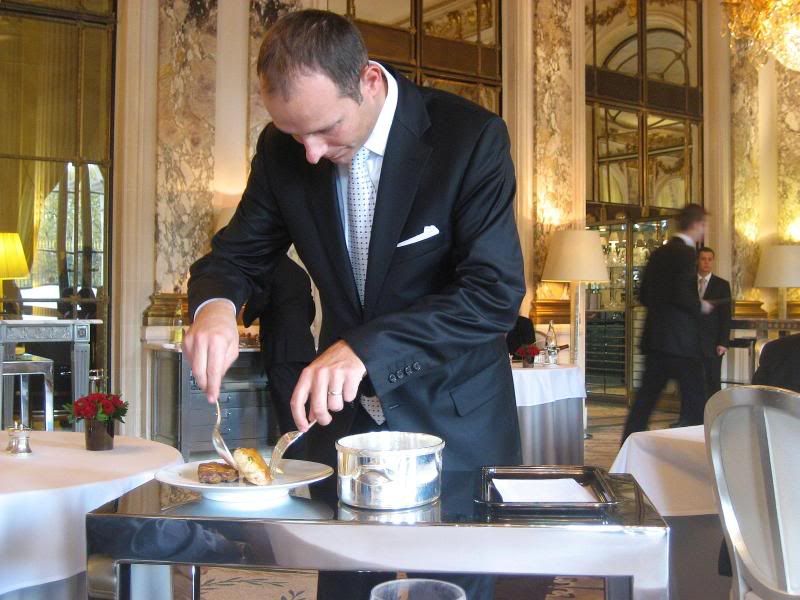 Next up was a cheese course. We've had some excellent cheeses while visiting Switzerland (more reviews soon) but the Le Meurice offerings were perfect examples of the best cheeses I've ever had, especially the Camembert. I tend to like the mild and soft cheeses, but our waiter insisted on including a goat cheese which was delicious:
The cheeses were paired with apricot bread. Just like the cheese, the bread selection was fantastic:
Our dessert was great, we started with a raspberry sorbet, with raspberry gelatin and orange sauce with a touch of gold flakes:
Then a second dessert which was a tray of chocolate macaroons, a coconut milkshake with coconut marshmallows, and delicious pistachio cream puffs:
The pistachio cream puffs were topped with a gold flaked covered pistachio nut. Very nicely presented and tasted great. I have to say that this is the second best cream puff ever:
And then our actual dessert arrived, a vanilla, coffee and chocolate tartlet (with gold leaf):
And crunchy pipes of roasted figs with cinamon, filled with almond mouse and quince sorbet (and more gold leaves):
To end the meal, I had a pot of earl grey tea, which was served with small cakes topped with silver leaf:
And here's a closeup of the cakes:
Overall, the dining experience here at Le Meurice was incredible. The food was beautifully presented and tasted great. The dining room was amazing and the service was perfect and sets new standards. We really enjoyed our culinary experience here.
Regards,
ED-209