Craft Restaurant - Century City, California
Tom Colicchio, chef/owner of Craft, is probably best known as the head judge on the reality series "Top Chef". During a business trip to New York a few years ago, I had the opportunity to try out Gramercy Tavern (Tom's first restaurant) with one of my clients. The food was very good and when I heard that they were opening a Craft restaurant in Los Angeles I knew I had to try it.
The restaurant opened in mid-July, but I didn't have a chance to go due to business travels, a Purists GTG in Switzerland in October, and the recent Purists GTG in Kuwait, Dubai and Abu Dhabi (plus weekend trips to Las Vegas
).
Well, a fellow Purist was celebrating his birthday in November so DRMW, ATM and I jumped at the chance to host a dinner at Craft.
The chef de cuisine is Matthew Accarrino who has worked at New York's Craft, Craftsteak and Craftbar. And the pasty chef is Catherine Schimenti who has worked at Craftsteak and Gramercy Tavern. It's nice to see them both promoted to lead the Century City location.
Craft is situated in a business center, and it was a long walk from the parking garage trying to find the restaurant. When we finally arrived we were warmly greeted by two hostesses and were escorted to the main bar to wait for our guests. The dining room was very spacious and nicely decorated. We had a party of 8 so I was pleasantly surprised to see that we were seated at a round table (which I prefer over a single long table). I noticed that along the walls were booths that were U shaped that would be nice for a smaller group.
Anyway, once we were seated we were given our menus and wine list, then....waited,...and waited...for about a good 15 minutes before I had to flag down a passing waiter. The restaurant was not full at all and I was really disappointed at this. There were a few other small service issues, which I will comment later.
While we were reviewing the menu and deciding on which items to order, our guest of honor looked over the wine list. The funny thing is that he had found a bottle of wine named A.P. and we were all tempted to order it for fun
And then later we found out that our waiter's initials were A.P. too!! We ended up selecting a bottle of the 2005 MacRostie Chardonnay:
We had also asked them to bring the A.P. but they couldn't get it out of the wine cellar
We really wanted to take pictures of the bottle with our Royal Oaks, but oh well...(maybe this should be in the PuristSPro post about 'humorous behaviour at Purists GTGs' :P )
The ala carte items on the menu were described as being served family style, but individual portions. ??? I didn't quite understand that. The tasting menu was a 7 course dinner and looked really interesting so we all decided to have that for the entire table.
Our first amuse bouche was bone marrow with a balsamic reduction vinagrette. This was very tasty!
A second amuse was brought to our table, a sea urchin egg custard with cucumber. I really like this starter, it had a great sea urchin essence without being too briny: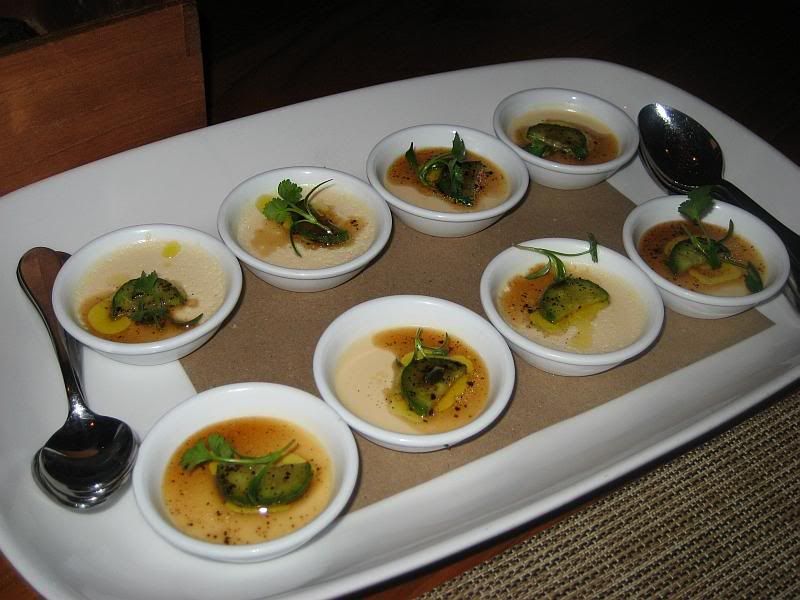 And then we received a third amuse, a butternut squash soup with spoon of creme fraiche: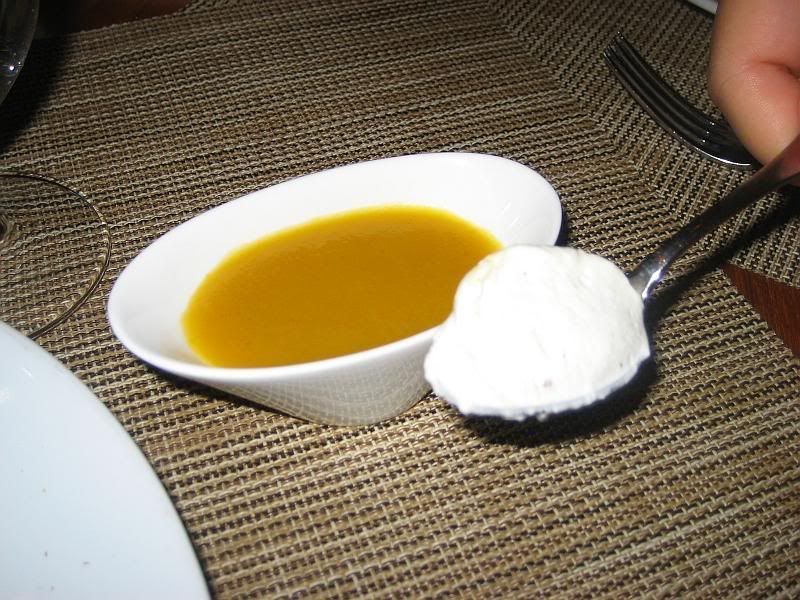 This is the second problem with the service. We had a table of 8, but they only brought 7 of these. The bowls were placed next to each guest and then the soup was poured in. Unfortunately I was the one who didn't get a bowl
.
I waited for one of the servers to come back and mentioned to him that I was missing the soup. And his reply was "are you sure you didn't get one"? WTF? Anyway, I politely said that 'no I didn't get one yet'. Our main waiter came by and apologized for the mis-step and a few minutes later brought out a larger bowl for me...
The butternut squash soup was delicious!! It was a large portion and I ended up sharing with my girlfriend ATM. She said that my soup was hot, whereas her's was only warm
I don't remember if this soup was on the regular menu, but I would definitely order it again.
Our first course was a Japanese Hamachi (which is amberjack/yellowtail) served sashimi style with red grapefruit. The fish was very fresh and nicely cut, and the red grapefruit was tangy and flavorful but together it was only average. I felt that it didn't really match together. And the other weird thing was the family style serving which we ended up having to split it ourselves. It was kinda messy spooning it onto our plates, I think it would have been much better if it was individually plated: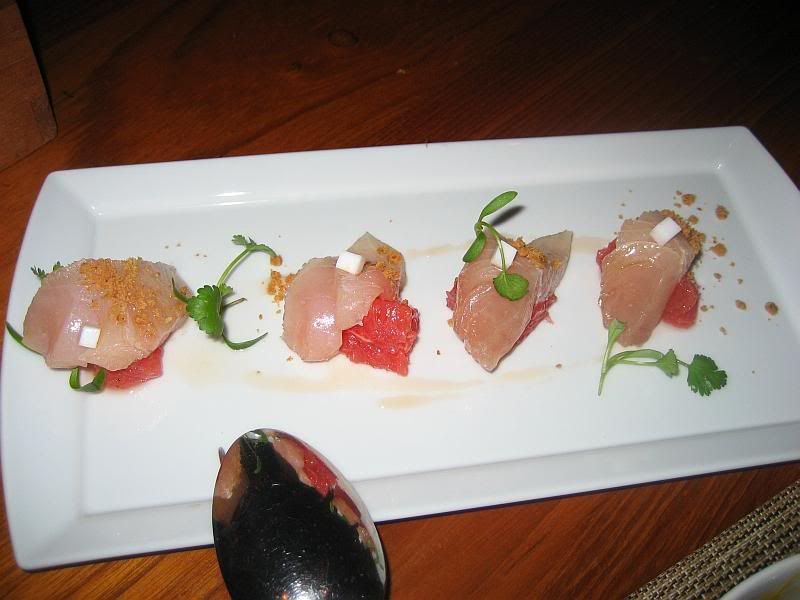 Our second course was probably the best dish of the meal. It was a Maine lobster casserole with fingerling potatoes and fennel. It was presented tableside in copper pots and looked more like a souffle or fancy pot pie. The pastry crust was buttery and flaky, while the lobster was perfectly cooked and generously portioned: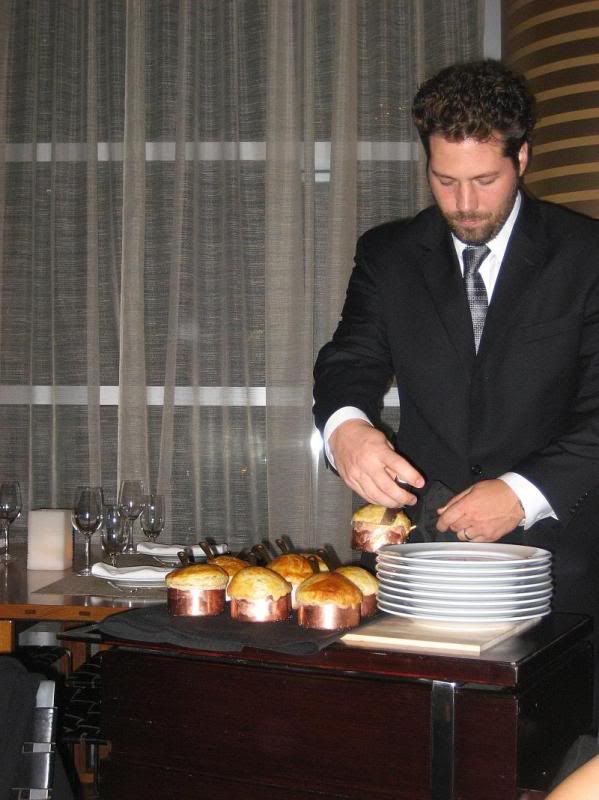 And here's a closeup of the lobster dish, YUMMY!!!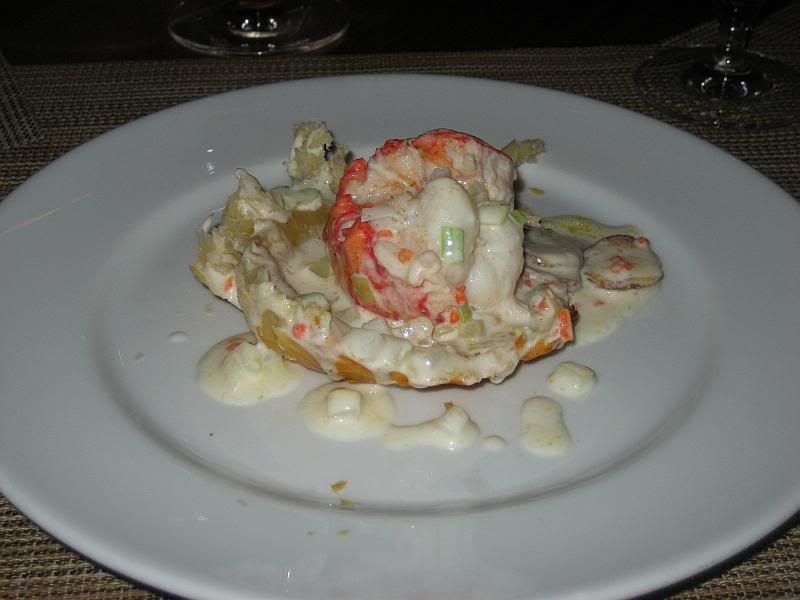 Next up was a dungeness crab ravioli with pine nuts. This was pretty good, but DRMW said his crab was slightly overcooked: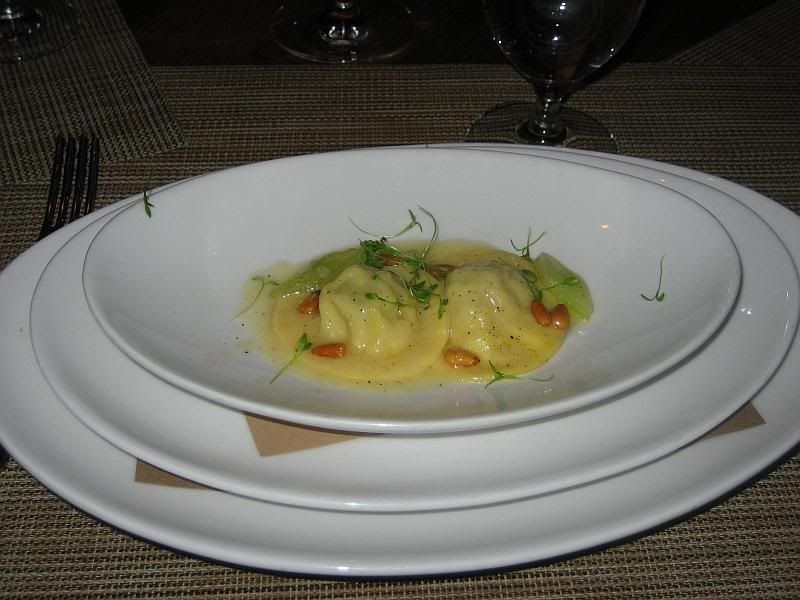 After the ravioli, we had the foie gras which was an optional item (with a supplemental charge). It was excellent. It was perfectly seared and was absolutely scrumptious!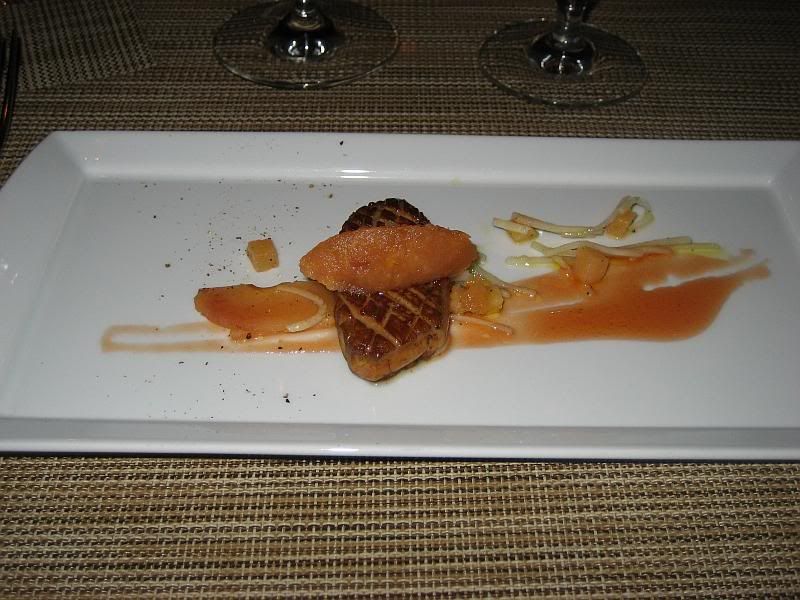 There were two other supplement dishes that was added to our tasting menu and both had incredible white truffles
The first was a fontina and mushroom ravioli with bacon broth. It was presented at the table with just the raviolis and the bacon broth poured afterwards: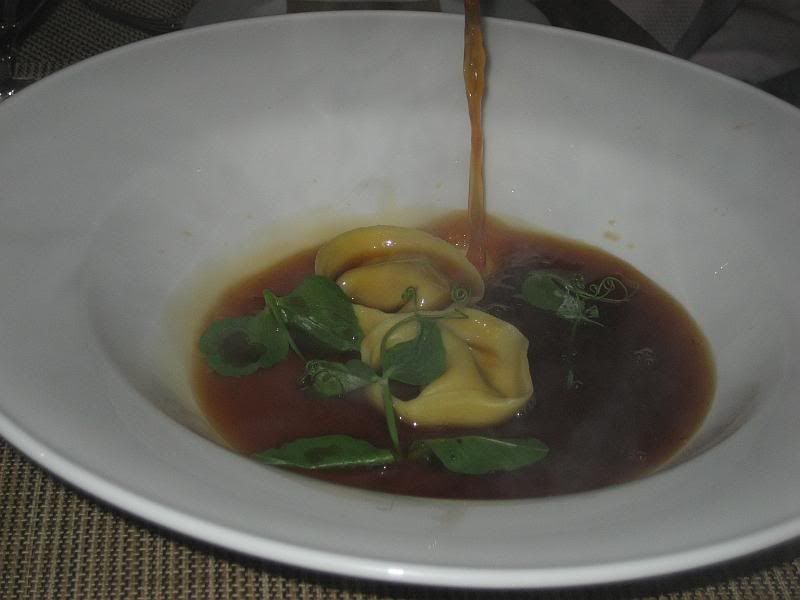 Then fragrant white truffles were shaved over it. The raviolis were great, and the aroma of the white truffles were incredible, but the bacon broth was not very good. I was expecting something different, because to me it tasted more like ponzu sauce. And this is where we also had some slight problems with the service, one of the waiters dropped the knife on one of our guests
Luckily it was more like a butter knife but still it was not cool
The other white truffle dish was a risotto with quail egg:
With more white tuffles generously shaved over the rice:
The aroma was phenomenal, even better than the black tuffles we had recently at Guy Savoy in Paris:
Our first main dish was a roasted Muscovey duck with crispy brussel sprouts. This was very good, I even finished off 1/2 of ATM's plate:
And finally we had a trio of Sonoma lamb, with roasted lamb chop, a lamb tenderloin, and lamb shoulder wrapped in Swiss chard: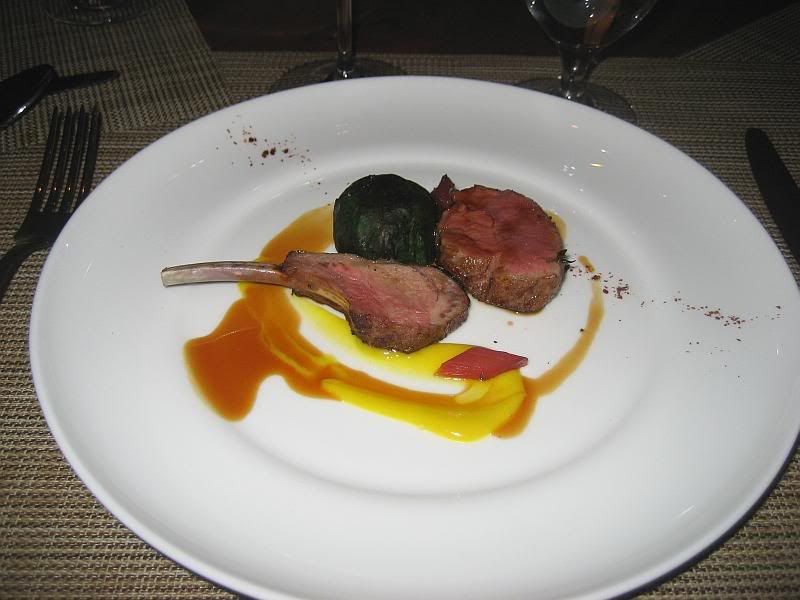 Next was our cheese course and served on two plates to share. Roncal is a sheeps milk from Spain and had a nice flavor without being too gamey. It included candied walnuts, sliced crisp apples and delicious sliced pears, cranberries and toasted fruit bread:
Our pre-dessert was a lavender pannacotta. This was ok, I think that the lavender flavor was overpowering. Well I guess it's designed to be a palette cleanser after the cheese course:
Our dessert was the famous Craft peanut butter cup with peanut brittle, caramel gelee and caramel gelato. The brittle and gelato was awesome!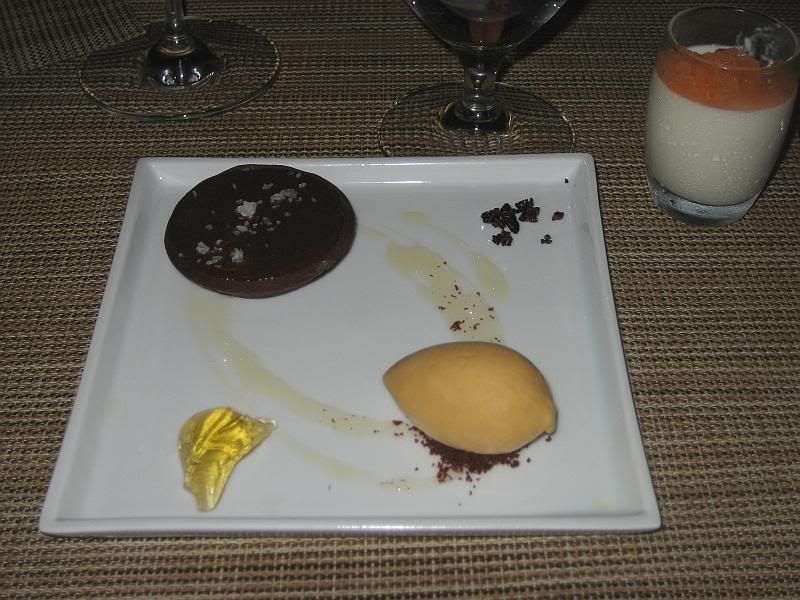 And another offering from the kitchen was a plate of petit fours - caramel macaroons, lime gelee, chocolate covered marshmallows, and pistachio and nut nougat. We were all full, but couldn't resist trying each one. It was delicious: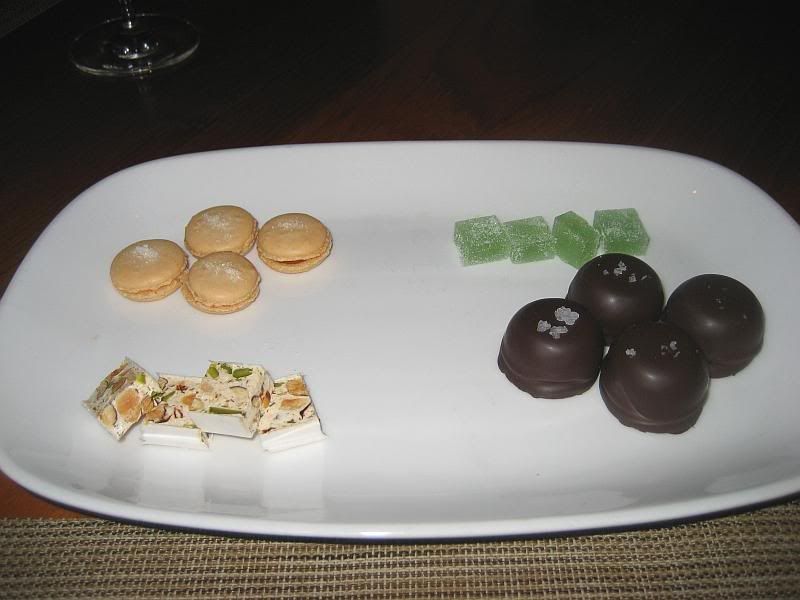 Then a really nice gesture, we all received a pumpkin muffin to take home and enjoy with coffee for tomorrow's breakfast. Wow, this was a nice touch! I took it to the office the next day and it was very good.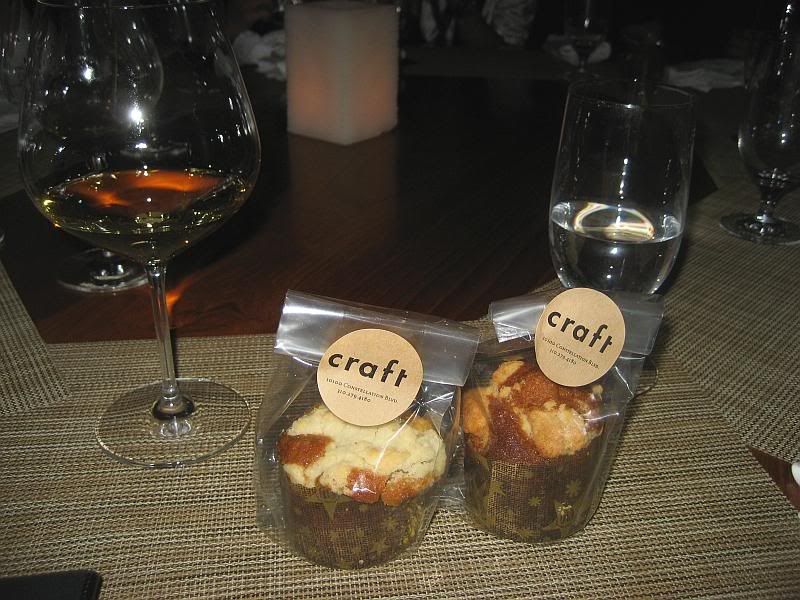 Overall, the tasting menu at Craft was very good and we all had a wonderful time celebrating the birthday of a fellow Purist. I'll definitely go back soon and will try out the 35-day dry aged rib eye that I saw on the menu.
Regards,
ED-209