It has been several years since I've been back to Michael Mina's restaurant at the Bellagio Resort in Las Vegas. When the restaurant was first opened it was named Aqua Bellagio and I remember having an extensive seafood only 9 course meal. A lot has changed since then with Michael Mina earning Michelin's one star award and what seems to be a pared down tasting menu.
The restaurant is still located in the same area which is hidden right behind the Bellagio Conservatory and Botanical Gardens.
New (to me) is an outside interactive screen with menu options: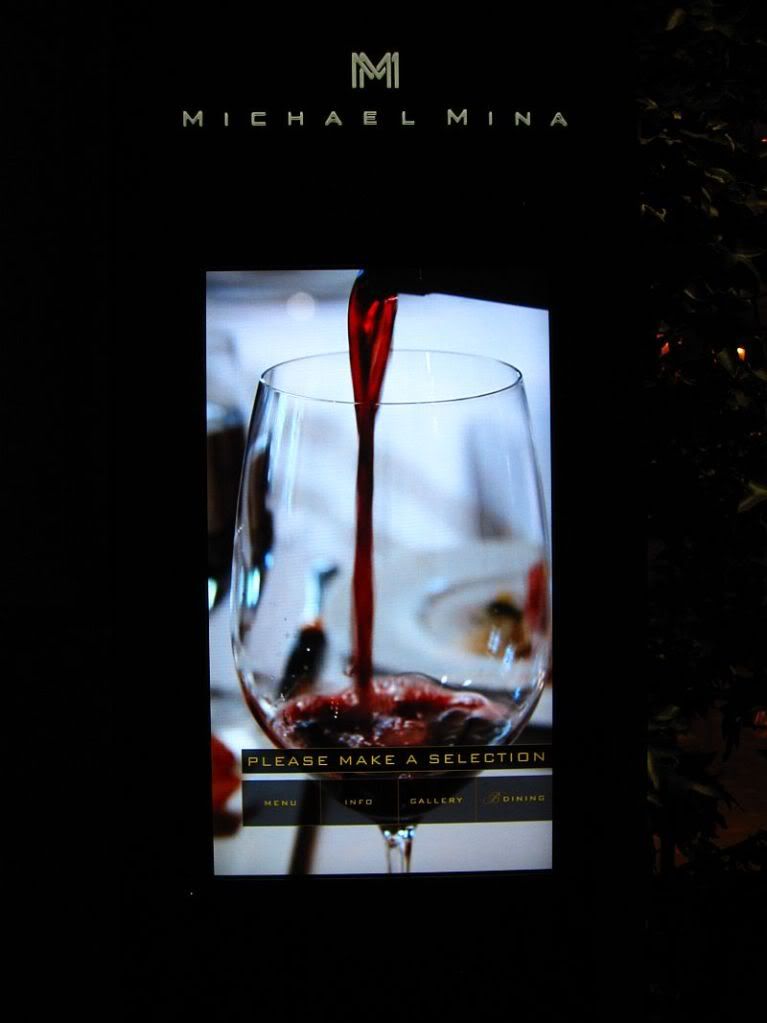 Inside was similar to what I remembered, with an open kitchen and front bar area:
With some nice floral arrangements in every corner:
The menu selection was smaller than on my previous visit:
And our entire table order the 'Tasting of Michael Mina's Classics' which was a 4 course tasting menu: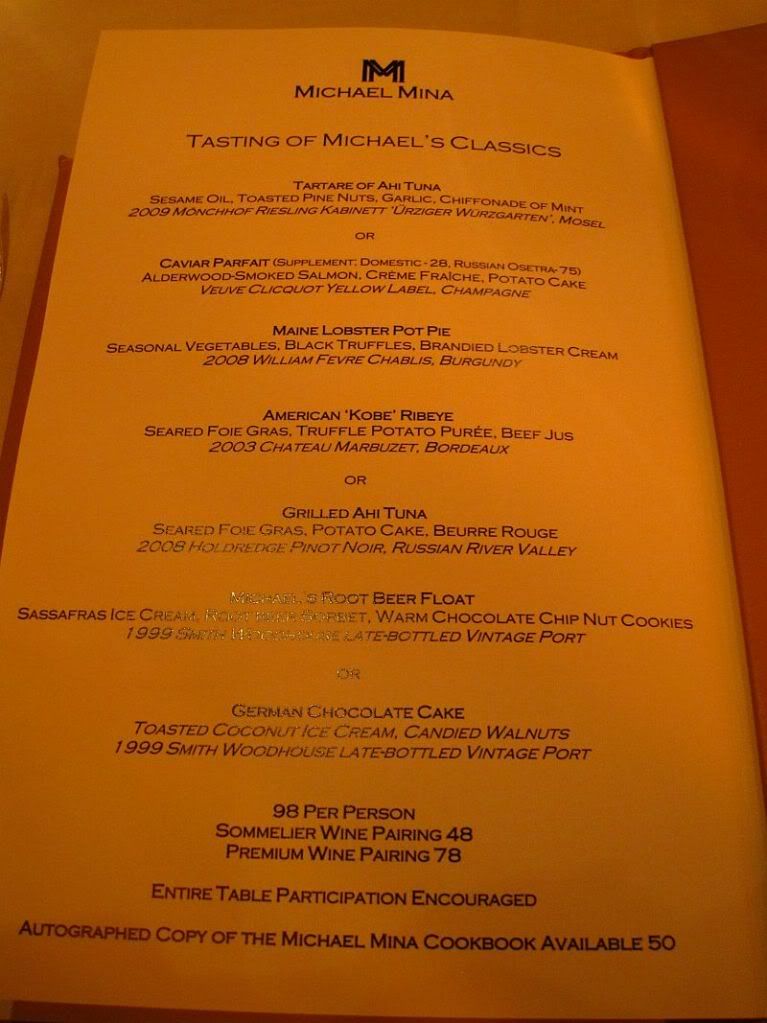 Our amuse bouche was a fried shrimp roll in a wonton wrapper with a slightly spicy aioli:
Then freshly baked rolls with a flaky crust and buttery soft inside: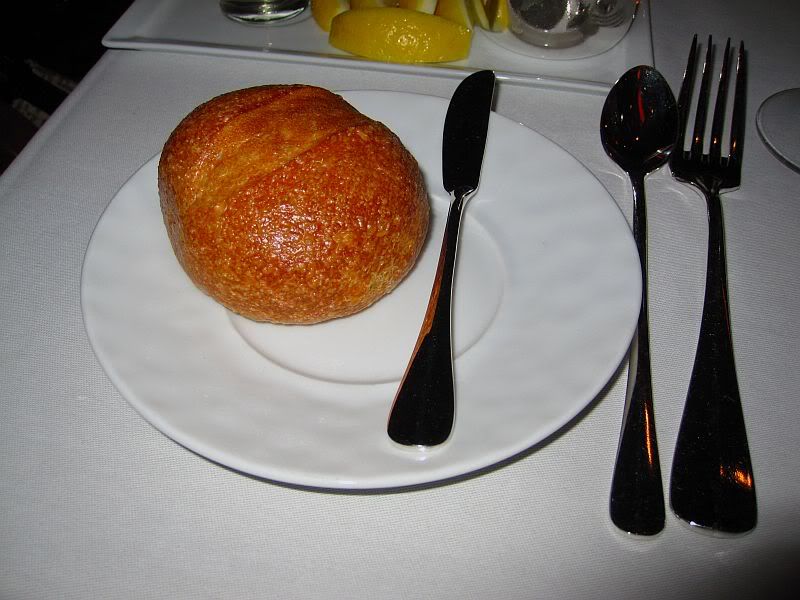 The first course was Ahi tuna tartare with garlic, a bit of mint, toasted pine nuts, sesame oil and salt and fresh ground pepper, then topped with a raw quail egg: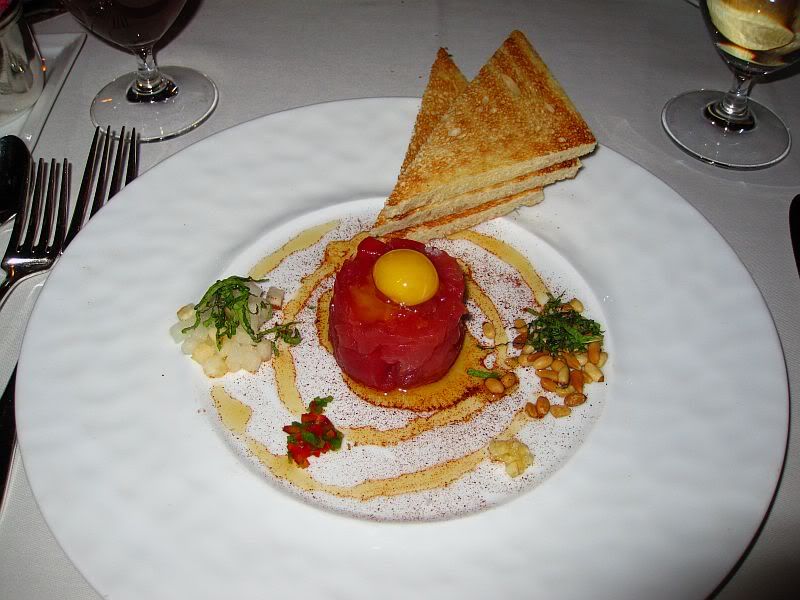 Our servers mixed the tartare for each of us. The ahi tuna was very fresh and the combination of the sesame oil and garlic reminded me of a ahi poke dish from Hawaii. The other thing that really made this dish stand out was the toasted bread that accompanied the tartare. Yeasty but perfectly toasted and had an incredible texture when eaten with the tuna: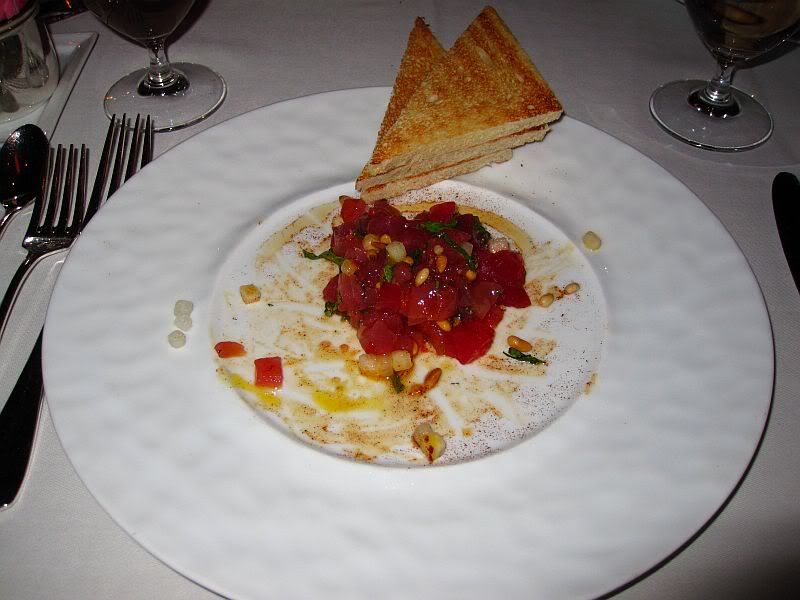 Our next course was a Michael Mina signature dish. Maine lobster pot pie with black truffles in a brandied cream sauce: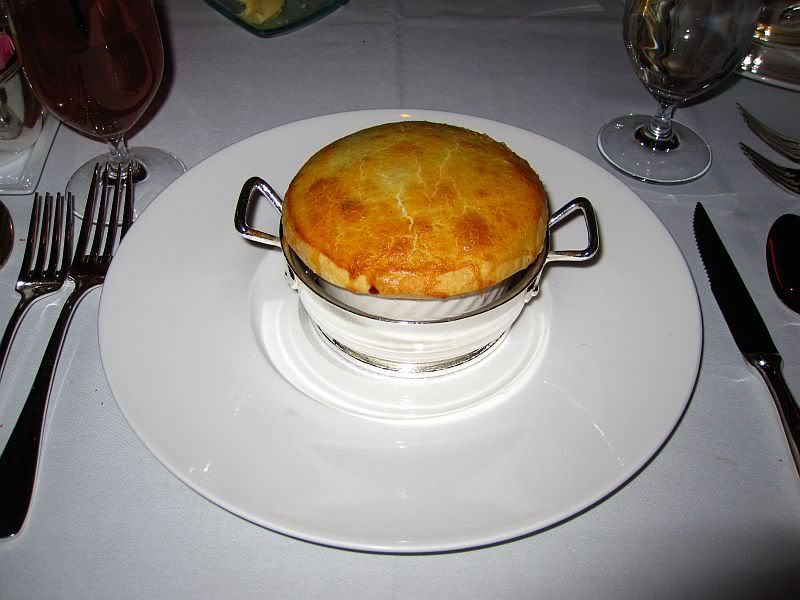 Our servers can back again to carve the pot pie crust. You could smell the earthy aroma from the black truffles the moment they cut into the pie:
Inside of the lobster pot pie were sliced fingerling potatoes, spinach, morels, chanterelles, onions, carrots, and generous pieces of Maine lobster. I was really looking forward to sampling this dish and compare it with the one I had at Craft. The Michael Mina version was very good, but I still think Craft was much better: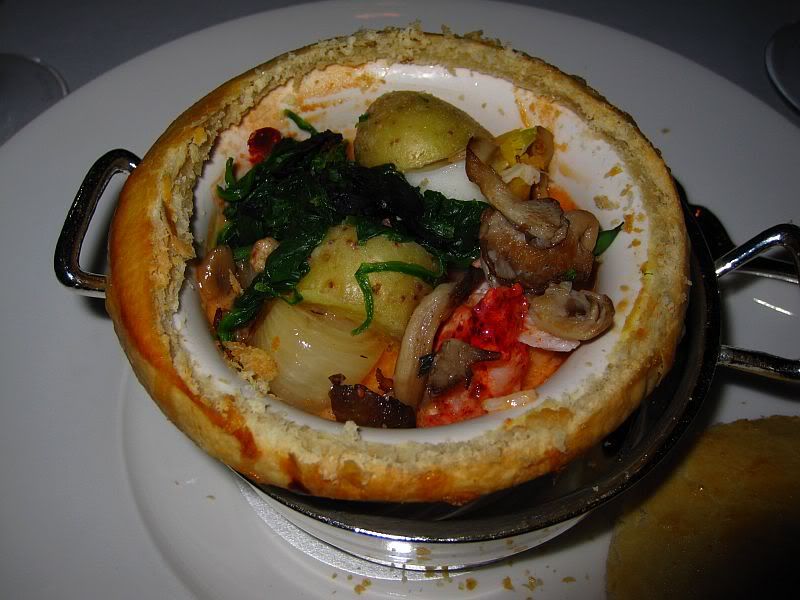 Our next course was the American Kobe ribeye. This was served medium rare with a slice of sear foie gras, and tuffled potato puree and beef jus: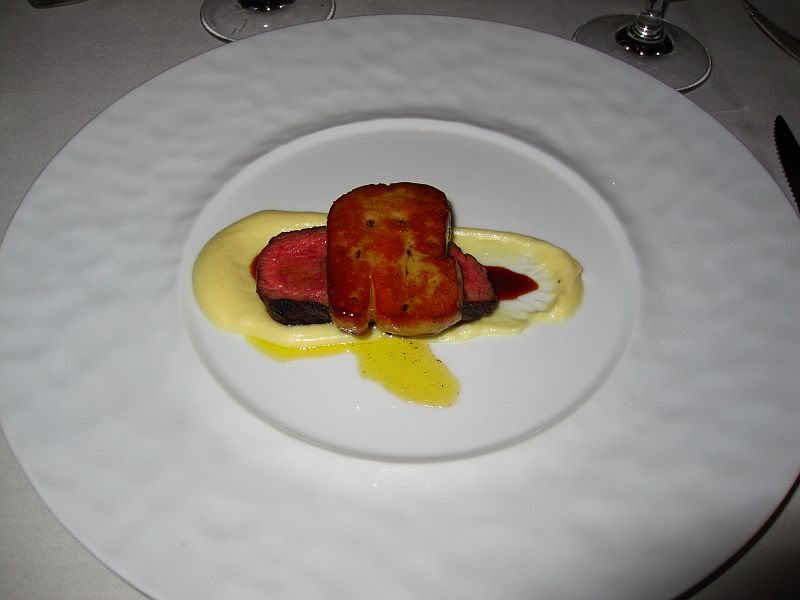 Closeup of the ribeye and foie gras. The foie gras was excellent, but the Kobe ribeye was slightly disappointing. The beef wasn't nearly as tender as I expected and tasted more like a regular prime beef, but was cooked nicely: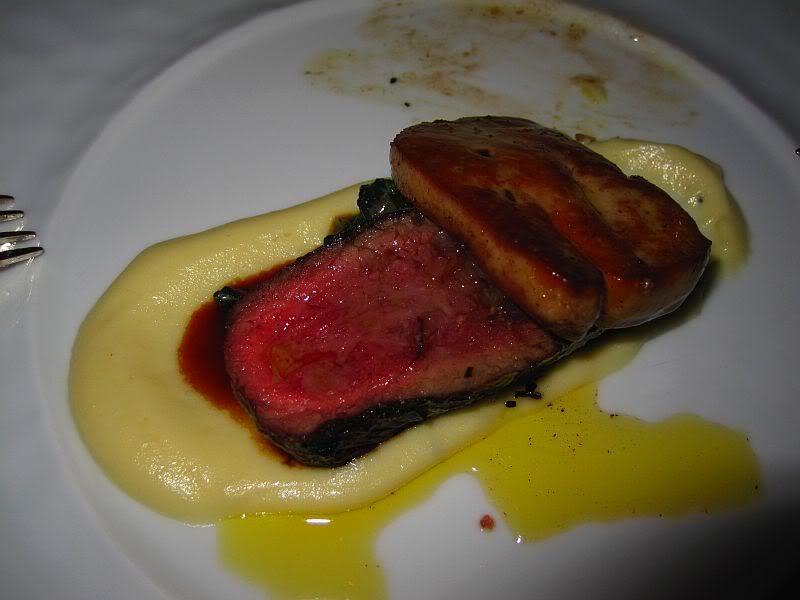 Dessert was a German chocolate cake with toasted coconut ice cream and candied walnuts:
My dining companions chose the root beer float which is another signature dish. I had one of these (yes I had two desserts
) and the root beer was much better than the chocolate cake. The best part were the warm chocolate chip cookies that came with the float.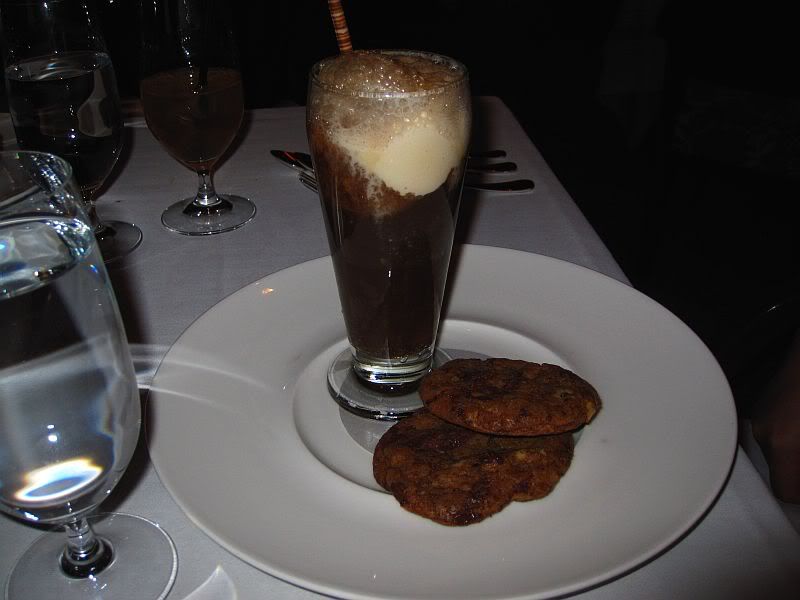 And finally a small plate of complimentary sweets from the pastry chef. 3 little brownie cakes, sugar cookies and a mango gelee: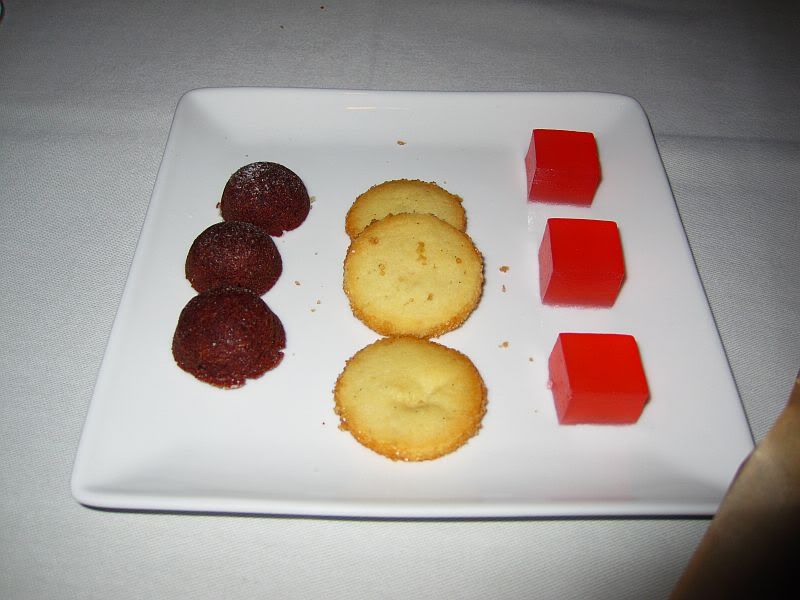 We even took home a bag of the chocolate chip cookies for our drive back home to LA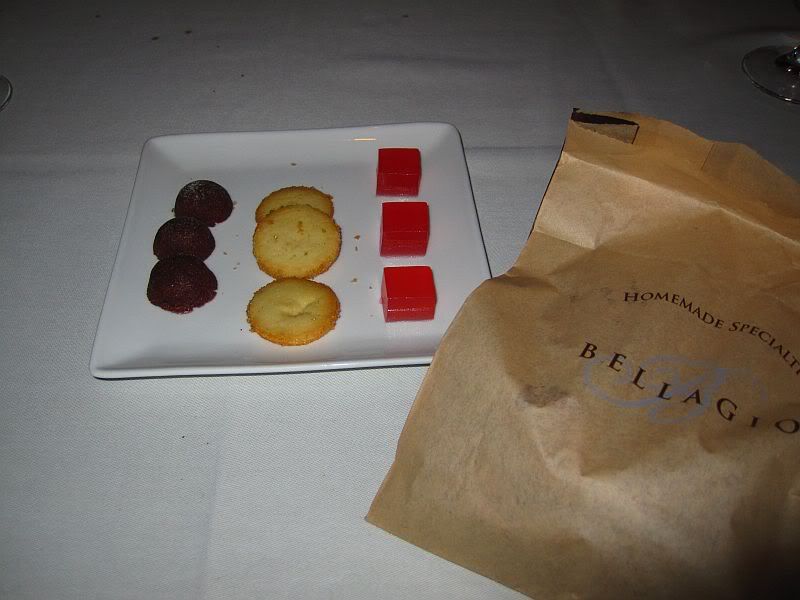 Regards,
ED-209