I've been hearing about this great sushi bar for a very long time and finally had a chance to try it out this weekend. It's a tiny hole in the wall sushi bar in the valley. It's located in a small strip mall with only a sign in front that simple say's SUSHI. I drove around in a few circles (damn Mercedes GPS LOL) before I finally made it into the parking lot.
It's a very small place with two tables in front, and a sushi bar towards the back with about 8 seats.
There's no menu and no offers to do the omakase just a plain white chalk board with the list of today's available fish (Japanese names) and a few rolls. So we asked the sushi chef for his recommendations and added a few favorites. We start with a blanched greens with bonito flakes: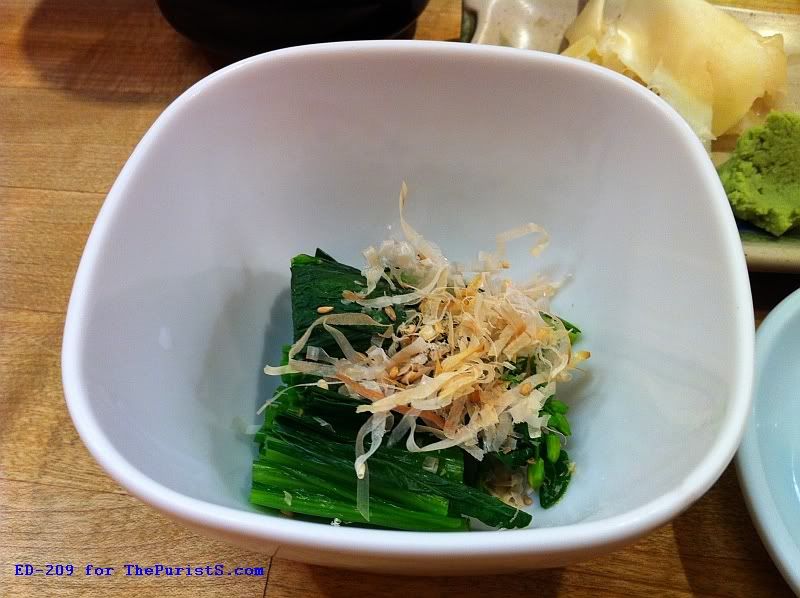 Just a small dash of soy sauce with the greens:
And then comes a wide range of sushi: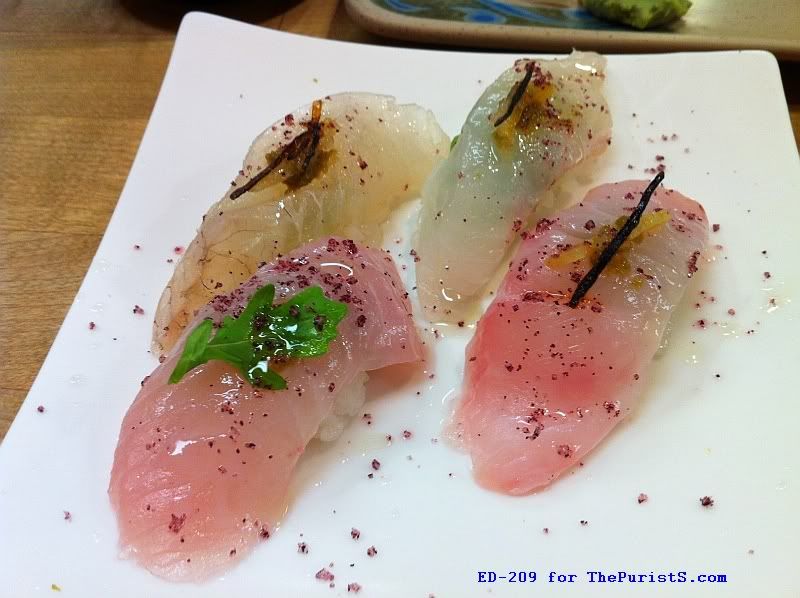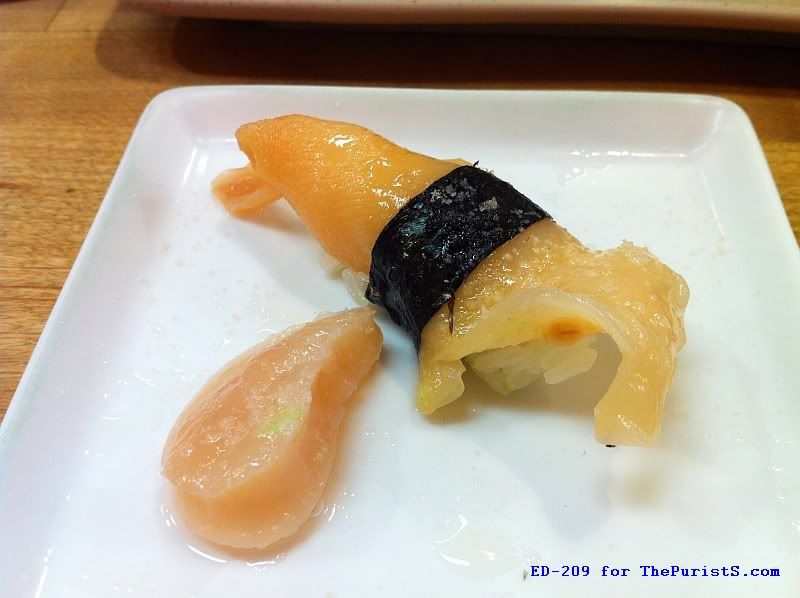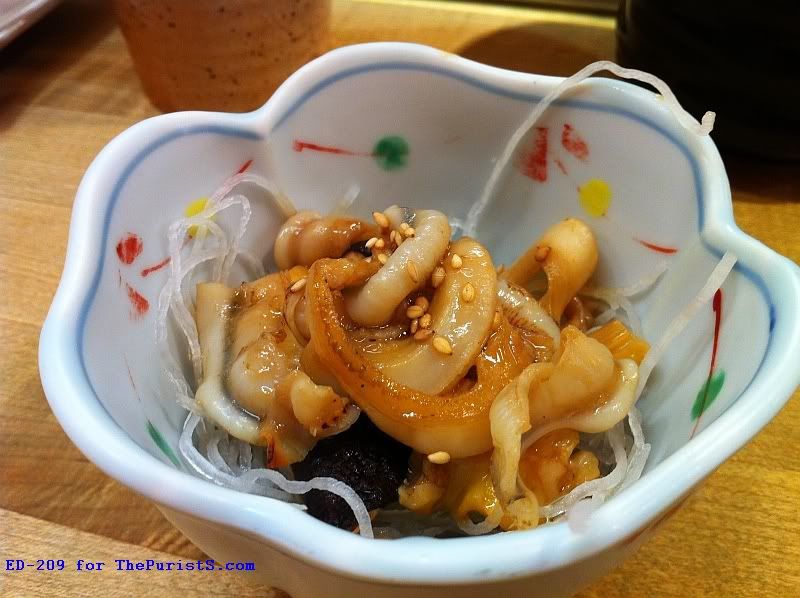 One of my favorites of the night, (from right to left) scallops drizzled with truffle oil and gold leaf; Alaskan King crab; Alaskan Snow crab;
This was interesting. I've never had this before and it had a creamy texture: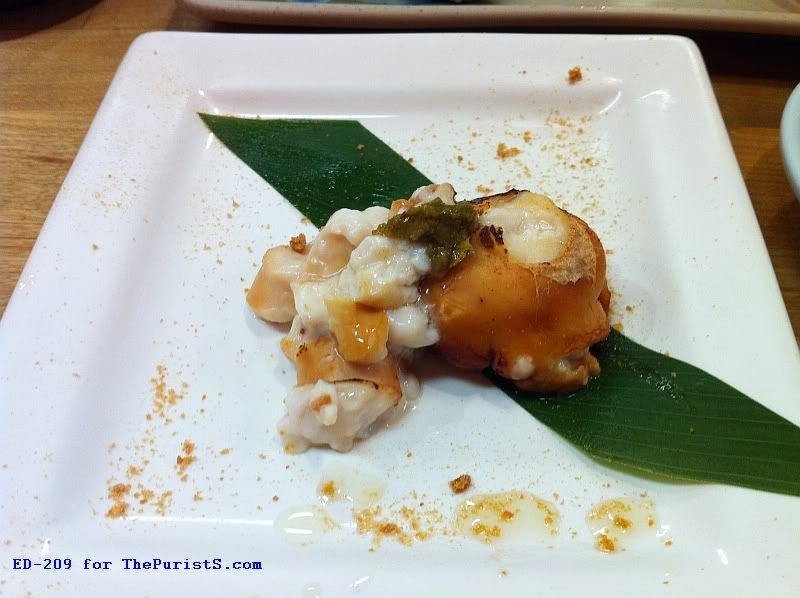 And the other favorite dish of our meal, a trio of tuna, (from left to right) chilled chopped toro with onion and caviar; torched/seared tuna with gold leaf; tuna with green onions and a fried garlic chip: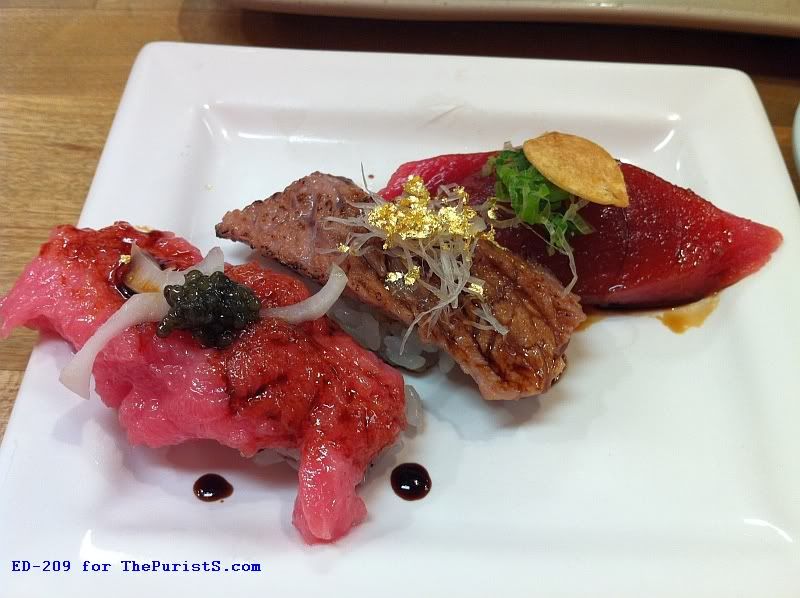 Salmon sushi that has been smoked by the chef: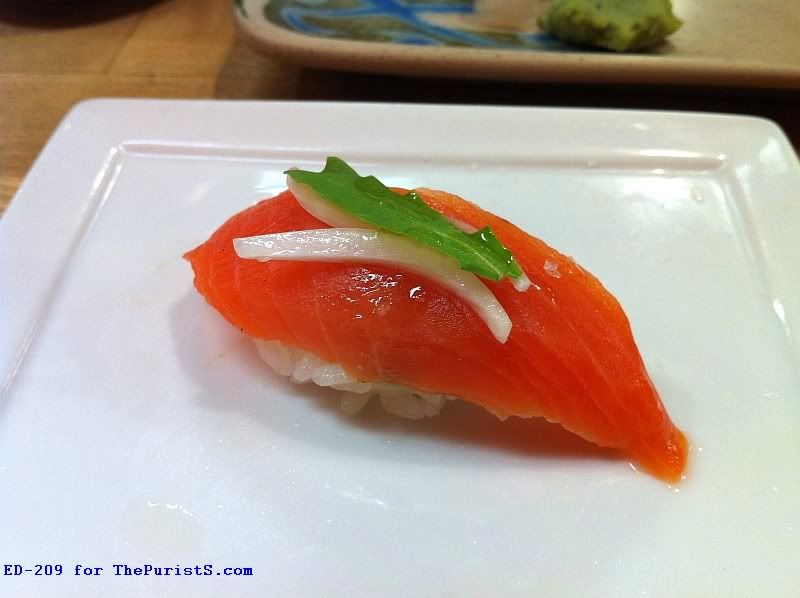 In one of the front glass displays were some huge Santa Barbara spot prawns. So we started with the roe ( I love this dish and my favorite is done by CBS Seafood restaurant in Chinatown. They have it butterflied and fried with garlic, onions, salt and pepper and the roe takes on a savory flavor):
One of the best aburi amaebi sushi that I've had, the spot prawn was lightly torched on top: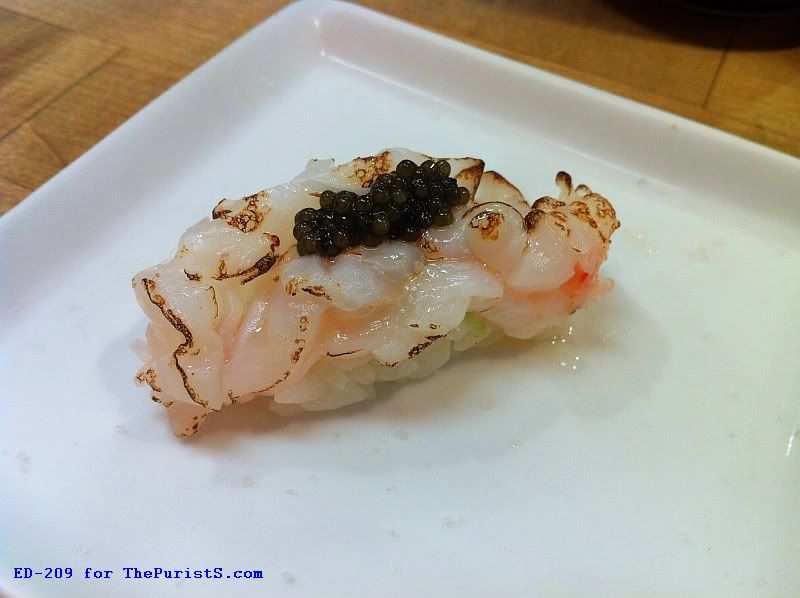 And deep fried head of the prawn. light, crispy and delicious:
This is new to me. I didn't order one but my dining companions did. Its called hirazake and is a dried fin of the fugu blowfish that's steeped in hot sake: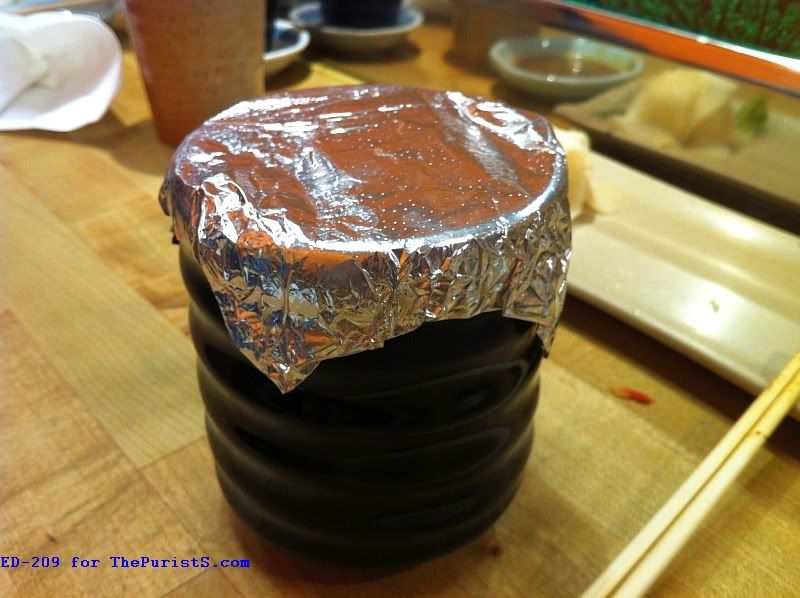 After about a 10 minute wait the foil lid was opened to get the first aroma of the infused sake: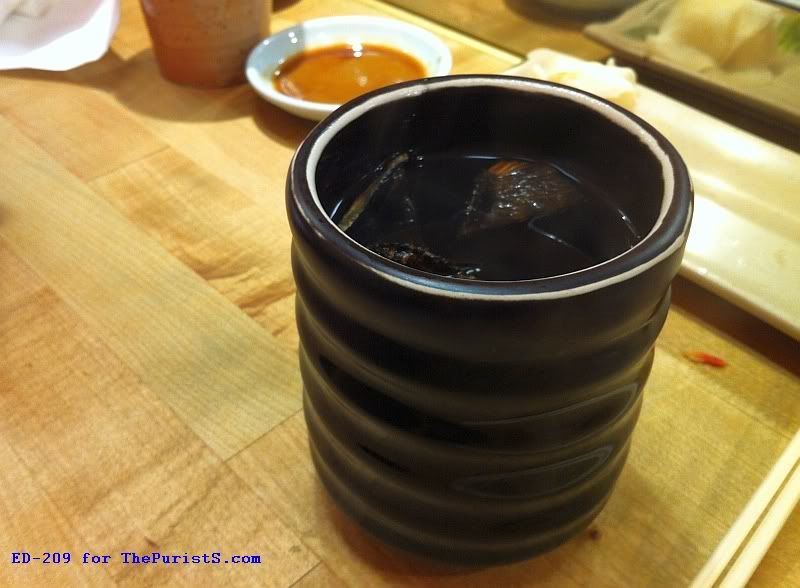 The sushi chef mentioned that we could take the dried fin home and make another hirzake with hot sake: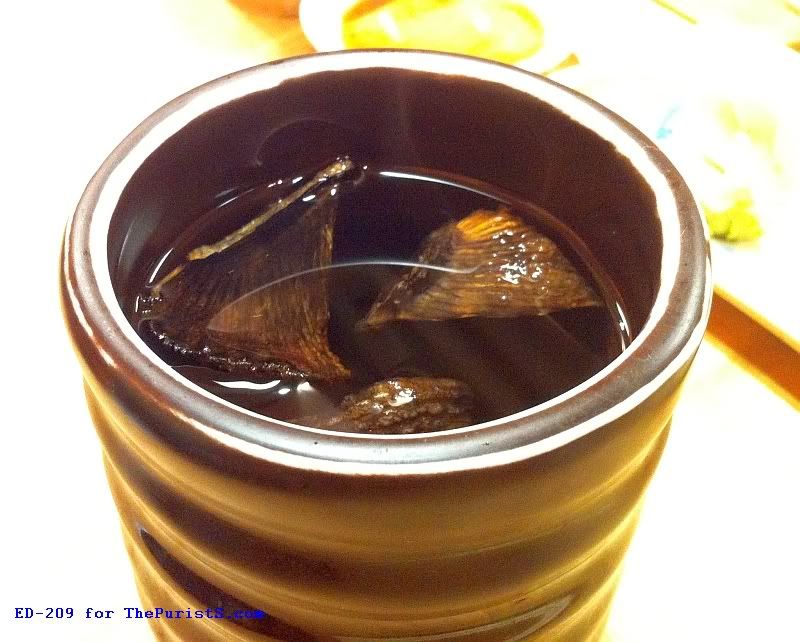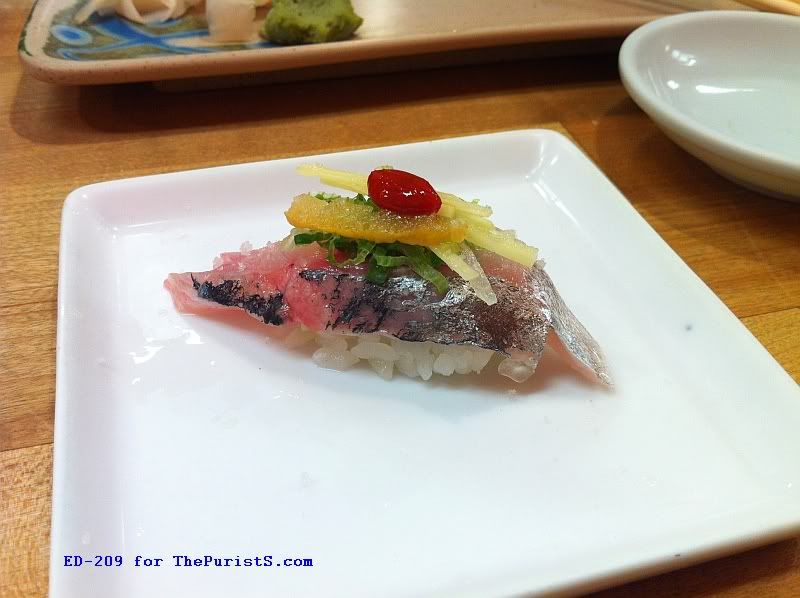 Maybe this is an unofficial rule for omakase in Los Angeles, but the meal ends with a blue crab hand roll. I wonder if it was Sasabune that originated this?
For dessert a refreshing chilled plate of sliced cherimoya, orange, raspberry and blackberries with a light drizzle of condensed milk: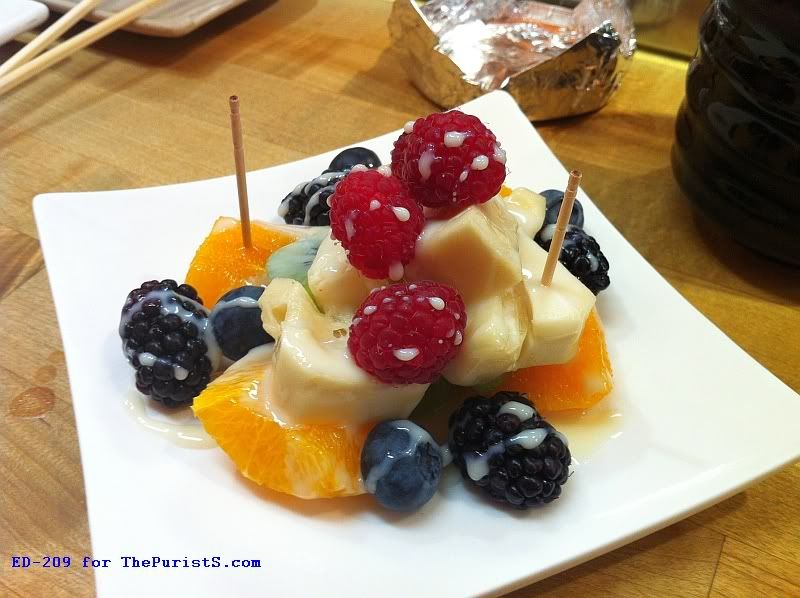 This was a fantastic meal. Thanks to the fellow PuristS for taking me here. It's one of those places that I've heard a lot about and exceeded the expectations. I'm definitely coming back again.
Regards,
ED-209