PORTRETTEN VAN ALEXANDER DUMAS
Alexandre Dumas, père (French for "father", akin to Senior in English), born Dumas Davy de la Pailleterie (July 24, 1802 – December 5, 1870) was a French writer, best known for his numerous historical novels of high adventure which have made him one of the most widely read French authors in the world. Many of his novels, including The Count of Monte Cristo, The Three Musketeers, and The Man in the Iron Mask were serialized, and he also wrote plays and magazine articles and was a prolific correspondent.
Dumas did not generally define himself as a black man, and there is not much evidence that he encountered overt racism during his life. However, his works were popular among the 19th-century African-Americans, partly because in The Count of Monte-Cristo, the falsely imprisoned Edmond Dantès, may be read as a parable of emancipation. In a shorter work, Georges (1843, George), Dumas examined the question of race and colonialism. The main character, a half-French mulatto, leaves Mauritius to be educated in France, and returns to avenge himself for the affronts he had suffered as a boy.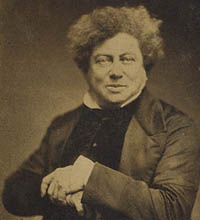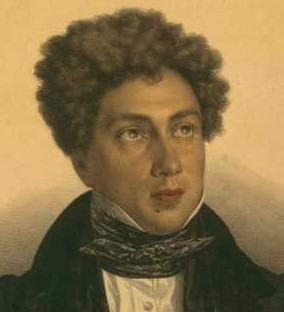 ALEXANDER DUMAS
Thomas-Alexandre Dumas (1762-1806): Alexandre's father and a general in the armies of the republic under Napoleon
British Library W4/8783, vol.4
Copyright © The British Library Board
Alexandre Dumas was born in Villes-Cotterêts. His grandfather was a French nobleman, who had settled in Santo Domingo (now part of Haiti); his paternal grandmother, Marie-Cessette, was an Afro-Caribbean, who had been a black slave in the French colony (now part of Haiti). Dumas's father was a general in Napoleon's army, who had fallen out of favor. After his death in 1806 the family lived in poverty. Dumas worked as a notary's clerk and went in 1823 to Paris to find work. Due to his elegant handwriting he secured a position with the Duc d'Orléans -- later King Louis Philippe. He also found his place in theater and as a publisher of some obscure magazines. An illegitimate son called Alexandre Dumas fils, whose mother, Marie-Catherine Labay, was a dressmaker, was born in 1824.
ROMAN PERSONAGE VAN DUMAS, D'ARTAGNAN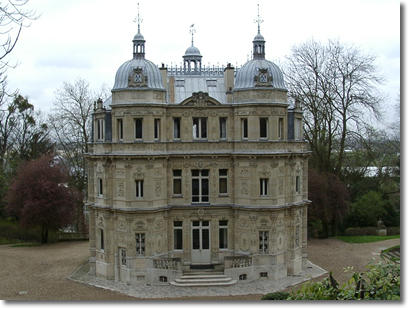 MUSEUM CHATEAU DE MONTE CRISTO: DE WONING VAN ALEXANDER DUMAS DICHT BIJ PARIJS
VERZAMELD DOOR EGMOND CODFRIED