Yes, its that time of year again. Time to start saving your hard earned cash for your trip to Scale Model Challenge 2012. This year the event will take place on Sunday October 14.
[IMG]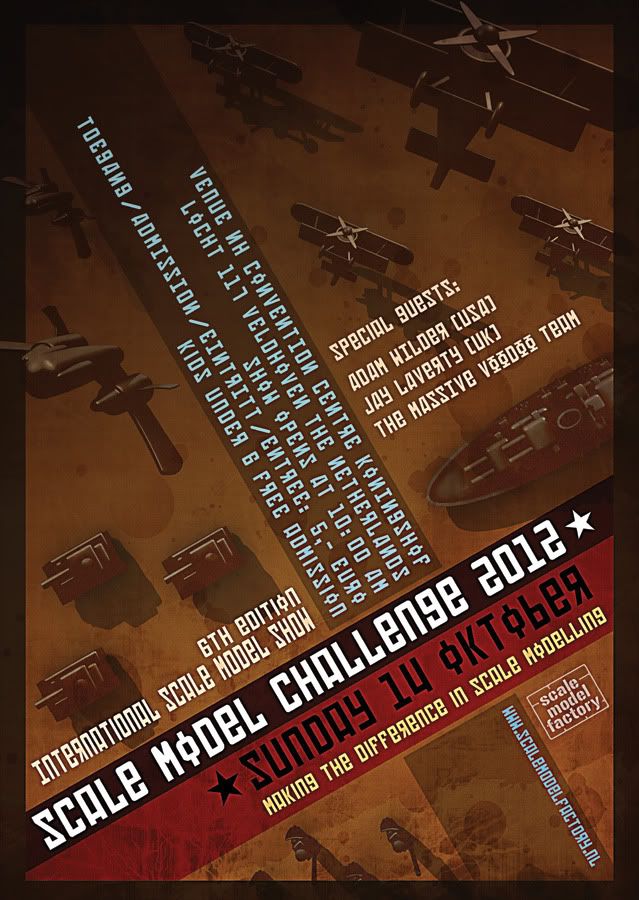 [/IMG]
On 4.000 square meters we present you the complete package: Over 90 traders and clubs from all over Europe will be present, showing everything scale modellers and figure painters could wish for.
Clubs & traders are still most welcome to join us, but as remaining space is very limited now, we recommend registering now.
Our line-up of special guests this year:
Adam Wilder will demonstrate on how to paint convincing metal surfaces on AFVs.
The Massive Voodoo Team will be represented by a part of their members to lead you in to the realm of figure painting and ultra-creative modelling.
And we welcome back Jay Laverty; editor of Scale Aircraft Modelling. He will show you how to apply various weathering techniques on aircraft (or whatever it is that you wish to weather).
More demo news will be announced soon.
Back by popular demand: online pre-registration for the competition entries. It's cheaper for you and easier for us, so why not take advantage of the opportunity to register your models before the show.
Full information is available on our website: www.scalemodelfactory.com
Were also on Facebook:
https://www.facebook.com/#!/events/111572712299286
. Check it for the latest info, in case you need more than whats available on our website.
And while youre at it: why not use our Facebook page to check whos coming, see who you can persuade to buy you a beer, look for someone to share a taxi from the airport with or whatever it is that you wish to share.
We hope to see all of you at SMC 2012 on October 14, 2012.