The following is a very interesting observation by a member of another forum, and I agree with her observation:
I'm hoping to make a connection between Atheism and the paranormal in that Atheism denies the existence of the paranormal. I on the other hand am starting to doubt the existence of Atheism as defined by it's own self professed adherents as being substantial enough to have anything to say about anything.

Note: Items #1 through #4 are taken directly from people who refer to themselves as Atheists, "The Atheist Experience" etc.

1."Atheism has no beliefs."
2."Atheism is a non-belief."
3."Atheism makes no claims."
4."Atheism is not a philosophy."

...Paradox: If #1 is true, then atheists themselves cannot believe #1, #2, #3, and #4 to be true since, #1 "atheism has no beliefs."

...Paradox: If #2 is true, "atheism is a non-belief" .. then atheists cannot believe that there is no God.

...Paradox: If #3 is true, "atheism makes no claims" .. then #1, #2, #3, and #4 wink out of existence.

#4. "Atheism is not a philosophy."
Definition of Philosophy provided by Wikipedia: "Philosophy is the study of general and fundamental problems, such as those connected with existence, knowledge, values, reason, mind, and language."

...Paradox: If #4 is true then atheism has no connection to any consideration involving:
a. Existence
b. Knowledge
c. Values
d. Reason (Self evident!)
e. Mind
f. Language

Therefore according to their own self imposed stricture (#4), Atheists can have nothing to say about a. through f. as Atheists.
Note: According to the Laws of Identity, and Non Contradiction, Atheism as described and defined by it's own faithful acolytes has no legitimate identity and certainly appears to be designed to defeat coherent thought and thereby avoid the embarrassment of rational analysis.

Note: "Atheism is simply the absence of belief in a God or gods." A belief (or anything) being "absent" (non-existent) is nothing. The preceding quote made in all seriousness, says nothing, and is therefore meaningless. In any case, apply #1 listed above.
(Do you believe that?) - or - #3, (Is that a claim?)

Note: "Atheism is the lack of belief in God."
Definition of Lack: 1) to be deficient or missing 2) To stand in need of ...
The word "lack" also implies a measure of degree, since it is not absolute. Someone who lacks belief is therefore not without belief and is by definition more likely to be an agnostic.
For me, this lack of cogent thinking on the part of atheists raises an important consideration. Are atheists so opposed to the validation of intelligence (I.D.) in defense of Theism that they must eschew intelligence in defense of themselves?

Note: So, is Atheism a "lack of belief" in God, or an "absence of belief" in God? Apparently for a group of people who are prone to sloppy thinking the distinction is trivial.

Note: Wouldn't it simpler, easier, and more honest to say, "I believe that God does not exist"? Apparently the evidence for the existence of God has become too persuasive for classical Atheism to surmount.

Note: The capacity to reason correctly is the fundamental skill set required to accurately assess reality. Sneering condescension and perpetual denial of the evidence is the Atheist answer to the correct application of higher mental functions.

Note: The "new" Atheists also refer to themselves as "Brights" Oh well .. what's one more paradox?
Pastor Jack Howell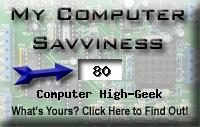 "Some bring God's curse on them by marking off part of the Bible, calling it erroneous, uninspired, less than the very Word of God."
- Dr. John R. Rice
"For I am not ashamed of the gospel of Christ: for it is the power of God to salvation to every one that believes; to the Jew first, and also to the Greek."
(Romans 1:16)

Proper Principles of Bible Study