And quit having tantrums on this forum? Your behavior certainly is far from reflecting Christ. Dave asked that: "PLEASE PLEASE PLEASE don't mess with this board if I have to spend some time away. Post good Godly Biblical things here; PLEASE no trolling or stirring-up trouble," and what do YOU proceed to do? You IGNORE his request and proceed to try to stir up trouble like a typical internet forum troll, rather than one who CLAIMS to follow God.
Pastor Jack Howell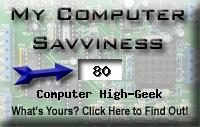 "Some bring God's curse on them by marking off part of the Bible, calling it erroneous, uninspired, less than the very Word of God."
- Dr. John R. Rice
"For I am not ashamed of the gospel of Christ: for it is the power of God to salvation to every one that believes; to the Jew first, and also to the Greek."
(Romans 1:16)

Proper Principles of Bible Study