Get Ready for the night you all been waiting for!!
KillaQueenz debut album 'Sistarhood' will soon hit stores and to celebrate we are inviting you and yours to the launch @ Oxford Art Factory!!!
Backed with a live band including some of Sydney's best musicians KillaQueenz will be performing joints fresh off the album.
The night kicks off @ 8pm-11pm
So get your tickets & get in early!!
Supported by:
Hoops DJ's
West Labz
K1
Natty Sistren Sound- Vida-Sunshyne & Candy (MELB)
African Essence
'Sistarhood' includes production from South Rakkas Crew, ZDE, Katalyst, M-Phazes, Fame, West Labz and more.
'Sistarhood' feature artists include Buff 1, RU.CL, Spit Syndicate, Lady Chann, Vida-Sunshyne & Candy plus more.
TICKETS @ MOSHTIX $12 ONLY OR $20 @ THE DOOR
Tickets on sale here -
http://www.moshtix.com.au/Event.aspx?id=26031
Thank you to all who have supported us this night means a lot and we cant wait to see you all there!!
Much Love
Kween G & Belizean Bombshell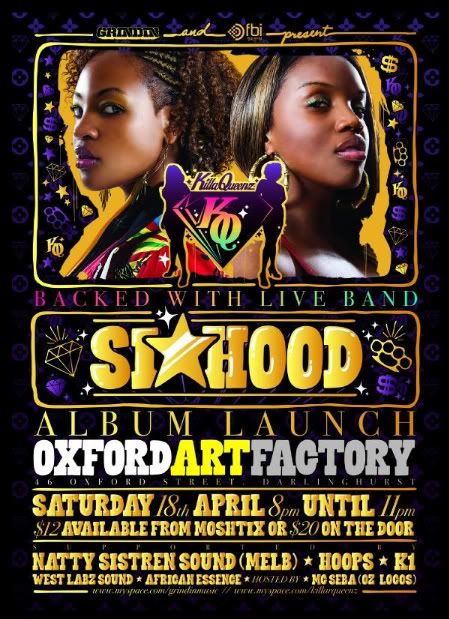 Go Killa Queenz!!!