Miss Nickels, a Rescue Story (long)

by (Login onlydog)
Since this is a show group, I wanted to post this here as Miss Nickels had several Champions up close in her pedigree. She spent 7 years in a puppy mill in Missouri.

We lost Miss Nickels on 8/1/2010. I picked her up from a breeder in South east MO who wanted to turn her in to rescue because she could no longer breed. That was January.

Miss Nickels had over 22,000 hits on her profile on the BCARN site, so we know she had a lot of followers out there and I will be taking down the post on the BCARN site on Sunday. Thought some of her followers might be here and would want to know.

St. Louis Bulldog Rescue, www.stlouisbulldogrescue.org

Contact Information:
Diana Engeszer, St. Louis Bulldog Rescue, www.stlouisbulldogrescue.org Diana@Artemis-Int.com
****************************************************************
FROM THE BCARN SITE: www.rescuebulldogs.org
Miss Nickles left us today 8/1/2010

We will only have this posted for a few days, but Miss Nickels has a lot of followers and friends out there in Bulldog land and we thought you would like to know. Nikky saw the vet last week because of persistant bleeding and an infection. She had surgery and stayed at the clinic overnight and came home Saturday. She was fine for a few hours, but then started to fail and went to the ER at 1:00 am. After fluids and IV antibiotics, she continued to fail and the decision was made to let her go peacefully.

Miss Nickels did not have an easy life, but thanks to Roy and Kim she had a wonderful last few months. She was warm and fed and petted and loved and got to watch TV every evening from her own place on the sofa.

She was a happy and outgoing little soul and she will be missed.

Diana, Roy and Kim
www.stlouisbulldogrescue.org


****Update 7/6/2010****
Miss Nickels is improving every day! She has gained enough weight now that she will make a trip to Dr. Ron to see if she can be spayed and have her bad teeth pulled! She is walking much better, although she can not go very far or fast.

Her bloodwork came back with only a systematic infection which we believe is from her rotting teeth. Thanks to her foster partents for providing the love and care to get her through to this point.

Miss Nickels is still such a darling sweetheart of a bulldog and shows that fantastic Bulldog spirit.

**** Update 5/4/2010 *****
Miss Nickels will be staying with her foster family as a Compassionate Hold. She is going into suspected kidney failure, and even though she has a healthy appetite still, she is losing muscle mass. Miss Nickels has a place in her foster family's hearts and home until her condition becomes unsustainable for her.

She is so happy to have people who care about her and lift her up onto the sofa to watch TV with them in the evening and help her to get outside and come back into the house.

Donations welcome!

*** Miss Nickels Update****
Miss Nickels is getting better...her abscess has drained and is healing. She has problems walking, probably due to a defect or an old injury. She is working hard on learning good potty habits. She is very clean in her crate and is really enjoying her food. Her teeth need some work (we will probably be doing some dental work when she gets spayed) and she needs to have her kibble softened, but really eats well when her kibble is soft. She is just the sweetest girl, and wiggles all over whenever she gets noticed. She is just so happy for petting and attention! Miss Nickles will be a great companion for someone who just wants a companion to sit on the couch with them.

**************
January 2010
Miss Nickels is an older girl who spent her life producing puppies. She will be 8 in January of 2010. she should weight about 40 lbs when we get her back into condition.

Miss Nickels has some issues that will take time and care to resolve. She has a huge abscess on her neck and has been loosing weight. She is on a course of strong antibiotics and needs to gain some condition before her spay.

She wants to be clean and loves to ride in the car; she likes to sleep in a crate on a soft bed. She is just the sweetest little bulldog girl, and is so happy for any kind of attention. She is good with other dogs, but would not be a good fit with a very active and energetic dog...she prefers to just hang out.

Won't you consider opening your heart and home to this deserving girl?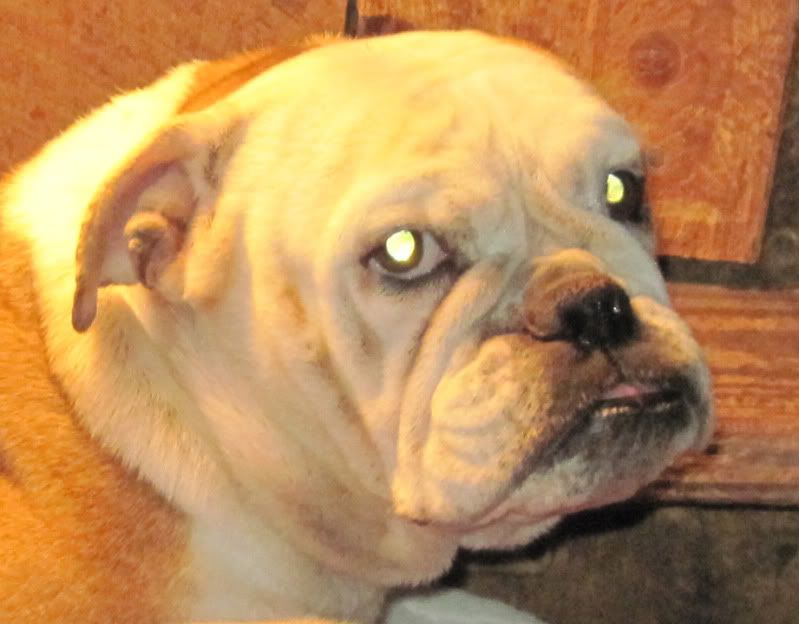 www.ArtemisBulldogs.com






Posted on Aug 11, 2010, 7:05 PM
from IP address 68.94.89.151

Respond to this message

Goto Forum Home

Responses