RBE39 Ridgelake's Report
Found on initial tile. Its fresh water and coastal. Four warriors and then a granary. MM for all that I am worth. I do make an important error. I miss fully exploring to the south and seeing the island to the SE.
2230BC Next town founded is on the lake to the NW with spices and fish in the first ring.
Meet the Egyptians. Wonder if we are alone. Nope. There are brown borders. Carthage. Actually, they are at war. That will help my growth.
1790BC Lugdunum founded by the dual wines with the lake.
1475BC Camulodunum founded SW of the capitol on the southern edge of the lake with fish in first ring and whale in second ring. This will ultimately be my top shield producer once forests are planted in tundra and hills are mined.
1225BC Richborough founded near the iron. It can work a couple of floodplains. This city, and several others, really benefited from the Ag trait. Being able to irrigate desert like plains allowed me to have significantly stronger cities than otherwise possible without the AG trait.
875BC was an important year when I founded Verulamium south of the capitol on one of the furs. That allowed border expansion to see the island. A curragh was soon sent to investigate.
About 650BC The curragh gets there, and we meet a Roman and English galley that were dropping off settlers.
630BC, I am able to confer a Lit monopoly into Masonry, Math, Construction, MM, Philo, CoL, and Myst. Such is the power of a monopoly on two continents.
Here is a map of the lands as of 270BC: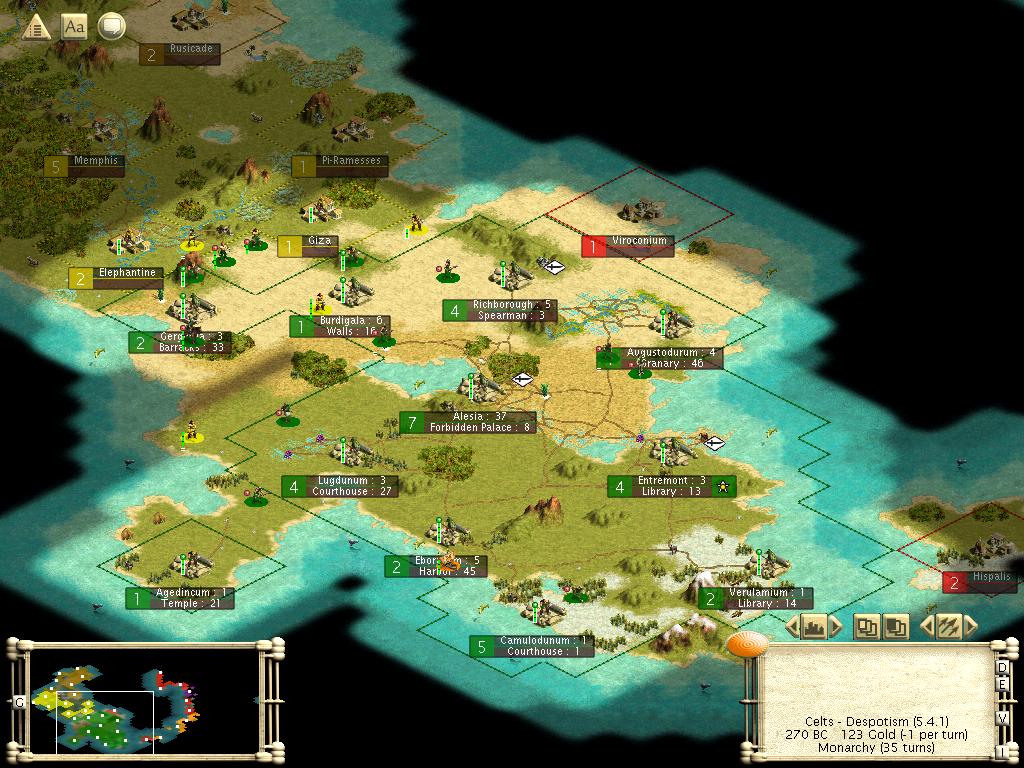 You will notice the FP being built. This location turned out to be particularly beneficial as it substantially reduced corruption in about 7 or 8 towns, all to the north. I have no second thoughts about its location.
Also of particular note on the above picture is the Roman blemish. That will play a key role in the development of my lands. By 200AD, I had entered into a monarchy and it was time for a GA.
250AD An unsupported town like that is begging for a smack. And a couple of Gaelic Swordsmen was all it took to capture that town and set off my GA. And a very effective GA it was. Markets, cathedrals, aqueducts, courthouses, granaries were all built. A huge boost in production.
Of course, I brought in Portugal and England to help keep Rome busy.
260AD I continued the Roman advance forward and captured one city on the island to the SE of the capitol.
After the 20 turns of alliance, there really wasn't much point in continuing on with Rome. I could have gotten a garbage city on their landmass as compensation, but it wasn't worth having an undefendable colony over there.
Ahh, but England continued to be the tech leader. And Lizzie being Lizzie, she decided to get uppidy with me and sneak attacked in 400AD on the island. That was fine as I wanted to slow down her research anyway. So Rome and Portugal were brought in with some older techs.
It is helpful to have a monopoly on communication across the water. Despite the prevalence of seafaring civs, they did not send forth an exploring galley. So I was able to broker techs from one side of the pond to the other and stay near the tech lead. This was a critical component to my game. The idjit AI not exploring and contacting.
I was able to take Dover from England on the island in 430AD. Then, it was time to grab a foot-hold on their continent.
I had been producing a handful of galleys to help shuttle troops to the island, and then to the other continent.
510AD I had assembled 4 knights and a Gallic on the outskirts of Newcastle. Newcastle was just across the water from the 2-tile island. Defended by pikes, it soon fell and I had a good DEFENDABLE foothold on the other continent.
I also founded a town on the 2-tile island to help with "virtual rails". This port city was particularly important once England had their Man-O-Wars. I could send ships from port to port in one turn, never exposing them to attack.
560AD England had muskets. Gunpowder had been passed around some. For Furs, Wine and 37 gpt , Cleo revealed the location of saltpeter to me. What??? No salt in all that desert we control? Carthage has some. And what's this, some just outside of Coventry, 1 tile from an expanded border of our captured Newcastle. Well, we know our target now. I had been amassing troops for an assault on first-ring Nottingham to help secure the dyes. But salt will be more important. So my 15 unit SoD of knights, gallics, and trebuchets overcome the defending muskets in a couple of turns and we secure saltpeter. Raze and replace.
In retrospect, the timing of the acquisition of gunpowder with my establishing a supportable foothold on the other continent was very fortunate and very deterministic. It set the direction for the remainder of my game. My closest neighbor, Egypt, had no salt. No iron either as they were boneheaded about claiming the source 4 tiles from Thebes. Easy target. Likewise, Carthage had no horses. So no cavs. My directions were clear. Domination it would be.
Research was set in all haste towards Mil Trad.
I left a significant force of troops in England. I settled another town on the hills next to a second saltpeter, 3 tiles from the former Newcastle. I did bring back my elites before moving on Egpyt.
700AD The idiot AI has never sent out exploring galleys to make contact. I sell contact across between the continents. Unbelievable.
810AD I declared war on Egpyt. Cavs rolled over pikes and spears. They had imported a bit of iron from Carthage.
By 930AD, Thebes was captured, along with the Hanging Gardens, Leo's, and the Oracle. Egypt was destroyed. In the process, we get our first GL. Cav army. YUM!
940AD Waste no time and go after Carthage. First order of business is to pillage their saltpeter. No new muskets.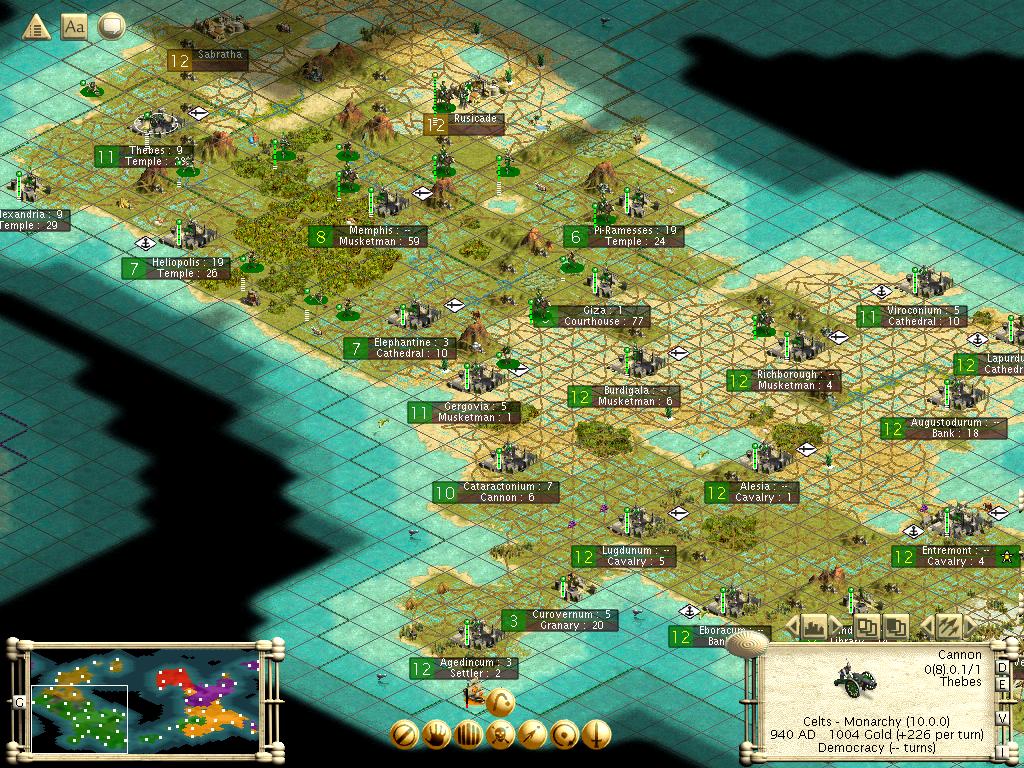 1020AD Carthage captured, along with Sistene and the expired Great Library. A second leader emerged and formed another cav army.
1040AD Carthage pushed off the continent to their little islands. Get a third leader in the process. A third cav army.
1110AD After capturing the larger northern island and pillaging their small island, take peace with them for Magnetism. This will allow for upgrades to galleons to carry cav armies across the seas. Next, sell them a ton of luxes and a fair bit of GPT for ToG to get into the industrial age.
Start max research on nationalism.
Before this game began, I had originally planned to move into feudalism to help develop corrupt areas. But I found the gold from monarchy was more helpful in selectively rushing temples (aided by religious trait) than burning corrupt citizens. Also, my towns were all size 12 and unit support problems would have been a significant issue had I switched to feudalism. So in monarchy, I stayed.
I have to admit that I did work some mined grasslands/plains in captured Egyptian/Carthage lands. But I made sure that they were corrupted shields. I felt that this situation fit within the spirit of the game guidelines. I did not benefit shield-wise from the mining of an arable tile.
With our continent secure and a couple of nice islands in our hands, we have 48% of the land and 62% of the population. Time to hit Rome who is ironless, horseless, and saltless. The newly-upgraded galleons ferry our troops and armies via "virtual rails" to our English holdings. From there, they board more boats for a trip north to Rome.
Around 1170AD, I declare on Rome, landing 3 cav armies and a few other troops outside Neopolis. This is a first-ring town on the peninsula south of Rome.
Utica flips back to Carthage despite my superior culture.
England and Carthage decide to MPP. Ok, no problem.
1190AD Rome falls and we capture Sun Tzus.
Well, how about this!?!? England sneak attacks! Their cavs actually kill several of my units. But on the good side, in counter-attacking, we trip the MPP against Carthage. We get back our GPT and can wipe them out now.
Bring in Portugal to help with England.
1200AD Veii falls. Recapture Utica.
1210AD Hmm..the research time on Nationalism drops significantly. Carthage and England both have it.
1220AD Wipe out the Romans. The Carthage island defended by rifles is proving tough for 3 cavs. Killed one, have to heal again before resuming.
Meanwhile, in England, an explorer more than pays for his shields by pillaging the only English saltpeter. He is not attacked and goes on to pillage their incense.
1240AD Capture the English Sagres on the former Roman border. We are now at 58% landmass, 71% population.
An army is sent to collect the Carthage blight on the tip of the other continent near Portugal.
1250AD The carthage island capitol is captured with our 3 cavs, leaving only the blight city. It absorbs 3 attacks from our cav army.
Continue to hold steady against England as my armies heal and move through Portugal towards the main part of England.
1255AD Cav army kills the last carthage defender and Carthage is destroyed. Nationalism is discovered. Turn off research to get more gold for rush-building.
1260AD Ravenna captured from England, allowing my foothold-cities to connect with Portugal with former Rome on the other side.
Move troops on Nottingham.
62%/74% for area/population
1265AD Nottingham razed. Replaced by Segusio. Move on Canterbury and Hastings.
1270AD Capture Canterbury, along with Copernicus. Idiot English didn't put Cop's with the Colossus in London.
1275AD Capture Hastings. Capture York. We are now at 67% land, 81% population. Fill in captured cities as much as possible with units to reduce flip risk. Hit enter and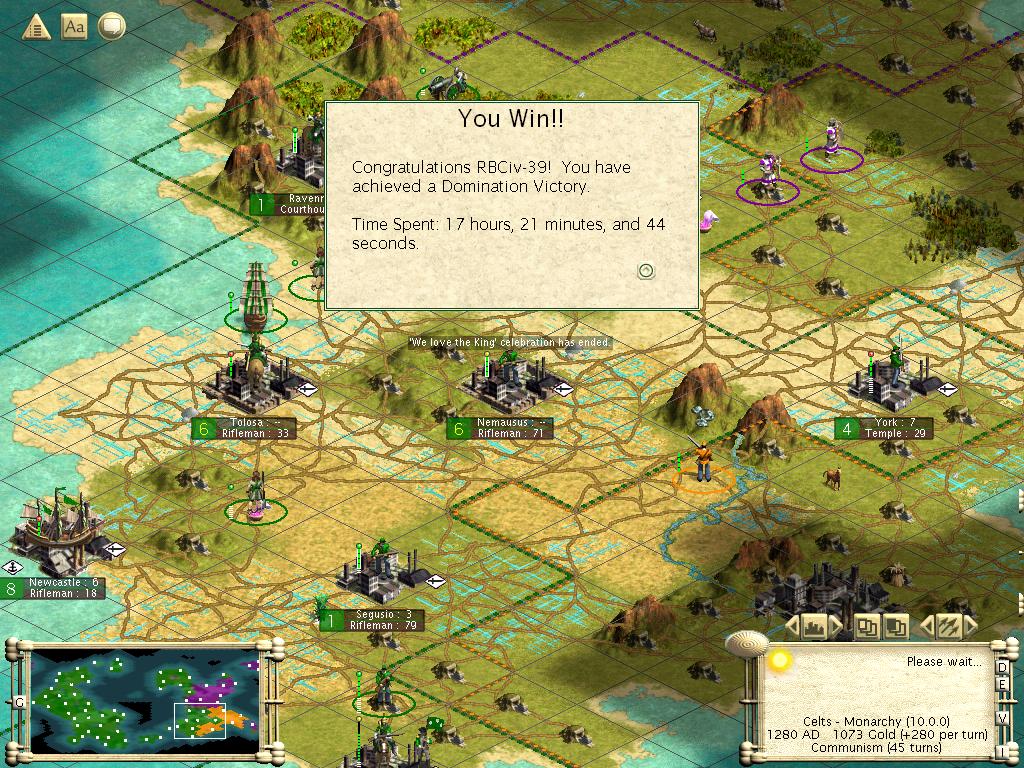 Conquest victory in 1280AD. Total Score 5882.
In retrospect, there were several keys to victory:
1) The lit monopoly allowed me to go from far behind in tech to tech leader. Having monopolies on two continents significantly helped this situation.
2) Rome placing an easy target on my landmass. This allowed my to time my GA extremely well.
3) The early Roman war allowed me to get access to the island SE of our landmass.
4) England sneak attacking me. Twice. The continuation of the first war allowed me to get a defendable foothold on their continent. Also, timing was excellent with gunpowder. Allowed me to acquire 2 saltpeters in England, one for my own and one for denial. This was huge for allowing me to unilaterally build cavs on my continent. The second war triggered the MPP with Carthage. That allowed me to finish Carthage sooner than otherwise possible.
5) The MAs that I signed. All were with the other continent and forced them to take the brunt of the fighting. Those wars normally continued after my 20 turns. These wars substantially slowed the tech pace.
6) The Idjit AI did not make contact across the pond. I ended up selling contacts around 700AD. The delayed contact also slowed the tech pace and helped with tech trading.
7) The resources were distributed favorably once I had saltpeter. It was easy pickings afterwards.
The lack of shields definitely altered my plans. I did not go for a wonder. Actually, I did go for the colossus, but England badly beat me to it. (And triggered an ancient age GA for them.) My "colossus" shields went nicely into my first Gallic. Cavs faired extremely well on pikes, spears, and NuMes. Those shields were well invested. Knight attacks on English muskets was tough and limited my aggression once my immediate goal (saltpeter) was obtained..
I did not build the military academy. My top shields producer was about 18 spt. No way that I could produce armies. I did build the Epic. I ended up with 4 armies (all cavs). I sometimes had trouble filling the armies, however.
The government choices played into a warmonger game. I had hoped to get into communism for its shields. Never got there. I also never got to use the specialists, other than the taxmen and scientists.
I was never really thrilled with my city placements. I wasted too many good tiles near the capitol and FP.
All in all, it was a fun game. In the end, it was largely decided by resource allocation. I had all that I needed. Most of the AI's didn't.