About four years ago now, I was told a story about an historic girls grammar school here in Melbourne Australia called 'Rubicon Grammar' - a school that no longer exists but the stories I was told related to the school's Headmistress having a policy of using the cane on girls and more specifically applying the cane to the girl's bare bottoms. It was a lead I couldn't afford to ignore but most such stories obviously turn out to be rather less true than some people would like to believe, and after a bit of checking revealed absolutely no trace of a Rubicon Grammar, I dismissed the story as fantasy.
Earlier this year I was researching another school looking through old newspapers and came across this article on the same page as the one I was reading.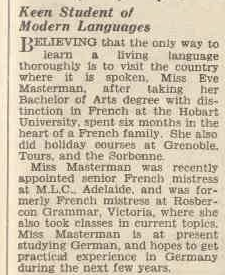 Something went 'click' and so I started looking into Rosbercon Grammar.
Also known as Rosbercon College.
It is a defunct school - it was absorbed into a larger school in the 1940s - but it did last quite a long time, and from what I've been able to find out, it was something of an unusual school largely thanks to one of its headmistresses - Miss Constance Tisdall O.B.E. She ran the school from 1906 to 1933, refusing an offer in 1911 to put her school under the authority of the Anglican Archdiocese which would have ensured its long term future, but would have required her to abandon her own ideas in running the school. One of these ideas seems to have been what was for the time, some very radical ideas about girls education. She believed girls needed to be just as educated as boys (she was one of the first women in Australia to receive a Masters Degree) at least in the humanities - she saw less need for Mathematics and Science, possibly because she, herself wasn't very good at them and she believed very much in firm discipline.
Some of the stories I have gathered about her and her school, I find rather incredible. My sources are first hand accounts from people who were themselves involved - one is a now very elderly woman who was a junior mistress at the school, another is an elderly man who - well, let's just say he was about the luckiest 14 year old boy I've ever heard of, given what he describes. I would love to be able to confirm what I am being told from some other source. Miss Tisdall's autobiography isn't helpful - but it was written nearly thirty years after she'd left the school and when she was holding a position in Victoria's society that might have made her reluctant to attract controversy (she had become one of Australia's most respected teachers - hence the O.B.E.). The reason I am posting here, is because I really can't see how I can use what I've got in my book without some sort of confirmation, and this is one place I'm going to ask if anyone has encountered references to matters of interest at this school.