The first watch I ever collected was a 3525 and I have seen many of these beasts
all have the semi circular text and as I mentioned below 1% has
this strange and ugly (imo) baton design. But never never I had seen "plated" cases
I looked thru all my auction catalogs, books and auction results on the net and did
not find any (maybe Mike can help with examples). Maybe they existed for the commonwealth market and were produced in very few
quantities?
Now, the 4500 chronograph is exactly the same watch as the 3525
with the same 13" line movement base Valjoux 23 or some times called VZ.
2 minus differences though, the 3525 is a 35mm diameter and the 4500
is a 36mm with thinner luggs than the 3525. I owned both so I can tell they are very similar.
The dials are perfectly exchageable, and most of the 2 register watch your are showing
us with flat text are 4500 not 3525.
Here is a pic of a double name 2 register 4500, sorry for the poor quality but you'll still notice that the serifs are present.
Then carrefully compare typography of the under 4500 to Matt's dial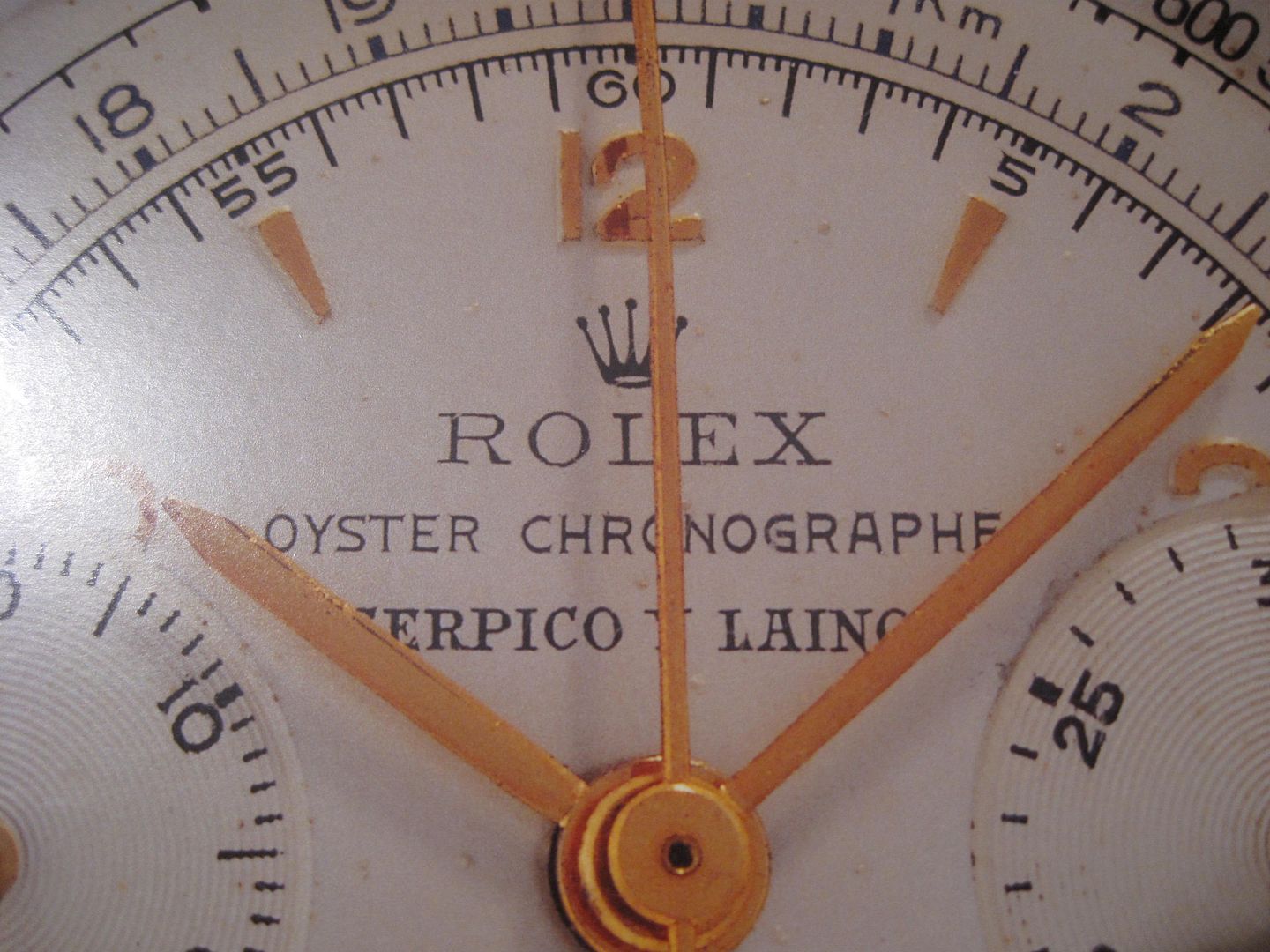 Now, yesterday evening I called my french guru to know if he ever seen any 'plated'
3525 and the answer was no, he even looked in his documentation and did not find
anything. But he is no voice of God because he just retired 3 years ago and being around
65 years old their are few chances anyway he had to service one.
From what I see on your pictures you also posted what I believe to be flat text 5034 and the others watches are 3 registers so can not be compared to 3525.
My opinion still is that Matt's dial is a redial and for the case I am completely lost because I never ever seen 3525 pitted like this, and wrecks I have seen many in my life.
So?? better ask if serial refer to a 3525 before any restauration as obviously Matt's case and mine are of different shape. JMHO
I will post later scarry 3525 completely fake.