...through
their dealers
.
I agree it would be difficult to receive 100% compliance from a recall depending solely on customers, no matter how urgent and public the request.
But Rolex would be able to recall
all
their watches that they had concerns over, and I do mean all of them, via their dealer network. If Rolex put an ad in the papers asking for public help with this matter, you can be sure they gave the
order
to their dealers to send the questionable stock back to HQ for testing for AEC compliance.
In fact, this December, 1959 article (via John Harris) expressly states this is so:
http://news.google.com/newspapers?id=23oeAAAAIBAJ&sjid=-8kEAAAAIBAJ&pg=2819%2c3295095&dq=american+rolex&hl=en
"The company said it has instructed dealers to ship back all the special model watches [6542 GMT] for checking."
And, as of course we all know, the 5508 was not even on the public radar for any issues, so Rolex could test those Submariners completely in secret and mark them "radiation safe" as a matter of reassuring the public about
all
their Sports models (as they might do, I would assume, with the 6610 also).
This could explain the sudden
rush of 1958 and 1959 5508s with Exclamation point
(thanks to Jason for the outstanding research).
As seen on the same paperwork with the "radiation-safe" sticker, this 5508 has a 489,k SN but was not sold until 1962:
Might be coincidence and Sports models certainly sat in dealers' displays for differing lengths of time. But it could also indicate that the watch was not consistently on sale all that time and was withdrawn for a period while Rolex checked the rads and subsequently marked it as "radiation safe". And we now know that Rolex felt compelled by the pressure of the S-90 scare to mark Submariners with this sticker
even though the bezel of the Sub is completely different and was not in question.
This must mean that Rolex were also inspecting
dials
for "contamination"/unacceptable levels of radiation and not just Bakelite bezels. (Unless you are cynical enough to believe that Rolex simply slapped this "radiation safe" sticker on its models with no actual testing at all!)
For the 5508, Rolex could have full control over the process by temporarily withdrawing all unsold 5508s in dealers' shops for testing and return the watches with no fanfare at all. And as I am sure was the plan with the 6542, they could also test/make alterations to the watches when they came in for service but with no one the wiser in the case of the Sub, since the 5508 was not officially suspect.
Also, as some here constantly need refreshers on the Rolex documentation of the time, as well as the continuing firestorm surrounding the radiation scare and Rolex's desperate PR attempts to control perceptions: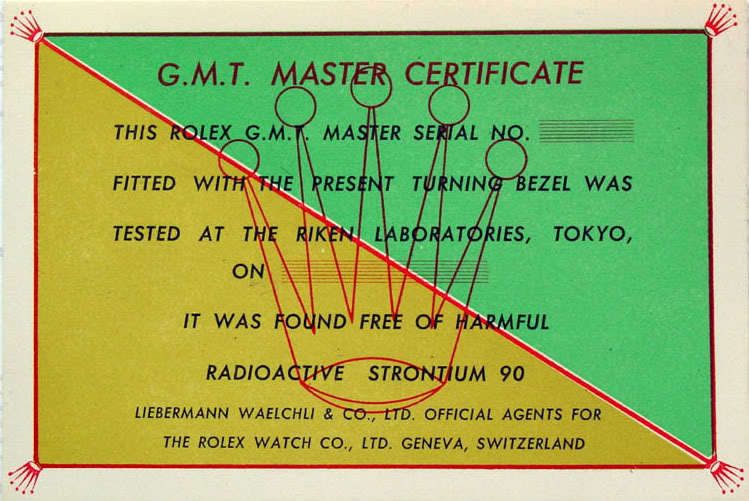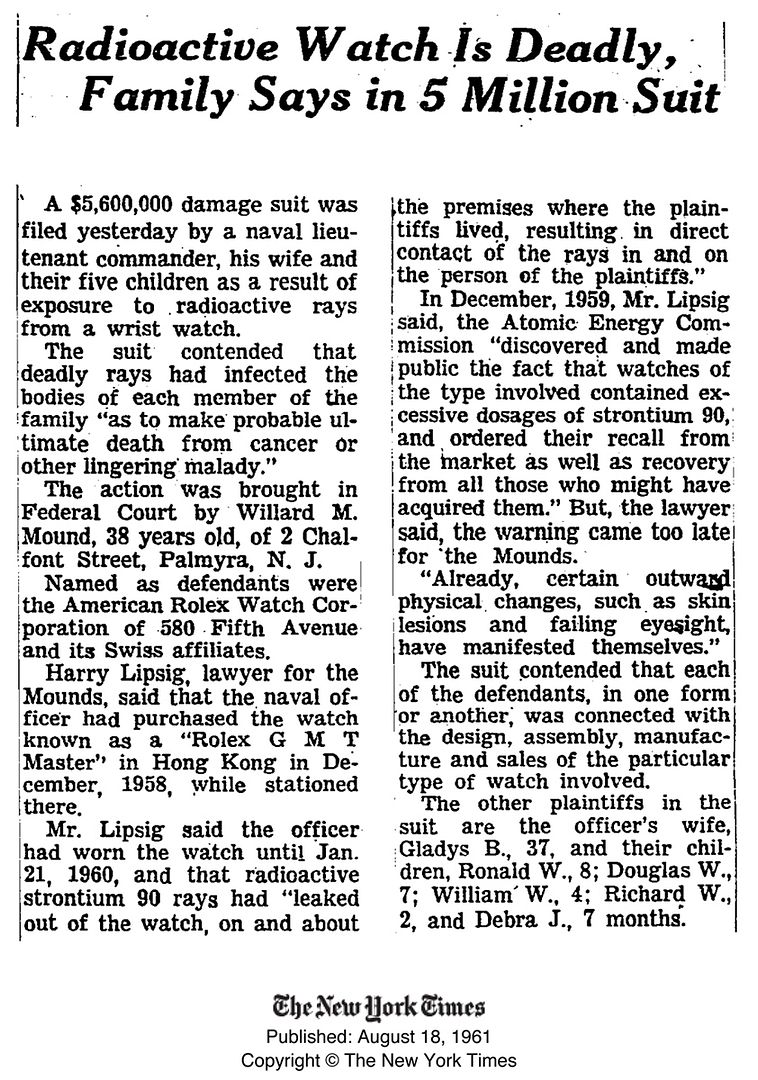 (I wish I still had access to Tommy's docs from the diGarmo agency handling Rolex's PR about the radiation scare
).
More here via the redoubtable John Harris:
Send All Such Watches to Rolex New York
Noticed in 1958
Does the Ex Point have anything at all to do with the Rolex's attempts to reassure the public over "contaminated" watches, a way of marking "inspected" "radiation-safe" watches? The jury is still out, IMO, but some interesting patterns are being revealed, I think.
Best,
T.