Bought a watch in London at a reputable dealer, recommended by friends, on Bond Street.
Here is all the info I have to help out.
I don't know much about watches, and I'm wondering if I've been "had." Wanted to figure out the make/model/year... But based on my research thus far, it seems like the watch I own (which cost over 5k) cannot actually exist.
I have attached a photo of the watch on my wrist. It was bought about a year ago: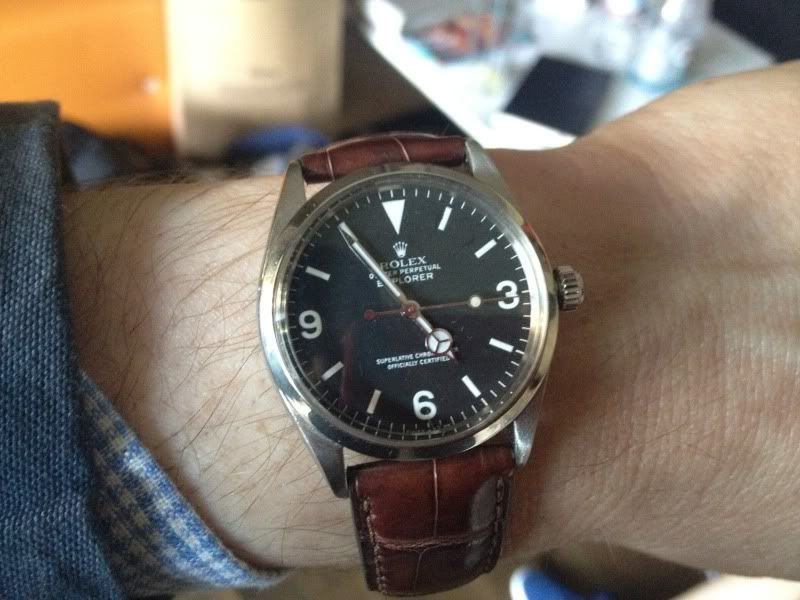 My question, based on what I've researched, is how a 5500 (that's the style number under the lugs) could POSSIBLY have a face that reads "Superlative Chronometer" - I have been told recently that the 5500s only said "Precision" or "Super Precision." Let me know if I am mistaken.
I've heard about ones that were made in the middle east and have also read that section of some rolex history book that people have posted about refurbished airkings, etc and certain Explorer 1s that were rare, etc
The serial number is: 102707 (i left off the last number) -- what I'm saying is mine seems like a 5500 body with a 1016 face. Am I correct? Or was there ever a 5500 with this face?
Trying to figure out the year, make, model of my watch and if it's basically worthless because it's been messed with. Thoughts?
I've already read these posts below, but they seem to be answering/asking slightly different questions:
http://www.rolexforums.com/showthread.php?t=145728
http://www.watch-pop.com/rolex-vintage/rolex-vintage-15759.html
Thanks so much for your time in advance!
Willie