It was the first Rolex Submariner with crown guards. It is chronometer rated, the 5513 is not.
And the 5512 was considerably more expensive in its day and produced in significantly fewer numbers...
(Photo by wolfgang from the Archive)
Note that the catalog text mentions a $55 premium (approximately +31%) for the chronometer 5512 (not pictured) over the price of the non-chronometer 5513 pictured.
Additionally the 5512 was produced for many fewer years than the 5513:
5512 Production: ca. 1959-78 = 19 years
5513 Production: ca. 1962-90 = 28 years
Early 5512 & 3s shared the same movement (cal. 1530) but as improvements were made to the 15xx movements, such as microstella regulation and a Breguet overcoiled hairspring, Rolex developed a cheaper all-purpose caliber for their non-chronometer watches (i.e. those that would never be submitted for testing), the cal. 1520. The cal. 1520 has conventional "stick" regulation and a flat hairspring and this is the caliber found almost exclusively in the 5513 from the mid-late 1960s until the end of its production during the "L" series, ca. 1990.
Meanwhile, the 5512 was fitted with the cal. 1570, considered one of the greatest mass-produced automatic movements ever made, from the mid-late 1960s until the end of its production, ca. 1978. Obviously, it was always chronometer tested & certified.
Lastly, the 5512 has several more dial variations than the 5513, particularly in the gilt/gloss era. Check out the Archive to see what I'm talking about.
Some examples of both models to illustrate a few contrasts between the two references:
1961 5512:
1964 5513: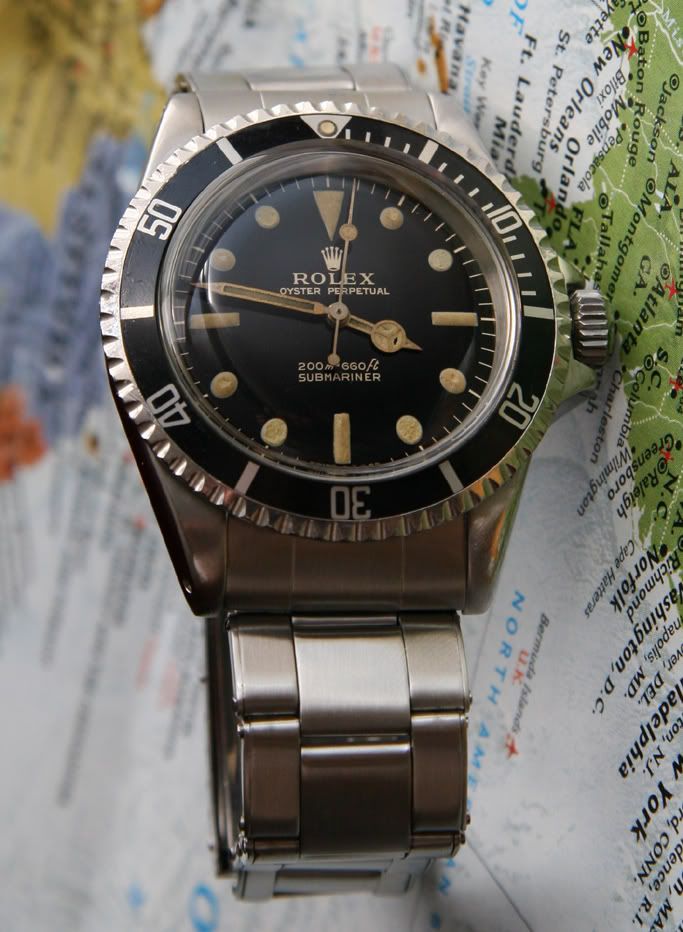 Early 1970s 5512 & 5513:
Obviously, personal taste will play a part in whether you feel a 5512 is worth a premium over a like 5513. But to me, the 5512 is a real collector's watch well worth seeking out.
Best,
T.
P.S. The 5512 is also the
true
Steve McQueen Rolex...
...if that kind of thing floats your boat.