TIDY UP TIME AGAIN!! PARTS FOR SALE
{E.MAIL} jedly1@gmail.com {EMAIL}
SHIPPING IS AT COST, VARIOUS OPTIONS AVAILABLE!!!
ROLEX Big Red Daytona Dial-A used cosmograph dial from the second half of production span...big red 100% original with nice patina to sub dials creating a little character, complete with an almost complete matching set of hands thrown in. US$4800
Complete and working 1530 movement (5513/5512) - A complete movement REF 1530 with the Post 62/3 rotor. In full working order and keeping excellent time when removed from its case. $US1200
A restored (not re-brushed) 93160A Seadweller bracelet for the Seadweller-dated 1998 with 12 links. US$995
Used Gents oyster flip-lock bracelet model 93150- A used but re-tightened (Michael Young) 93150 bracelet in good condition with 11 links present. $US995
Small Arrow GMT Hand-A used 100% original small arrow GMT hand.....used on the GMT model from its launch in 1960 through until circa 1965 when the hand was enlarged to the more familiar large arrow hand. US$750
Bezel and fat font insert for models 1680/5513/5512-US$750
Mark II Maxi Dial for a Rolex Submariner 5513-Used but in great condition with some tritium loss (to the 3-O-Clock marker).....but then cheaper as a result!! US$550
Original Rolex Case Openers-A set of genuine Rolex propeller style case openers covering most popular models including gents sports models. US$380
Rare inner and outer early 1960's Coffin Box- Most commonly seen in the U.K rare market, it is very unusual to see this box complete with its outer box and in such good condition, perfect to complete your early sub set. US$395
White Gold fluted Bezel for Mens Datejust quickset model (6 Digit Model). US$250
Early Rolex Promotional price list featuring 3-6-9 submariner model 5513-very rare. US$195
1970's GMT Master Booklet -A guide on how to use your GMT. US$240
Your Rolex Oyster booklet from 1975-1980-The history of the Rolex Oyster. US$136
Your Rolex Oyster Booklet 1985-The imid 1980's handbook of Rolex operating instruction, Rolex History and Rolex principals. US$80
Really nice condition 1665 seadweller service dial and hand set...perfect if you don't want RSC messing with your perfect dial at service, or if you want to just be able to tell the time at night !!! ( apparently some people do !!! ) price $750 for set.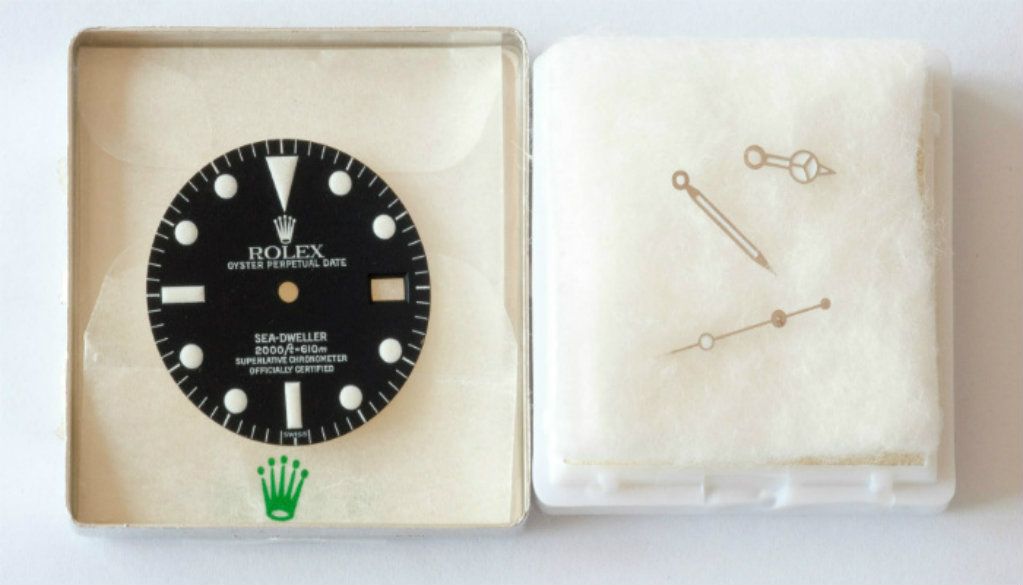 Return Policy: All goods accepted for return within 7 days as long as same condition as when they left. If its a cock up on our part then we pay the postage. If you change your mind...you do...simple...no harm no foul.