I am selling an amazing 6542 Gmt Rolex Bakelite bezel and Tropical dial (the most beautiful I've seen ....)
The watch has had only one owner before I recovers, it was completely overhauled by a famous clockmaker and watchmaker known forums who worked many years at Rolex:
- The watch will come with its box, the parts changed during the revision (plexi, joints to bottom of box, tube joint ....), the revision bill dating from March 31, 2012 with a guarantee of a year ----
- Revision: disassembly of the movement, cleaning and inspection of all parts of the movement, lubrication and verifying the proper operation of all parts, change the plexi and joints (all these operations appear on the bill .... )
- Case: Serial Number 35XXXX (1958) - the box is quite thick - Case back engraved II.1958
- Band: riveted 7206 Full (with links provided in addition), end links 80, engraved buckle 2.63, very slightly distended and in an incredible state,
- Movement: caliber 1036 completely original, movement No. DN774549
- Dial : the tropical dial is original dial, the dial color is uniform and incredible match at the indexes perfectly with the hands and have a wonderful patina, the chapter ring is also superb, definitely one of the most beautiful tropical dial I seen ....
I did change the GMT hand during the review by a smal Gmt hand that I acquired on VRF (it is small Rolex Gmt original hand), the GMT hand that was on the watch and had to be placed in the course of a service by Rolex will be shipped with the watch ....
I recall that the watch is completely overhauled, works great with an amplitude of 285 degrees (check on equipment after the Rolex REVISION) and is guaranteed until March 31, 2013 ....
Price: 30000 USD
I'm open to a full or partial exchange of several watches (Rolex) .... The watch is in France and I can send with confidence ....
I can also move and deliver worldwide if you take the costs of travel and accommodation (to be arranged together ....)
Return policy: 3 days return and 100% full refund if the watch is not 100% Original Rolex and the buyer is unhappy ....
Place the photos ....
[IMG]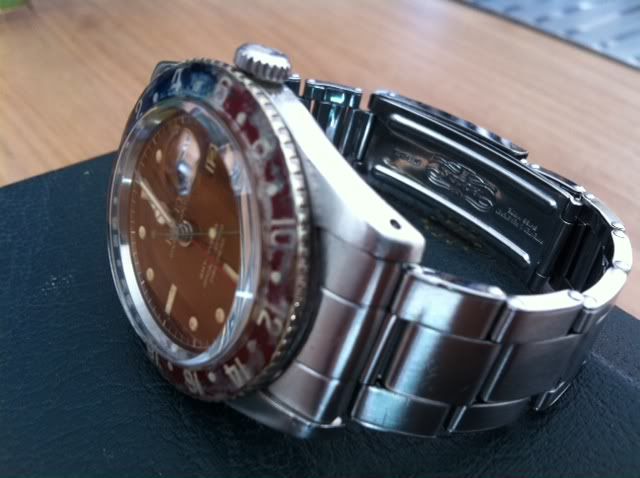 [/IMG]
[IMG]
[/IMG]
[IMG]
[/IMG]
[IMG]
[/IMG]
[IMG]
[/IMG]
[IMG]
[/IMG]
[IMG]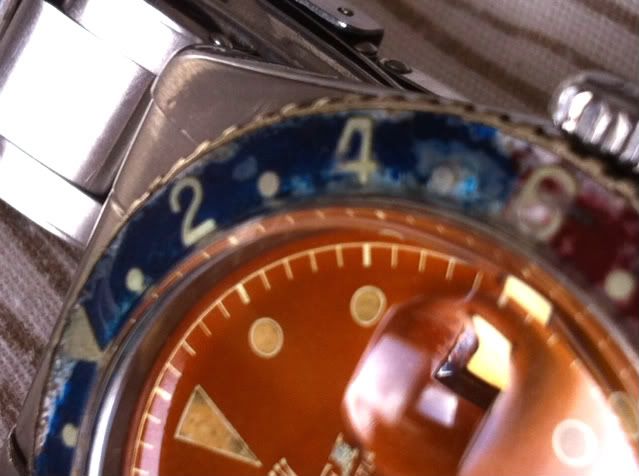 [/IMG]
[IMG]
[/IMG]
[IMG]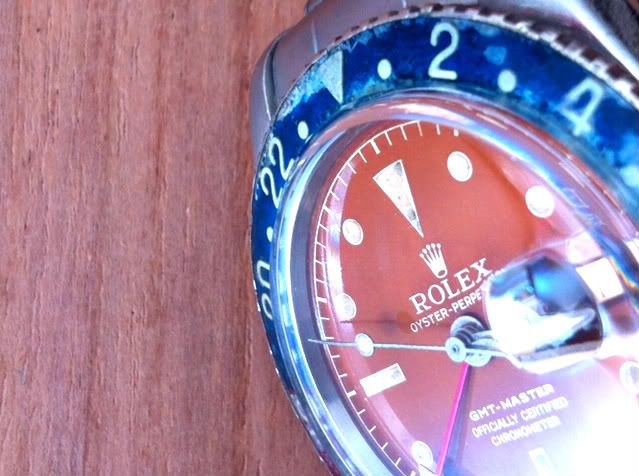 [/IMG]
[IMG]
[/IMG]
[IMG]
[/IMG]
[IMG]
[/IMG]
[IMG]
[/IMG]
Thanks .... Franck