World | Afghanistan
Australia to withdraw troops from Kabul a year earlier
Gillard to take timetable of the proposal to Nato meeting in Chicago
Reuters
Published: 00:00 April 18, 2012
Share on facebookShare on twitterShare on emailShare on printMore Sharing Services0
.
Image Credit: Reuters
Australias Prime Minister Julia Gillard meets members of the Australian army during her visit to multinational base Tarin Kowt in southern Afghanistan in this October 2, 2010 photo.
Canberra: Australia will start withdrawing troops from Afghanistan this year and expects all international forces there to be playing a supporting role for Afghan forces by mid-2013, Prime Minister Julia Gillard said yesterday.
Gillard will take her timetable for Australia's troop withdrawal a year earlier than planned to a Nato conference on Afghanistan in Chicago in May.
"I am now confident that Chicago will recognise mid-2013 as a key milestone in the international strategy," Gillard said in a speech to the Australian Strategic Policy Institute in Canberra.
"A crucial point when the international forces will be able to move to a supporting role across all of Afghanistan."
Article continues below
All foreign combat troops are due to be out of Afghanistan by the end of 2014 and Australia had been expected to withdraw then too.
Western plans
Related Links
Karzai accuses Nato of failure over attacks
US President Barack Obama and other Nato leaders are expected to define more clearly Western withdrawal plans at the Chicago conference and outline measures to ensure Afghanistan does not collapse into civil war when foreign troops go home.
Gillard rejected suggestions the faster timetable was being driven by Obama and his desire to have withdrawal plans finalised before the November US presidential election, saying it was reliant on progress agreed by Afghan and international forces. A major assault in Kabul by the Taliban this week has raised questions about whether Afghan forces will be able to control security after foreign troops withdraw.
A spokesman for Nato's Afghan force said its members were drawing up plans for handing over responsibility for security to Afghan forces and Gillard's announcement would be taken into account.
"We are at the stage where all nations are discussing their plans and their role in transition," the spokesman, Brigadier General Carsten Jacobson, told Reuters.
"This will be carefully orchestrated with the government of Australia," Jacobson said. "This is nothing that is in any way out of what we are all doing."
http://gulfnews.com/news/world/afghanistan/australia-to-withdraw-troops-from-kabul-a-year-earlier-1.1009953
---
Pakistan Airforce: The largest distributor of Indian airforce parts in Asia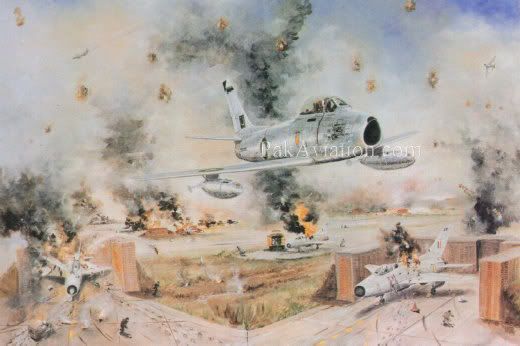 Pathankot Strike
8 F-86Fs of No 19 Squadron led by Squadron Leader Sajjad Haider struck Pathankot airfield. With carefully positioned dives and selecting each individual aircraft in their protected pens for their strafing attacks, the strike elements completed a textbook operation against Pathankot. Wing Commander M G Tawab, flying one of the two Sabres as tied escorts overhead, counted 14 wrecks burning on the airfield. Among the aircraft destroyed on the ground were nearly all of the IAFs Soviet-supplied Mig-21s till then received, none of which were seen again during the War.
http://www.youtube.com/watch?v=PFHlzP69n9c
---