Abolish draconian AFSPA law, UN expert tells India
AP
14 hours ago
Under the law, troops have the right to shoot anyone suspected of being a rebel and to arrest suspected militants without a warrant. File photo by AP
NEW DELHI: A United Nations expert has urged India to repeal a law that gives its military sweeping powers to act in troubled areas like the Himalayan Kashmir region and parts of the insurgency-wracked northeast.
Christof Heyns, the UN special rapporteur on extrajudicial, summary or arbitrary executions told reporters in New Delhi on Friday that the Armed Forces Special Powers Act allows the state to override rights and has no role in a democracy.
Under the law, troops have the right to shoot anyone suspected of being a rebel and to arrest suspected militants without a warrant.
This law has been described to me as hated, and a member of a state human rights commission has called it draconian, said Heyns, who travelled through Kashmir and the states of Gujarat, Kerala, Assam and West Bengal for two weeks ahead of Fridays press conference.
There was no immediate comment from the Indian government.
The special powers law has been in force in different parts of the country since 1958 and is currently enforced in Indian-administered Kashmir and in the states of Manipur and Nagaland in the northeast, all battling separatist movements.
In all three regions, human rights workers have accused Indian troops of illegally detaining, torturing and killing rebel suspects, sometimes even staging gun battles as pretexts to kill.
The law also prohibits soldiers from being prosecuted for alleged rights violations unless granted express permission from the federal government. According to official documents, the state government in Indian Kashmir has sought permission to try soldiers in 50 cases in the last two decades, but the federal government has refused every one.
India has long relied on military might to retain control over Kashmir and has fought two territorial wars with Pakistan, which also claims the mountain region as its own.
The region is heavily militarised, with hundreds of thousands of Indian troops stationed and maintaining checkpoints throughout Indian-controlled territory.
In Manipur in the countrys northeast, an activist has been on hunger strike for over 11 years demand the repeal of a similar law there.
Irom Sharmila has been kept alive by Manipur state authorities hospitalising her on a nasal drip after arresting her for attempting suicide.
Sharmila began her hunger strike on November 4, 2000, after soldiers allegedly gunned down 10 civilians near a bus stop, saying suspected militants were in the area.
Manipurs insurgent groups demand autonomy or independence for the northeast state of 2 million bordering Myanmar.
http://www.dawn.com/2012/03/30/abolish-draconian-afspa-law-un-expert-tells-india.html
---
Pakistan Airforce: The largest distributor of Indian airforce parts in Asia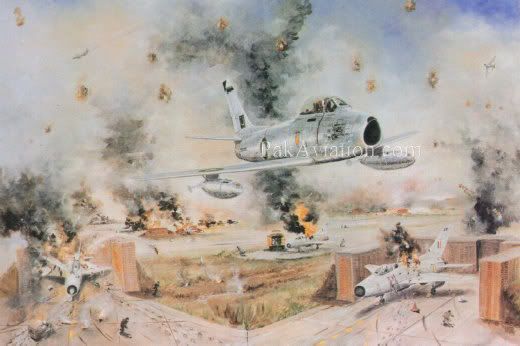 Pathankot Strike
8 F-86Fs of No 19 Squadron led by Squadron Leader Sajjad Haider struck Pathankot airfield. With carefully positioned dives and selecting each individual aircraft in their protected pens for their strafing attacks, the strike elements completed a textbook operation against Pathankot. Wing Commander M G Tawab, flying one of the two Sabres as tied escorts overhead, counted 14 wrecks burning on the airfield. Among the aircraft destroyed on the ground were nearly all of the IAFs Soviet-supplied Mig-21s till then received, none of which were seen again during the War.
http://www.youtube.com/watch?v=PFHlzP69n9c
---