MI5 'gave Libyan spies details of dissidents in Britain'
Tripoli agents were reportedly greeted at Heathrow and given mobiles and a safe house in Knightsbridge on 2006 mission
Share132
Ian Cobain and Richard Norton-Taylor
guardian.co.uk, Sunday 22 April 2012 15.29 BST
Article history
Jack Straw, who faces legal action over claims that he personally permitted the illegal rendition of a Libyan dissident in 2004. Photograph: Andy Rain/EPA
The UK's intelligence services have come under renewed pressure with the emergence of a fresh cache of secret documents that suggest MI5 officers forced Libyans seeking asylum in Britain to co-operate with the very regime from which they had fled.
For the last three months, Scotland Yard detectives have been investigating MI6's alleged involvement in two so-called rendition operations that saw two Libyan dissidents kidnapped along with their families and flown to one of Muammar Gaddafi's prisons in 2004.
The role that MI6 is said to have played is detailed in a batch of documents discovered in an abandoned government office in Tripoli last September. The two men have lodged civil claims against MI6 and against Jack Straw, who was foreign secretary at the time.
Well-placed officials said on Sunday that a key question, and the one that worried them, was how much information MI5 offered Libya about individuals in Britain. That is a central issue in investigations now under way into MI5 and MI6 relations with Gaddafi and his security and intelligence agencies, they made clear.
The Mail on Sunday now says it is in possession of a second batch of Libyan government documents, that the newspaper says shows how the continuing close co-operation between the UK government and Gaddafi's external security operation (EOS) saw Libyan agents enter Britain in 2006 in order to make joint "approaches" to dissidents living in London and Manchester.
This meant that "Britain conspired with Gaddafi's henchmen to menace his enemies on UK soil", the newspaper claims. The MoS also claims that in 2006 two Libyan agents were greeted at Heathrow and given a safe house in Knightsbridge and secure mobile phones.
According to the minutes of one meeting between MI5, MI6 and EOS officers in Tripoli, the MI5 officer is said to have said that "target 2 could become a very good source and we can pressure him to work for us because he's not a British citizen", the Mail claims.
During another meeting, MI5 is reported in the paper to have warned its EOS counterparts: "The target person has the right to make a complaint or seek police protection. British intelligence must be careful how they approach a target because this individual could call on human rights or the press and cause a security scandal that exposes co-operation between British and Libyan secret services."
There was anger among lawyers who have represented Libyan asylum seekers, with one, Gareth Peirce, saying it had become common for MI5 to seek to exploit "vulnerable people who are facing deportation".
David Davis, the former shadow home secretary, said the 2004 "rendition" operations were not the only joint enterprises between the UK and Gaddafi's intelligence agency. "This is two years later. It involves people who have come to Britain, presumably cleared to live in Britain, being put under pressure to deal with the security service, which seems rather peculiar if this is realpolitik rather than protecting the security of the country."
Margaret Beckett, who was foreign secretary at the time, told the Press Association that the level of co-operation between Libya and the UK depicted in the files "didn't ring any bells with me".
One Libyan dissident, an accountant living in London, told the Mail that he was shocked to discover that a photograph that he had taken when applying for a British passport in 2002 had been passed to the EOS and was among the recovered documents. He says he suspects that a telephone was being monitored, with the result that an associate in Libya was detained, tortured and then held for five years in one of Gaddafi's jails.
Whitehall sources do not deny that Libyan refugees and dissidents in Britain were watched by MI5. They say that this was the time the Libyan Islamic Fighting Group had links with al-Qaida, links which, they say, were not broken until 2009.
This is the explanation Whitehall officials give in defence of the security and intelligence agencies for the help they gave in passing information to Gaddafi about Libyans in the UK and in trying to recruit them as informants. It is also the argument they give for their involvement in their rendition to Tripoli into the hands of Gaddafi's secret police.
The parliamentary intelligence and security committee (ISC) is investigating the activities of MI5 and MI6, but that will have to await police inquiries.
Straw has refused to comment on reports that he personally authorised the 2004 rendition operations, and that he is to be interviewed by police.
Sir Malcolm Rifkind, the Conservative former foreign secretary and chairman of the ISC, said his committee had already heard some evidence about MI6 links with Gaddafi's intelligence service but its inquiry had to be suspended because of the police investigation.
http://www.guardian.co.uk/world/2012/apr/22/mi5-libyan-spies-dissidents-britain
---
Pakistan Airforce: The largest distributor of Indian airforce parts in Asia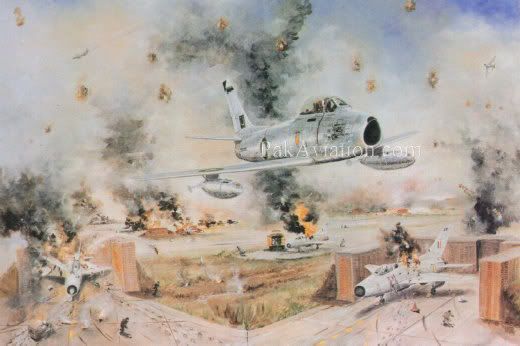 Pathankot Strike
8 F-86Fs of No 19 Squadron led by Squadron Leader Sajjad Haider struck Pathankot airfield. With carefully positioned dives and selecting each individual aircraft in their protected pens for their strafing attacks, the strike elements completed a textbook operation against Pathankot. Wing Commander M G Tawab, flying one of the two Sabres as tied escorts overhead, counted 14 wrecks burning on the airfield. Among the aircraft destroyed on the ground were nearly all of the IAFs Soviet-supplied Mig-21s till then received, none of which were seen again during the War.
http://www.youtube.com/watch?v=PFHlzP69n9c
---