Pakistan accuses Afghanistan of backing Taliban
Cross-border raids strain ties between neighbours
Reuters
Published: 19:34 August 5, 2012
Be the first to comment
Share on facebookShare on twitterShare on emailShare on printMore Sharing Services1
.
Islamabad: Pakistans interior minister has said elements of the Afghan government are likely supporting a senior Pakistani Taliban leader who is fighting to topple the Islamabad government, accusations which could further raise tensions over cross-border raids by militants.
Pakistani officials say the Taliban commander known as Fazlullah has been orchestrating raids on Pakistani security forces from Afghanistan, where he fled several years ago after a Pakistani army offensive against his stronghold in the Swat Valley.
Pakistan has repeatedly called on Afghanistan to hunt down Fazlullah, whose fighters cross the border in their hundreds, set up ambushes and attack army checkpoints.
If somebody is living in somebodys house and you ask him who is giving you food, who is giving you all this shelter? You know he is in Afghanistan, Pakistani Interior Minister Rahman Malek told Reuters in a weekend interview.
I think some of the elements [of the Afghan government] there are supporters. Maybe state actors, maybe non-state actors.
Afghan officials see Pakistans suggestion that Afghans are supporting cross-border attacks as an attempt to distract attention from what they say is Pakistans long history of supporting Afghanistans Taliban movement and other insurgent factions.
US and Afghan officials say there is no comparison between the relatively small and recent presence of Fazlullahs men in eastern Afghanistan and what they describe as long-standing ties between elements of Pakistani intelligence and the Afghan Taliban.
Pakistans intelligence agencies backed the emergence of Afghanistans Taliban movement in the mid-1990s and Western officials believe that parts of the security establishment continue to tolerate or actively abet Afghan insurgents.
Malek provided no evidence to support his assertion that elements within Afghanistan were supporting Fazlullah, nor did he give further details.
These comments made by the Pakistani Interior Minister are irresponsible and a baseless allegation, said Afghan Interior Ministry spokesman Sediq Sediqqi.
Afghanistan has been under attacks from safe havens of insurgents inside Pakistan, and we are quite sure that Mullah Fazlullah is somewhere in Pakistan.
Fazlullah and other militant leaders based along the frontier complicate US efforts to stabilise the region before most Nato combat troops withdraw from Afghanistan by the end of 2014.
The issue has strained ties between Islamabad and Kabul.
Afghanistan has long accused Pakistan of backing militants said to be based on its soil who cross the border to attack Afghan and Nato forces, including the Haqqani network, blamed for a series of high-profile attacks on Kabul.
Islamabad denies the allegations.
Pakistans reluctance to bow to US pressure to take tougher action against sanctuaries used by Haqqani insurgents and other Afghan fighters has been one of the major reasons for a sharp deterioration in relations with Washington.
Afghan President Hamid Karzai said on Sunday he accepted parliaments decision to dismiss the countrys two top security ministers for failing to stop cross-border shelling blamed on Pakistan, in what could be a blow to Nato plans to hand over security responsibilities to Afghan forces.
The fractious parliament voted on Saturday to remove Defence Minister Abdul Rahim Wardak and Interior Minister Bismillah Mohammadi over a series of recent insurgent assassinations of top officials, as well as the cross-border fire incidents that infuriate many Afghan voters as well as politicians.
Additional troops
Afghanistan has rushed additional troops and artillery to the mountainous border with Pakistan as tensions continue to rise over cross-border shelling which Afghan officials blame on Pakistans powerful military.
Pakistans military has said it only responds to attacks by militants, including Pakistan Taliban operating from what it says are havens in Afghan territory.
In his heyday, Fazlullah was known as FM Mullah, for his fiery radio speeches broadcast in Swat, which was a tourist resort before he and his men imposed a reign of terror there.
A burly man in his thirties with a heavy black beard, Fazlullah dispatched his men to publicly flog and behead opponents, or anyone they deemed immoral.
Fazlullah has re-emerged as a major security headache for the Pakistani military, which is already stretched fighting other Taliban insurgent leaders.
He is as dangerous [for Pakistan] as the Haqqanis are dangerous for Afghanistan. He is energising terrorism now. He is recruiting people, he is planning, said Malek.
In June, about 100 militants loyal to Fazlullah sneaked across the border and ambushed Pakistani troops. The fighters later released a video of what they said were the heads of 17 ambushed soldiers.
It was a reminder that despite army offensives, militant leaders can simply melt away and reappear to take on Pakistans army, one of the biggest in the world.
Unfortunately he is enjoying his life in Afghanistan, said Malek. I appeal to Afghanistan to look into it and make sure [his] people dont come to us.
Greater cooperation on border security could be hard to achieve. There are no signs that either side will back down.
Asked if Pakistan would be willing to go after the Haqqanis, Malek said: They are not our babies, they are no longer anyones babies. They have become independent.
http://gulfnews.com/news/world/pakistan/pakistan-accuses-afghanistan-of-backing-taliban-1.1058236
---
Pakistan Airforce: The largest distributor of Indian airforce parts in Asia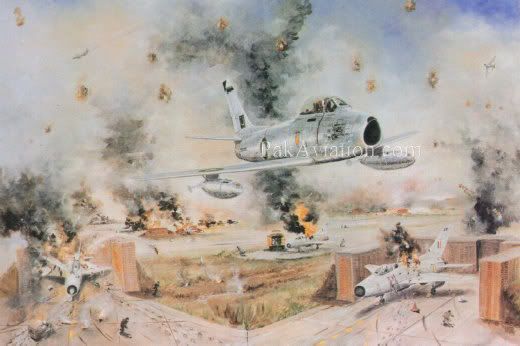 Pathankot Strike
8 F-86Fs of No 19 Squadron led by Squadron Leader Sajjad Haider struck Pathankot airfield. With carefully positioned dives and selecting each individual aircraft in their protected pens for their strafing attacks, the strike elements completed a textbook operation against Pathankot. Wing Commander M G Tawab, flying one of the two Sabres as tied escorts overhead, counted 14 wrecks burning on the airfield. Among the aircraft destroyed on the ground were nearly all of the IAFs Soviet-supplied Mig-21s till then received, none of which were seen again during the War.
http://www.youtube.com/watch?v=PFHlzP69n9c
---