Taliban threaten to kill Imran Khan
AP | 7 hours ago
0
In this photo taken Aug. 6, 2012 Pakistani Taliban spokesman Ahsanullah Ahsan, center, flanked by his body guards talks to The Associated Press in the militant groups stronghold of Shawal in the tribal region of South Waziristan. The Taliban have threatened to kill Imran Khan if he holds a planned march to their tribal stronghold along the Afghan border to protest US drone attacks. Ahsan said If he comes, our suicide bombers will target him. -AP Photo
SHAWAL: The Taliban have threatened to kill Pakistani cricket star turned politician, Imran Khan, if he holds a planned march to their tribal stronghold to protest US drone attacks.
Although the Pakistani Taliban also oppose the strikes, spokesman Ahsanullah Ahsan said they would attack Imran Khan because he calls himself a liberal a term they associate with a lack of religious belief.
The threat could surprise many in Pakistan who have criticised Khan for not being tough enough on the Taliban and instead focusing his criticism on the governments alliance with the US.
Ahsan spoke to The Associated Press in an interview on Monday in the militant groups stronghold of South Waziristan. We will kill him, said Ahsan.
Some of his critics have nicknamed him Taliban Khan because of his views and his cozy ties with conservative leaders who could help him attract right-wing voters in national elections likely to be held later this year or early next year.
Khan has described himself as a liberal in various TV interviews, but he has also made clear that he is a practicing Muslim. Ahsan, the Taliban spokesman, seemed to ignore that distinction and said the militants didnt want Khans help in opposing drone attacks.
Khan has said he is planning to lead thousands of people in a march to Waziristan in September to demonstrate against the strikes.
We will not accept help or sympathy from any infidel, said Ahsan, referring to Khan. We can fight on our own with the help of God, he said, as drones buzzed overhead.
The spokesman for Khans party could not be immediately reached for comment. Ahsan said the Taliban consider anyone who participates in elections, even religious parties, as infidels and will target them.
The election process is part of a secular system, said Ahsan. We want an Islamic system and will create hurdles to secularism. An AP reporter interviewed Ahsan at a remote compound on a forested mountainside in South Waziristan.
He was taken there from a compound in the Shawal area that housed several dozen Taliban fighters armed with AK-47s, rocket-propelled grenade launchers and anti-aircraft guns. Artillery fired by the Pakistani army regularly pounded the ground near the compound.
The military launched a major offensive against the Pakistani Taliban in South Waziristan in 2009 and has claimed to have largely cleared the area.
But the militants regularly launch attacks, and the interview held with the AP indicated they move relatively freely. Ahsan arrived for the interview in a pick-up truck with two other Taliban commanders.
He was wearing a white shalwar kameez and a woolen Chitrali cap. He spoke with an assault rifle laid across his lap, and he and the other commanders fired into the air in celebration at the end of the interview.
http://dawn.com/2012/08/08/taliban-threaten-to-kill-imran-khan/
---
Pakistan Airforce: The largest distributor of Indian airforce parts in Asia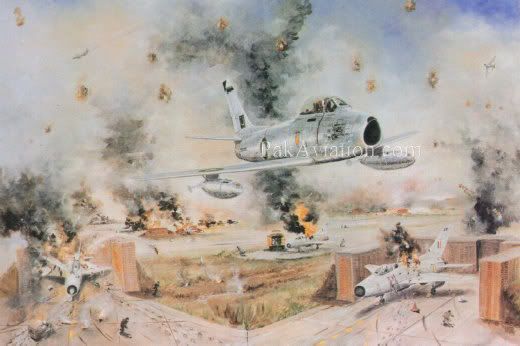 Pathankot Strike
8 F-86Fs of No 19 Squadron led by Squadron Leader Sajjad Haider struck Pathankot airfield. With carefully positioned dives and selecting each individual aircraft in their protected pens for their strafing attacks, the strike elements completed a textbook operation against Pathankot. Wing Commander M G Tawab, flying one of the two Sabres as tied escorts overhead, counted 14 wrecks burning on the airfield. Among the aircraft destroyed on the ground were nearly all of the IAFs Soviet-supplied Mig-21s till then received, none of which were seen again during the War.
http://www.youtube.com/watch?v=PFHlzP69n9c
---