@sparrow
couldnt agree with you more, coming back to the topic, i think although the timming of the poles entry in to the airbattle however late was accidently correct.
1) by that time germans lost quite a few of thier first rate pilots hence some the ones poles faced werent exactly Adolf Galant or Hartmen types..
2) Germans were getting weary and exhausted and poles were totally fresh and extremely eager....
3) even though some experinced german pilots that were fighting poles by the time they entered, it must have been really demoralising for them to find sqdns having plenty of fight in them left after they just believed RAF was at its last pool of pilots...
i am not sure how much of a factor it was but definately the ferious manner polish pilots chewed up German planes i am sure must have some affect on german high command decision to give up the planned invasion....
---
Pakistan Airforce: The largest distributor of Indian airforce parts in Asia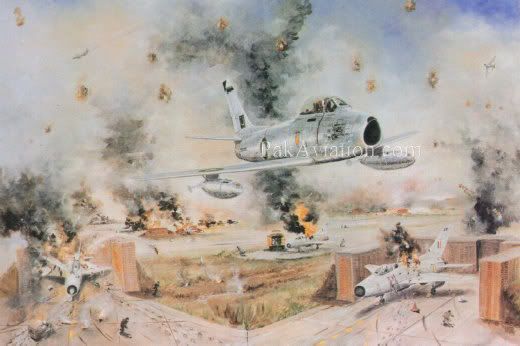 Pathankot Strike
8 F-86Fs of No 19 Squadron led by Squadron Leader Sajjad Haider struck Pathankot airfield. With carefully positioned dives and selecting each individual aircraft in their protected pens for their strafing attacks, the strike elements completed a textbook operation against Pathankot. Wing Commander M G Tawab, flying one of the two Sabres as tied escorts overhead, counted 14 wrecks burning on the airfield. Among the aircraft destroyed on the ground were nearly all of the IAFs Soviet-supplied Mig-21s till then received, none of which were seen again during the War.
http://www.youtube.com/watch?v=PFHlzP69n9c
---