Tibetans share their region with Menpa, Luopa, Han Chinese, Hui, Sherpa, and a few Deng people however Tibetans are the main inhabitants on the plateau.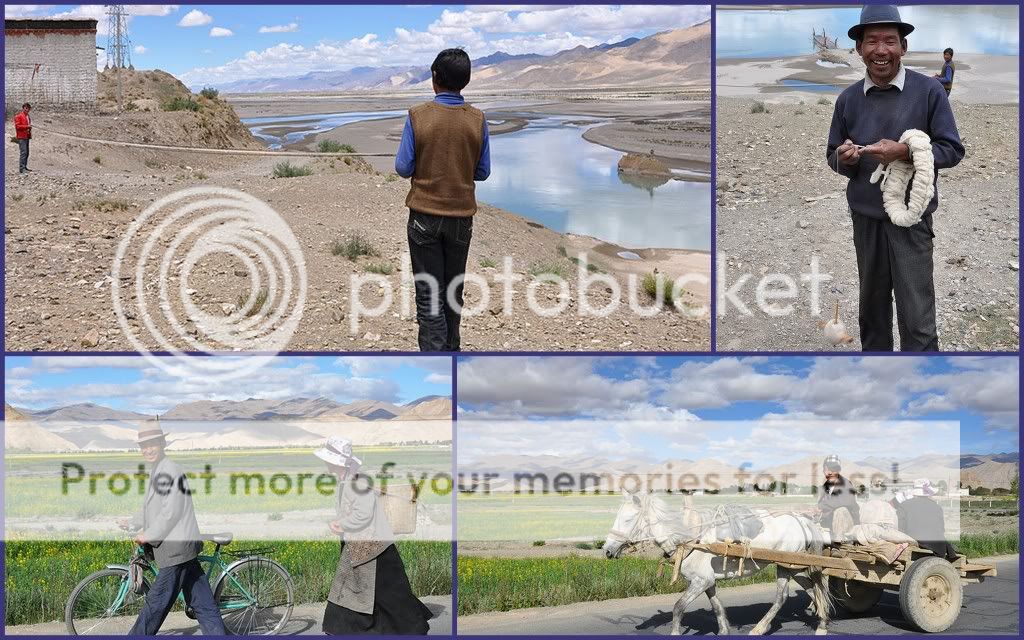 Clockwise from top left :
1. Boys spinning sheep wool
2. Man with sheep wool
3. Farmers
4. Passerbys
Tibetans are optimistic and happy people.
Clockwise from top left
1. Ladies selling turnips
2. Man with daughter
3. Pilgrims at Tashilhunpo Monastery
Traditionally, farmers settled in small villages with barley as their main crop.
1. Lady selling turnips
2. What a heavy load
3. Farmer
4. Construction worker
The roaming nomads earned their living by herding yaks and sheep. Most Tibetans in cities made a living as craftsmen. However, nowadays more and more people are migrating into businesses.
Anticlockwise from top left
1. Tibetan tour guide
2. Pilgrim at Jokhang temple
3 and 4. Visitors at Tashilhumpo monastery
The children were amazing. Unlike other places in China, they were more than willing to pose for photos. I made sure i had lots of cookies in my pocket to share with them
Some of the rural kids were unkempt
Snot on nose, i was informed that they shower once every few weeks or months.
Urban kids i met had a higher standard of hygiene
The children were generally friendly and welcomed us tourists with engaging smiles
And some had responsibilities from such a tender age such as gatekeeper
Able to driver horse carts
Religious life
Apart from the human residents, we also saw lots of non human residents of Tibet. Goats were a plenty
Have to look out for them when driving coz they do not bother to look out for vehicles when they want to cross the road !
Cows and ox are decorated with tassles so their owners can easily identify em.
Baby ox - soooo cute
We saw Yaks EVERYWHERE. Yaks are herd animals and have long shaggy hair to insulate them from the cold.
Clockwise from top left :
1. Yak pens
2. Yaks are sure footed and able to climb hills
3. Don't look down
4. Close up of yak pen
Some prefer to graze alone
Yaks are such useful animals. Apart from being a trusty companion, yaks can be used to transport your belongings
Their meat can feed a whole family over many weeks
Very popular amongst the locals even though the taste is a bit too gamey for my liking
Dried yak meat is a great souvenier to bring back for your friends
And if you have always wanted to ride a yak.. quick book your flight to Lhasa. There is no better time than now to visit this exotic country.
( Please note that some of the text has been lifted off other articles on the Internet but the photos are all original. The opinions expressed here are based on my personal experience )