Myanmar, a southeast Asian country that was formerly known as Burma, has been under military rule in one form or another since 1962, when General Ne Win staged a coup that toppled a civilian government. The current junta, formed in 1988, threw out the results of a democratic parliamentary election in 1990 that was overwhelmingly won by the party led by Aung San Suu Kyi. She is the daughter of Aung San, one of the heroes of the nation's independence from the British Empire in 1948.
Photo above : Inya Lake in Yangon. Burma activist John Yettaw secretly swam 2 km across this lake His overnight stay in her home providing lodging to a foreigner is a crime for any Burmese, let alone the countrys most prominent political prisoner has given the junta a ready-made reason for locking Ms Suu Kyi up for at least another five years.
Since 1992, the government has encouraged tourism in the country. However, fewer than a million tourists enter the country annually. Aung San Suu Kyi has requested that international tourists not visit Burma as the government receives a significant percentage of the income of private sector tourism services.
Aung San Suu Kyis house on University Avenue partially covered by trees : She has been placed under house arrest on numerous occasions since she began her political career, totalling 14 of the past 20 years.During these periods, she has been prevented from meeting her party supporters and international visitors. She lives with her two maids and receives visits from her doctor.
Much of the country is completely off-limits to tourists, and the military very tightly controls interactions between foreigners and the people of Burma, particularly the border regions. They are not to discuss politics with foreigners, under penalty of imprisonment.
We read on the news that Myanmar's ruling junta set 7 Nov 2010 as the date for the country's first election in two decades and given the political instability, we decided to pay a visit as there was no guarantee that we would have a chance next year.
Of the three places we visited in Myanmar, Lake Inle was my personal favourite.
We opted to fly from Bagan to Heho - the nearest airport to the Inle Lake area - a flight that takes all of about 50 minutes with a brief stopover in Mandalay.
After landing we was introduced to another bizarre aspect of travel in Myanmar - at many of the smaller airports they don't let any vehicles near the terminal, requiring all passengers to walk several hundred meters to the parking area. Fortunately, airport personnel take all the bags to the parking area in a push trolley and don't demand any money for this service.
Hmmmmmm
Flight notification system
Our tourguide treated us to gummy corn. We took an immediate liking to him
The trip around the lake begins with a two-kilometer sprint down the main canal.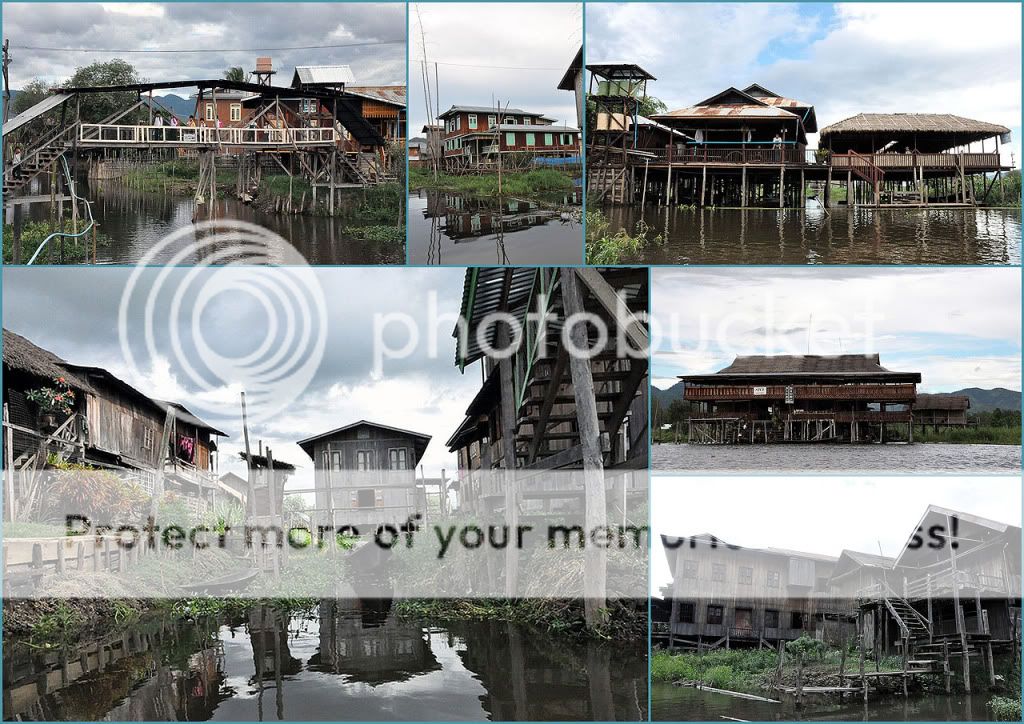 Right from the beginning, the scenes of life amid the water begin to play out - along the main canal children swim while their parents bathe, wash the dishes, and do the laundry.
Plenty of waving at the foreigners.
Enjoyable as it is, it's merely a preview of much better things to come.
At the end of the canal the boat passes under a large sign whereupon the landscape opens up to the crystal clear shallow waters of Inle Lake with the hills rising on each side creating the perfect natural picture frame.
Around the lake, men in their boats, paddling with their legs, seek their daily take of fish.
Cutting across the lake, we headed for the villages on the west side.
People of the Intha minority group inhabit most of these villages.
Turning down a narrow canal, electric green rice paddies, wooden houses, and colorfully-dressed villagers are the order of the day.
The same scenes of life in the canals that we had observed leaving Nyaung Shwe are replayed again and again
Pretty girl feeding fish
To ward off evil spirits, sprinkle holy water
Making our way down the ever-narrowing canals we continued as far as physical limitations would permit.
Amazing balancing skills
I like my cattle clean
Multipurpose river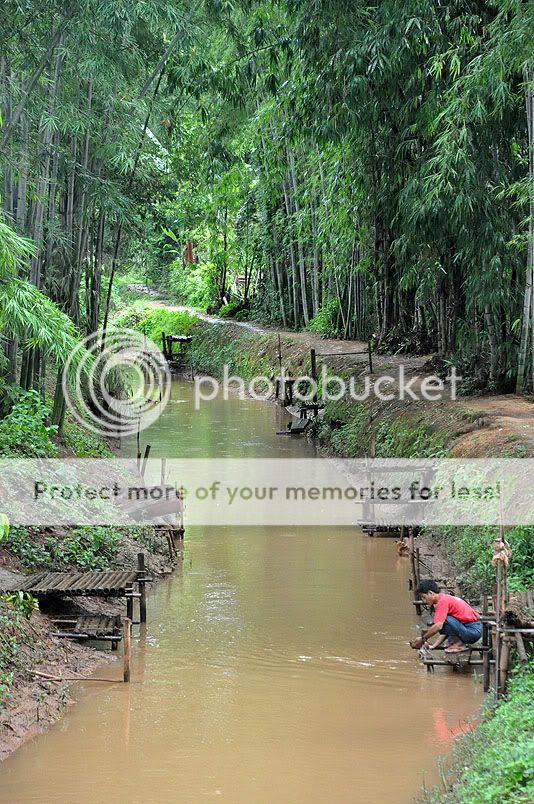 We had wanted to see a market, but not a floating market. Although floating markets are plentiful and would expectedly be well worth a visit, all the reports say they often turn too much attention on the foreign visitors as would-be souvenir sellers lay siege to the tourist boats.
Watch out for the other boats !
Market day at Nampan village, Inle Lake.
Much to see, smell and buy
Amazing
Pa-O tribe - colourful outfits
In an aquatic landscape where dry land comes at a premium, the local Intha villagers have devised a most ingenious way of growing food - floating gardens.
Kept in place with long sticks, all types of fruits, vegetables, and flowers are grown.
Returning to Nyaungshwe, an afternoon storm chased us across the lake
Suggestive cloud
After the storm
Pretty rainbow
Hat lady : a must buy if you want to avoid getting sunburnt like me
And sunglasses to minimize the effects of harmful UV rays
On the western shore of Inle Lake, easily to accessible by boat , we visited the Indein Temple Complex
It is a short walk through the village to the covered colonnade walkway to the temple hill.
Best seen is in the early morning light as the sun rises above the hills on the eastern shore.
Ancient Buddha statue - our historian travel buddy confirmed that it is original
We wondered why some pagados were white. Mystery solved
Many hands dance
Please donate generously
Good karma if you contribute to restoring a pagoda
He made the best of what life has given him
Bagan is deservedly one of the most famous archaeological sites in Southeast Asia. And owing to its location in one of the least popular countries in Asia, it's one of the least visited.
We saw lots of Buddhists in Bagan
From most any point in Old Bagan pagodas fill your line of vision. There are presently 2,224 monuments from the original 4,446 that existed at the end of the 13th century. These monuments date from Bagan's "Golden Period", 1044 to 1287.
A common question travelers ask is "How does Bagan compare to Angkor?" or more specifically, "Which one is better?" I would give the nod to Angkor with minimal thought, but there are travelers who will cite many a good reason why they prefer Bagan.
Entrance fee to Bagan is a whole lot cheaper than Angkor
Bagan sees far fewer tourists than Angkor, and as I visited during August - low season, we had nearly all of Old Bagan to ourselves.
Playing Ludo to pass time
While no one structure can compare to the magnificence of Angkor Wat or even any number of the lesser Angkor temples, the appeal of Bagan is of a much more subtle nature that comes from the endless collection of small temples extending across the plain.
Our tourguide pointing out to us the parts which were rebuilt after the earthquake in 1975
And as there are but a couple of dozen monuments that attract the majority of visitors, sometimes a seemingly insignificant no-name structure can yield satisfying discoveries as well.
Ananda temple is considered to be a surviving masterpiece of the Mon architecture. Also known as the finest, largest, best preserved and most revered of the Bagan temples.
Facing outward from the centre of the cube, four 9.5-metre standing Buddhas represent the four Buddhas who have attained nirvana. Only the Bagan-style images facing north and south are original; the other two images are replacements for figures destroyed by fires.
You can do your bit for the temple by paying USD$1 to adorn the statues with gold leaf. Ladies are only allowed to adorn the small statues but men can touch the large statues if they wish.
Shwezigon temple is a prototype of Burmese stupas, and consists of a circular gold leaf-gilded stupa surrounded by smaller temples and shrines.
Construction of the Shwezigon Pagoda began during the reign of King Anawratha and was completed during the reign of King Kyanzittha, in 1102. The pagoda is believed to enshrine a bone and tooth of Gautama Buddha. Within the compound of the Shwezigon Pagoda is a stone pillar containing Mon language inscriptions dedicated by King Kyanzittha
Lovely night lighting
Bagan spirit we had lots of fun playing around with the settings of our fancy cameras
Typical Bagan village
Erm, not exactly Western standard plumbing
The highlight of our visit to this Bagan village was when we bought ice-cream for all the children who came out of nowhere once they heard that us tourists wanted to give them a treat. USD$3 can go a long way out here.
We spied a young boy taking his bath
After applying local moisturizer made of thanaka wood. Thanaka is a yellowish-white cosmetic paste made from ground bark. It is a distinctive feature of Myanmar seen commonly applied to the face and sometimes the arms of women and girls and to a lesser extent men and boys.
Thanaka for tourists
The wood of several trees may be used to produce thanaka cream; these trees grow abundantly in central Myanmar. The two most popular are Shwebo thanaka from Sagaing Division and Shinmadaung thanaka from Magwe Division. A more recent contender sold as a paste is Taunggyi Maukme thanaka from southern Shan State. Thanaka trees are perennials, and a tree must be at least 35 years old before it is considered mature enough to yield good-quality cuttings. Thanaka in its natural state is sold as small logs individually or in bundles, but nowadays also available as a paste or in powder form.Thanaka cream is made by grinding the bark, wood, or roots of a thanaka tree with a small amount water on a circular stone slab called kyauk pyin which has a channel round the rim for the water to drain into.
Perhaps the most pleasurable way to see Myanmar, feel its pulse, live its legends and understand its history, is to cruise the Irrawaddy (Ayeyarwady) River. While enjoying the river's tranquillity, life on the riverbank offers endless fascination.
Over the centuries Myanmar has developed around the banks of this mighty river making it the ideal vantage point from which to experience this once isolated nation.
From the small teak and bamboo dwellings, home to the excited children who run along the riverbank and the women purposefully going about their daily chores, to the ox carts cultivating fields, a river cruise gives a unique insight into the way of life of the country. Elegant monasteries rise above canopied trees, and ruined ancient temples reveal a wealth of historic treasures.
The Irrawaddy River still remains Myanmar's lifeline, the people and economy ever dependent on its vital natural source.
Ferries, bamboo rafts, barges and fishing boats, all ply their trade along these waters, at a slow relaxed pace - there is no need to hurry in Myanmar.
They may not be rich but they made the best of what they have
Please stay tuned for LiLs Adventures in Myanmar Part 2 and 3
( Please note that some of the text has been lifted off other articles on the Internet but the photos are all original. The opinions expressed here are based on my personal experience )