Our visit to Hanoi coincided with the 1000th Anniversary of the founding of this colourful city. We were wondering why there were so many red flags displayed everywhere and now we know.
Hoan Kiem Lake is regarded as the heart of Hanoi. Lakeside is also a good place to find a bench and rest your toes after trundling around town, and you can find some good little cafes serving local coffee.
The lake is also the jumping-off point for exploring the Old Quarter, Hanoi's labyrinth of traditional craft streets in a sprawling maze on the north end of the lake.
European tourists curious to see what is being sold by the locals
Selling meat in a dress shop ?
Metal smith
Motorcycles are the main mode of transport
Which is why it is necessary for the city council to provide ample motorcycle Parking
The locals are skilled at balancing on wheels
Ladies can balance well too, on their own two feet
The best hawker restaurants are walking distance from this lake such as the famous Beef noodles on Au Trieu street i can eat 2 bowls of this
ChaCa Thanh Long. It is actually small fillets of flaky white fish marinated in turmeric and galangal, fried and served with generous topping of dill on a sizzling hot plate.
Bun Cha ( Charcoal Grilled Pork Patties with Vermicelli Noodles and Herbs ) at 67 Duong Thanh Street . The pork patties are the bestest.
And of course we made a bee line for Bobby Chinns restaurant. He is a New Zealand born Chinese-Egyptian chef and restaurateur and the host of World Cafe Café. The last time I was in Hanoi, his restaurant was situated on the edge of the old Quarter but has since moved.
What grabbed my attention first was the humorous menu. If youve ever watched his tv shows, you will say to yourself This is BobbyChinn
The food was as expected, delicious.
Clockwise from top left
1) Daily homemade sorbet
2) Bun Bo Fillet mignon with fresh herbs and rice noodles
3) Fillet mignon with mashed potatoes, mushroom red wine ragout
4) Sa Lat Vit Confit Duck Confit Salad
5) Miso Glazed Cod with Sesame Soy tossed green bean
6) Ca Hoi Kho To Salmon Claypot in Caramel Sauce, Braised Cabbage and Local Rice
7) Chocolate dim sum
Clockwise from top left
1) Gazpacho soup
2) Local beer
3) Amuse Bouche
4) Gazpacho soup
5) Vegetarian pizza
6) Garden Green salad
7) Canh Chua Ca Sweet and Sour fish soup
This is my third time eating here.
The staff leave rose petals in the WC so romantic
To get to Sapa, ,most people take the overnight train ride from Hanoi, approximately 9 hours if there arent mud slides clogging the tracks. We booked ourselves into the soft sleeper cabin on the Hara Express. We slept in 4 berth cabin and made do with the not-spanking-clean communal toilet.
We arrived in Lao Cai town early in the morning and was abruptly awoken by the knocking and the train staff yelling Lao Cai!Lao Cai.
LaoCai is a province in the northeastern mountainous region of Vietnam, bordering the province of Yunnan in China
If you have your passport and a China Visa, you can visit the town of Hekou which is just 2 minutes walk across the bridge.
For those who cannot rough it out on the Hara Express and similar trains, you can pay more $$$ to enjoy the comforts of the Victoria Express Train, which is exclusively reserved for the in house guests of Victoria Sapa Resort. I read somewhere that it is the only 4 star hotel in town
You get a birds eye view of Sapa town from Victoria Hotel
Chapa Garden Hotel is the best alternative if you prefer boutique hotels. They have only 4 guest rooms and is almost always fully booked so do make your reservations in advanced if you want to stay here.
We had dinner at Chapa Garden Hotel not once but twice. The food there is mad yummy.
Clockwise from top left :
1) Ember roasted bell pepper in olive
2) Coq au Vin a la Sapa this dish is better than what I have tasted in other French fine dining restaurants
3) Bell pepper roasted in an open fire
4) Pancake with blackberry jam
5) Bruscehtta
6) Homemade tomato soup
7) Special bacon and cheese burger
Bruschetta prepared over an open fire
We also sampled their Vietnamese set menu
Clockwise from top left
1) Pork with carrot and onion
2) Local Hmong specialty
3) Tofu and tomato
4) Scandinavian style meat balls with herbs
5) Fried beef with lemongrass and green pepper
They chef will cook for you whatever is produced locally. I wonder if he used exotic herbs and spices such as these.
If you want to eat where Vietnamese tourists dine, your best bet would be one of the restaurants along Pham Xuan Huan street . Honestly, I did not enjoy my meals here or any other local Hilltribe cuisine place I visited. I guess I am a big city girl and used to big city food.
The main square of Sapa town
We treated ourselves to a massage but all of us felt the masseurs were unprofessional and poorly trained.
As mentioned in Part 1, we visited the lively Sunday BacHa market
Scenes from Bac Ha market
I am afraid to ask what they are going to do with all these piglets
Farm animals for sale
Cow taking a leak i suppose it has not been toilet trained
Albino cow reminded me of Needles, my darling hedgehog
Afternoon rest
Best of friends sharing a secret
Exchanging village gossip
So many things to choose from so hard to decide
We are enjoying our lunch please refrain from taking photos of us
Yummy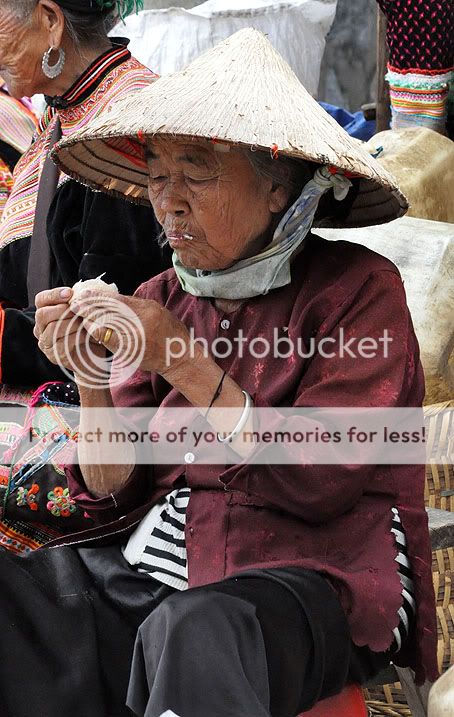 Barber
Watch repair no Ling, i did not enquire how long is the turnaround time
Flower Hmong Baby clothing for sale what a nice souvenir. Now I regret I did not buy any
Is this a real Hmong girl ? Why do I get the gut feeling she is just a Hmong wannabe ?
Well, i too bought myself a Hmong outfit and if opportunity arises, i will wear it to one of the Purists parties sometime in the near future. Thanks for reading.
( Please note that some of the text has been lifted off other articles on the Internet but the photos are all original. The opinions expressed here are based on my personal experience )