On a previous trip, we were treated to a sunset cruise which is a nice activity if you do not get sea sick easily
Hors dhourves and wine were served on board by a waitress with very good balancing skills. However, the boat rocked too much for my liking when it stopped in front of Emerald Bay in order to view the sunset. Well, I had to disappoint my travel buddies by insisting that the boat head straight to shore.
Even if the resort is running at full capacity, one never feels that it is overcrowded at any time. Other than breakfast which is served at the Feast Village restaurant, the only other place with more people than animals is the Library.
I love the four poster bed and for those who brought their own computers and smartphones, the free wifi is a definite plus. You can check out the contents of your favourite website here
For the shopaholics, do check out the huge variety of products at The Kazbah. You will survive on this island so long as you brought your credit card with you.
The spa shop. I bought myself a Chinese Foot Pounder and Needles loves it when I tap him gently on his quills
Jim Thompson boutique. Such cute the toy elephants and pretty silk scarves. Of course you may get better prices in Bangkok but some items are on sale here and it is worth taking a look or at the very least enjoy the cool air-conditioned ambience whilst escaping the afternoon heat.
Upon request from a guest, the Feast Village chefs will organize what they call the Chefs Kitchen Experience. The Chef will first take you on a tour of Feast Village. We got to see how organized the kitchen is. And they have tubs and tubs of Baskin Robbins ice cream in the freezer. Hmmm.. I wonder if they will mind if I help myself to a few scoops.
We checked out their wine collection. Some famous names here recognizable to all
Then we headed back to the cooking station to start the proper class. Chef Ramlah taught us to make Soto Ayam which is a yellow spicy chicken soup. Turmeric is added as one of its ingredients to get yellow chicken broth.Looks easy enough
Rendang chicken, a curry dish using coconut milk, which is considered to be characteristic of Minangkabau culture
And a dessert called Pengat Pisang.
How appetizing the food looks when presented properly.
Well, I have to say that the meals occupied most of my time whenever I visit Pangkor Laut. Breakfast is my favourite meal of the day. Check out the spread.
I love the fresh fruit juice. Nothing like pumping up your system with Vitamin C to start the day
The Executive Chef at the Egg Counter. What motivation for the staff to work hard
Hash browns and sunny side up egg. Another one of my favorites !
Lunch is served at Chapmans Bar. This bar is named after a famous British Colonel who sought refuge at Emerald Bay before his dramatic escape by submarine in 1945. Chapman's Bar sits on Emerald Bay, and serves excellent light lunches daily, including sandwiches, traditional satay, salads and tasty seafood dishes. A variety of beverages are served throughout the day, a short walk from your beach chair.
And Royal Bay Beach Club. Royal Bay Beach Club, overlooking the infinity pool serves a selection of Asian and Western favorites for lunch. In the evening, the restaurant transforms into a chic chill-out lounge serving cocktails and other beverages.
No wonder I put on five pounds after 3 days of pigging out
We enjoyed our picnic outing on Emerald Bay
Needles enjoyed the experience and snuggled up with LiL after his hearty meal
View of beach whilst sipping our wine
Needles loves chilling out by the beach
Errant guest trying to drown the poor sand crab with a glass of wine
For dinner we dined at Feast Village
Had Chinese cuisine at Uncle Lims. This interestingly designed restaurant is built atop a rocky outcrop overlooking the sea. Named after the chef who has been with the Resort since its inception, Uncle Lim's specialises in Nyonya and Hockchew Chinese-style home cooking. All dishes are inspired by the unique products available locally, and made to each guest's individual tastes and requirements.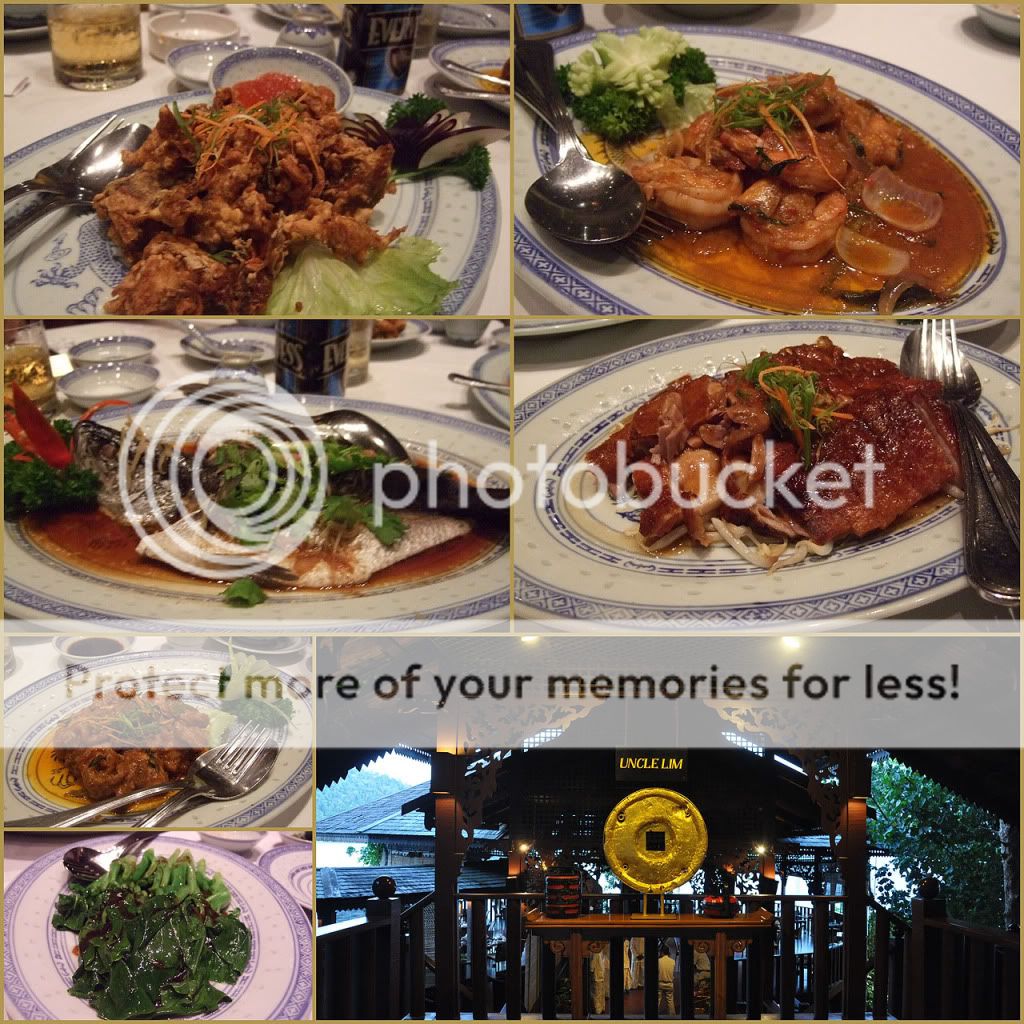 And feasted on seafood at the Fishermans Cove. Fisherman's Cove is a fine dining restaurant. Children under the age of 16 are not allowed in this restaurant
Tip for guests : Do ask for extra mosquito coils unless you want the mozzies to feast on you
Well, it is enjoyable to visit Pangkor Laut in a big group if only because you get to order more types of food and if you are booked into different types of villas, you get to see what sort of accommodation the resort offers.
Our previous trip we stayed in the Hill Villa which is great if you are someone who appreciates a good view
We had friends who booked the Beach and Garden Villa for those who want to be near the facilities
Pavarotti Suite is suitable for a family of four.
Lots of photos of the late ultra famous tenor here
We had friends staying at the northern part of the island in a exclusive enclave called the Estates.
You are assigned 2 butlers and 1 chef and you can ask them to cook you anything your heart desires
Your own Jacuzzi and swimming pool
I want a four poster bed and cute bay windows in my own home !
What a spacious bathroom
I suppose the grass is sometimes greener on the other side of the fence, but Needles and LiL were 100% satisfied with our Spa Villa even though the resort did not provide us with a television set. The whole idea is to listen to the waves and to get away from the outside world.
View of Spa Villa in the background
Needles enjoyed his evening walk around the resort. He found the foot reflexology path to be ineffective for someone his size.
He checked out the corals by the beach and climbed the stone stairs
Climbing is one of Needless favourite activities
Every corner of the resort is designed such that the guest feels relaxed and chilled out
Needles liked how they built the resort around existing rocks and trees
An architects masterpiece. Reminds me of Frank Llyod Wrights quotation Nature is my manifestation of God. I go to nature every day for inspiration in the day's work
Night view
Beautifully lit up
Needles has made up his mind that he absolutely loves hanging out in luxury resorts and before he left, he did some research on where he wants to visit next.
And he jumped for joy when his Mommy LiL told him that we would be going on another adventure soon.
So stay tuned for the next installment of LiLs and Needless Adventures
( Please note that some of the photos were taken on a previous trip to Pangkor Laut Resort and that some of the text has been lifted off other articles on the Internet. The opinions expressed here are based on my personal experience and no hedgehogs were harmed in the writing of this photoessay )