I've always been a fan of design of the old Mercedes Benz 450SEL sedans. But the 6.9 is something truly special! In the late 1970s it was one of the fastest sedans available. It was cable of reaching 60 mph in about 7 seconds and exceeding 130 mph while cradling its occupants in an environment of sumptuous leather and burled wood. This was at a time when there were no AMG models available at your local dealership. This was the finest performace sedan available from your Mercedes dealer...or maybe from any dealer!
Although produced from 1975 through 1980, it was only available in the United States from 1977 through 1979. In a decade filled with gas shortages, ever increasing governmental regulations, and engergy concerns, the 6.9 was the ultimate expression performance, engineering, exclusivity, and quality when money was no object. This car also cost an outrageous amount of money in the 1970s. In the late 70's when a Porsche 930 Turbo was around $35,000 and a Ferrari 308GTB was $36,000, to own a Mercedes Benz 6.9 you had to transfer $52,000 from your own pocket into the pocket of your local Mercedes dealer.
I met the owner of the above pictured pristine example of a 6.9 a few days ago. It is probably one of the nicest original examples I've ever seen. It belonged to his father-in-law who purchased in new in 1979. Luckily for him, he was the only one in the family with an interest in cars so it came to be in his care. Its totally original and it looks like it just left the showroom floor.
Its still riding on its correct 14" alloy wheels. If you look closely at some of the design details you will see just how much chrome was used on this car. It even has chrome and rubber covered mini bumpers to protect headlamps and tail lamps from fender benders.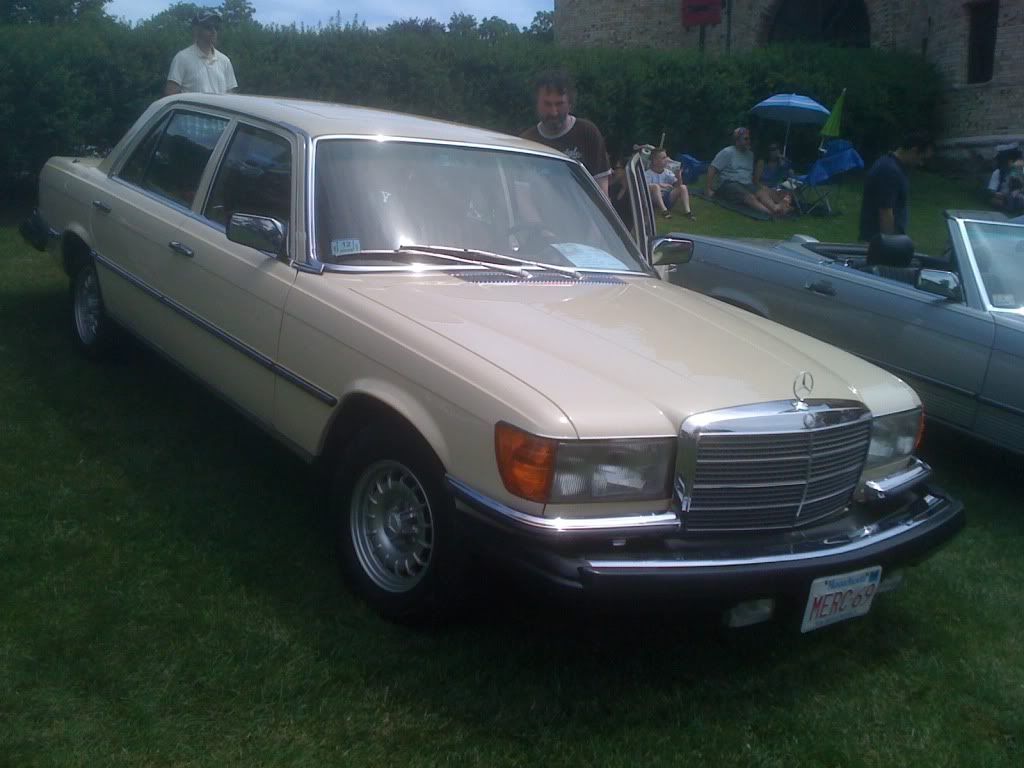 While new Mercedes have small sleek radiator shells, the 6.9 has a tall upright radiator shell/grill that stands proudly at attention anouncing to all that are familiar with Mercedes that this was the one time "King of the road"
And it has covered a mere 36,000 original miles in the 32 years since its was "born." This example was equiped with the optional but no additional cost sunroof, along with the extra cost option of a heated rear bench seat. I believe the front seats were heated as standard equipment.
Here is a quick photo of the command center.
These cars define the terms "vault like solidity." Jags and BMWs seem as though they are made of tin when compared to a 6.9. Just open and close the doors on one and you will know what I mean.
For anyone who wants to see what this car looks like in action, look up the chase scene from the Robert Deniro movie "Ronin" on youtube, or better yet rent the movie its worth your time. There is a great shoot out and then chase scene involving a metalic brown 6.9.
Seeing this automotive icon of the 1970s brought back great memories of my childhood, which was filled with Matchbox cars, the original Star Wars movie, and disco music.
Hope you enjoyed a few photos of this rare sedan from a time before AMG meant anything to most motorists in the USA.
Best regards,
Dino