Ferrari 625/250 Testa Rossa @ The Petersen Automotive Museum
"Sergio Scaglietti began his career in a repair facility located across the street from the shop of Enzo Ferrari, who gave him the job of building his first complete body for a racecar. Scagliettis innate ability earned him Ferraris respect and he went on to build bodies for numerous other Ferrari racecars, including the legendary 250 Testa Rossa in 1958 and the 250 GTO in 1961, both of which he designed himself. In dire contrast to many coachbuilders of the day, Scaglietti was able to adapt to the changing needs of the automotive world, both by creating original designs and engaging his talented craftsmen to interpret in metal the designs of others, most notably Pininfarinas work for Ferrari.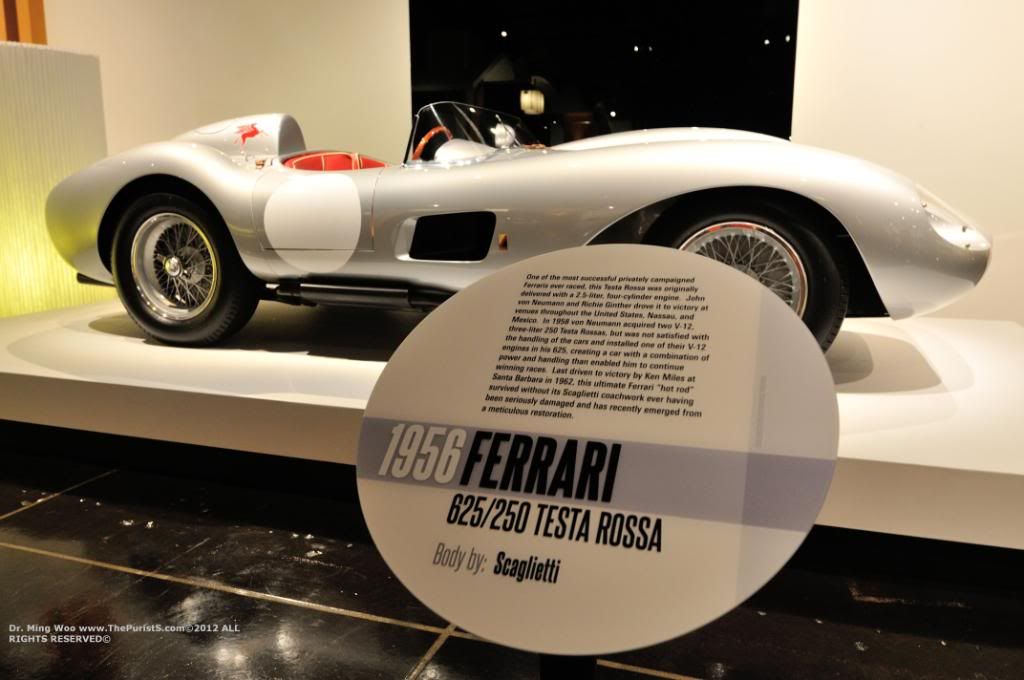 Ferrari 625/250 Testa Rossa(Collection of Bruce Meyer)
"Raced by John von Neumann, Richie Ginther, and Ken Miles
One of the most successful privately campaigned Ferraris ever raced, this Testa Rossa was originally delivered with a 2.5-liter, four-cylinder engine. John von Neumann and Richie Ginther drove it to victory at venues throughout the United States, Nassau, and Mexico. In 1958 von Neumann acquired two three-liter V-12 250 Testa Rossas, but was not satisfied with the handling of the cars and installed one of their V-12 engines in his 625, creating a car with a combination of power and handling than enabled him to continue winning races. Last driven to victory by Ken Miles at Santa Barbara in 1962, this ultimate Ferrari hot rod survived without its Scaglietti coachwork ever having been seriously damaged and has recently emerged from a meticulous restoration."