Hi guys,
A friend and I each had last Monday off, for a little known state holiday, Patriots Day. As both of our wives were working we decided to meet up for a quick lunch and to chat cars and compare our Boxsters.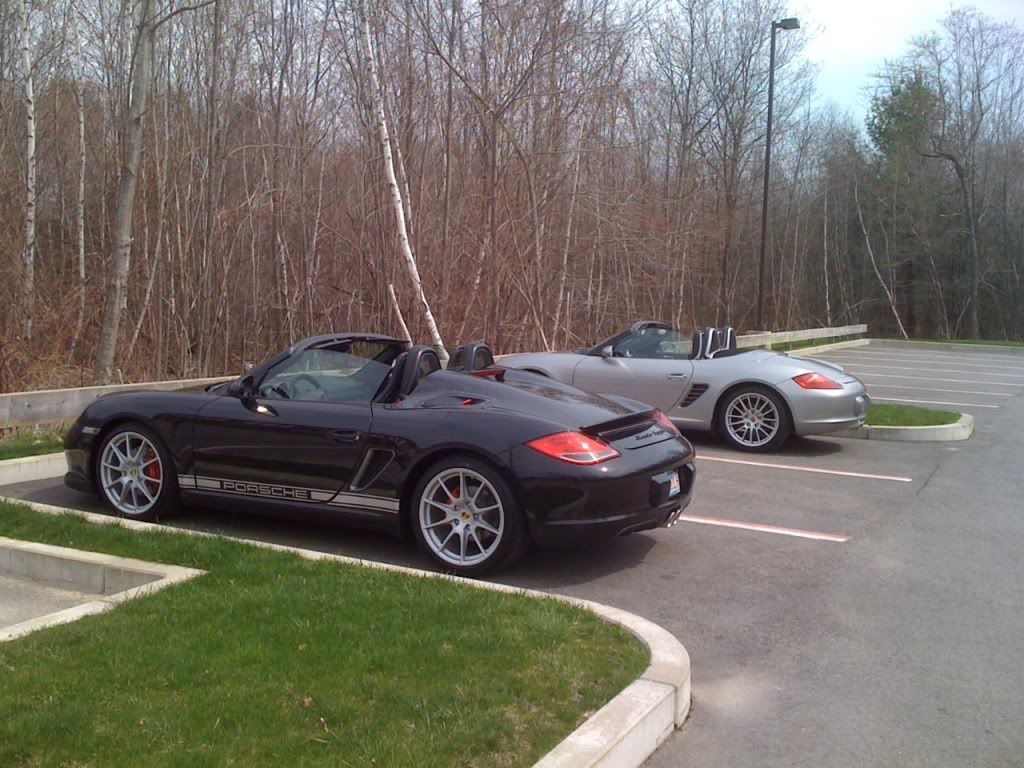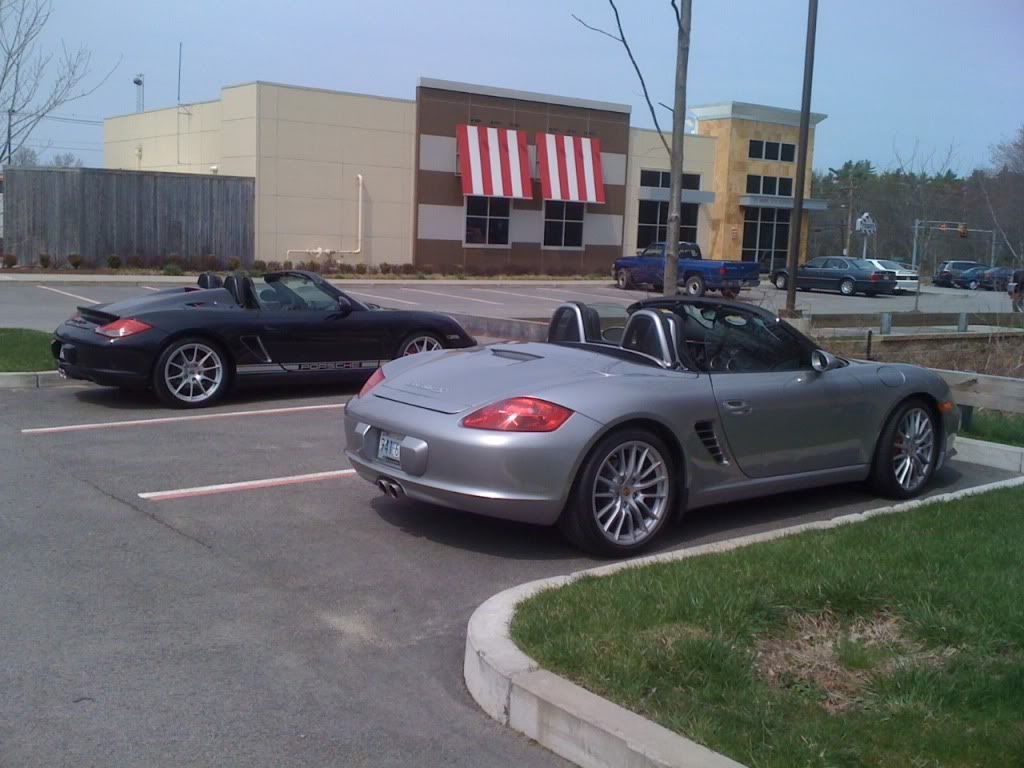 Mine is the generation 1, 987 Boxster RS60. Its a limited edition of 1960 produced to celebrate the Porsche RS racing car of 1960. Its got a bit more HP than the standard Boxster S had that year...so it has 303 BHP. Its kind of a luxury edition loaded with all sorts of goodies as standard equipment Porsche's active suspension (which includes a 10mm reduction in height), front splitters, sport seats, full leather interior, sport exhaust, 19 inch alloys, wheels spaces for a wider stance, and full leather interior. It was produced in three variations all of which where painted GT Silver with a black windshield frame (in an effort to make the car look more like it has no windshield frame like the RS of 1960. The only color option being the interior and top. Some have a red interior and red top, others a red interior and black top, and finally the variation like mine which has a dark grey interior and black top. This car is equipped with the sport chrono. In addition to the chrongraph on the dashboard (or as some call it, the wart), it has a button on the console marked "sport" which allows a single switch to turn on the sport exhaust, the sport setting for the shocks, and a remap throttle response which gives the car a far more agressive feel. This car also has a few other extras such as bi-xenon headlamps/headlamp washers, heated seats, auto dimming mirrors, and an upgraded Bose sound system (although maybe wasted in a small covertible).
His is the generation 2, 987 Boxster Spyder. As many of you know instead of being loaded with options it is a rather stripped to the basics car...losing the power top mechanism, glass rear window & defroster, opting instead for a lighter but completely manual 2 piece top with plastic rear window. It also does without air conditioning and a radio, although most owners in the USA, my friend included added those back to the car at a cost. It also has cloth door pulls to open the doors and the arm rests lack the storeage capacity of other Boxsters. This car has the same motor as the Cayman S so it makes 320 BHP rather than the standard Boxster S models 310. The package also includes a newer suspension, the car is slightly lower than a standard Boxster S, and has a choice of sport seats or sport buckets (for a further weight reduction). My friend's car is a lovely shade of metallic black, called Basalt Black. The car was also available in Carrara White, Guards Red, Aqua Blue, Silver, and Cream. My friend also added the sport exhaust and full leather to his order form. The car makes some sacrifices in the name of shedding about 170 pounds but its a very handsome evolution of the Boxster and my friend is really enjoying this light weight road carver after years of driving rather portly 928s. The manual top is a bit odd looking to me. It also seems like a bit of a pain to remove or attach, although owners seem to say its not a big deal. Watching an owner manipulating the curved fabric and odd posts is a bit like watching someone trying to assemble a tent...its probably easier if there are 2 people involved. I think for several buyers, the manual top is the make or break issue with this car. But if you can live with it, it just might be the ultimate track car/road car, as some owners say its even more fun to drive than their GT3s.
Overall it was a fun day. Hope you enjoyed the photos.
Best regards,
Dino