Of course Gimlin claims no shots were fired...

by Monster Hunter
By film evidence I disagree...Gimlin, on a radio program, said he only saw one creature...let me explain why he's not telling the truth...

In the animations you can see two creatures...the one on the left, assumed to be Patty, heads towards the timber while the second creature, a male, walks the sand bar...the last sequence of film...

The below is an interview Webster had with RP & BG in November 1967...they shouldn't have any problem recalling the events of Bluff Creek...

W: How far were you able to follow her?

B: I watched her until she went up the road about 300 yards, and she went around a bend in the road and that was the last I seen of her.

Below is from the Ivan Sanderson interview...Argosy 1968...

"This was some twenty miles beyond the end of an access road for logging and about thirty-five miles in from the nearest and only blacktop road in this vast, as yet not fully mapped area of National Forest."

Gimlin changes his report from it disappeared around a bend in the road to they were in a very remote area miles from any road...I also recall what Gimlin told MK..."the only way you could get equipment into the area was by air"...

By film evidence and reports Patterson reportedly was taking stock footage before he filmed these creatures therefore running out of film...

Bob Gimlin riding his horse with the same pack horse in tow...notice the same boxes strapped on the pack horse...looks just like a dirt road that has been worked by equipment IMO...also...Lyle Laverty a timber manager in California said he and his crew drove by this area and didn't see any tracks until after Patterson claimed he had film of a creature...Laverty said he drove by...to drive by there has to be roads...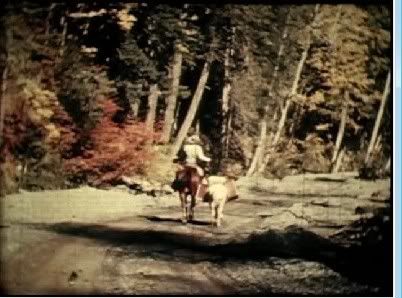 In the next animation you'll see JG, the dog and handler along with Bob Titmus...also the red jeep and stack of logs in the background...this film was taken at the Bluff Creek site...the tracks on Onion Mountain were destroyed by traffic and equipment...Bud Ryerson tells Green about the men working at Bluff Creek that returned after a long weekend...Labor Day...finding huge tracks around their trailers...these men loaded their belongings and left Bluff Creek...Green immediately took his crew to Bluff Creek...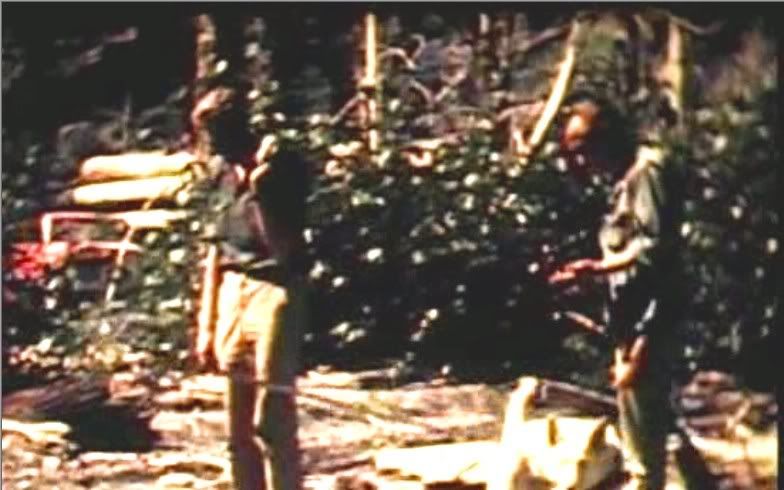 This message has been edited by tiny from IP address 72.150.251.168 on Sep 4, 2010 9:53 AM

Posted on Sep 4, 2010, 9:51 AM
from IP address 72.150.251.168
Respond to this message
Goto Forum Home
Responses