Fake or the real deal...MO...

by Monster Hunter
Out the way place but men working in the area...this would be an ideal place to fake or hoax tracks...why would a Monster take this path instead of walking the tree line?...your guess would be as good as mine but in all my years I haven't ever found tracks in a disked or raked area...not one and I've looked many days and have disked and raked many areas where I knew there were Monsters...

6 ft stride...the Monster would have to be a minimum of 12 ft tall by my simple calulations...the foot would be in excess of 24 inches...by pictures the track appears to be 16 to 18 inches...simple math but hardly accurate...if the track is 16 inches the normal gait would be around 3 ft... + or -...the Monster would be around 8 ft tall...+ or -... the plus and minus would be inches not feet...

If the Monster, by taking long strides, was running, trotting or in a quick walk we would see the strike of the heel and toe push...what we see are flat tracks...Monsters don't walk around stomping their feet...they walk heel to toe when bipedal...

What is interesting...how did a hoaxer make six ft strides?...could the average person jump six feet with a piece of plywood on their feet?...maybe with some help...Wallace mastered this by being pulled by a pickup...here...maybe a four wheeler and a long rope...

The tracks are to symmetrical...the toes are small and unique in appearance...track impressions are completely flat...there is not any soil disturbance of heel or toe strikes...if I'm seeing the right left foot walk in the below photo there is a telling sign it's not Monster...Monsters step directly in front of their last step...the below impressions look offset...

IMO and without being able to look the tracks over closely...3/4 inch plywood...I do think the man was hoaxed...But I have been wrong on many occasions concerning Monsters...believe me when I say they are weird creatures...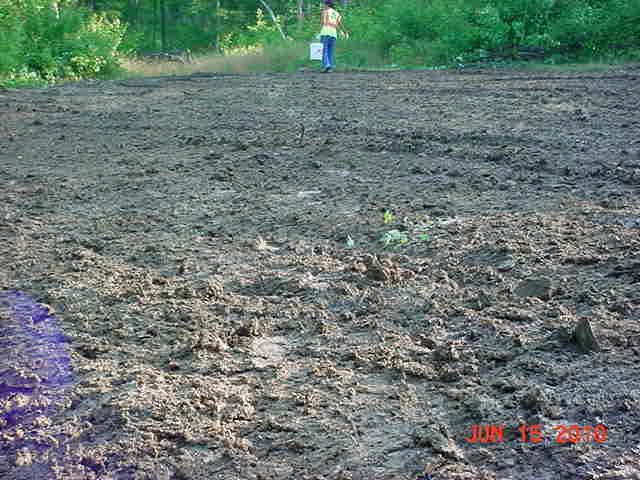 Posted on Mar 18, 2011, 9:07 AM
from IP address 199.27.130.178
Respond to this message
Goto Forum Home
Responses