The last two days' progress.
I now have all the body's horizontal surfaces (hood are, roof, trunk area) cleaned up an polished--basically everything except the body sides, which I expect will be easier. This is about four or five hours' work so far. Wednesday night I spent a solid hour working on the hood with fingernail polishing boards of the various grits while I watched American Idol, and last night did the same thing in the rear window and trunk areas. The rest of the time was in the body profile correction (see below) and then polishing the horizontal surfaces by hand with Weiman Silver Cream. It's not as smooth and shiny as one of my typical paint jobs, but considering what I started with, it'll pretty much "have to do."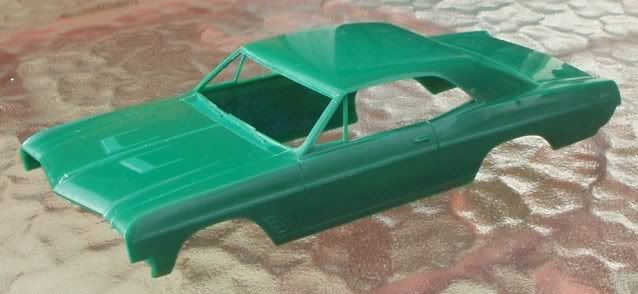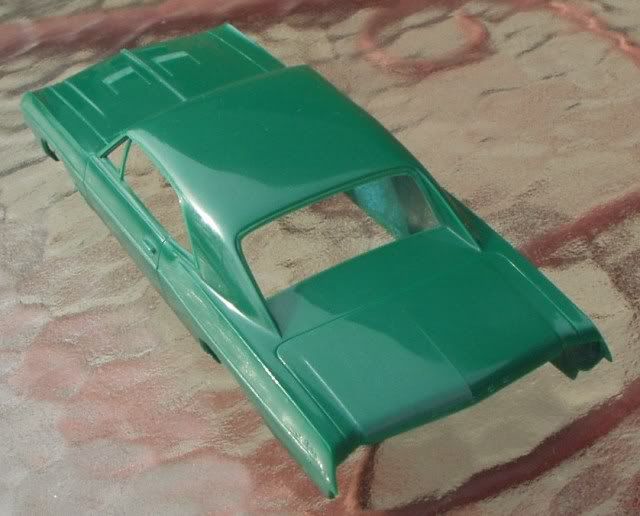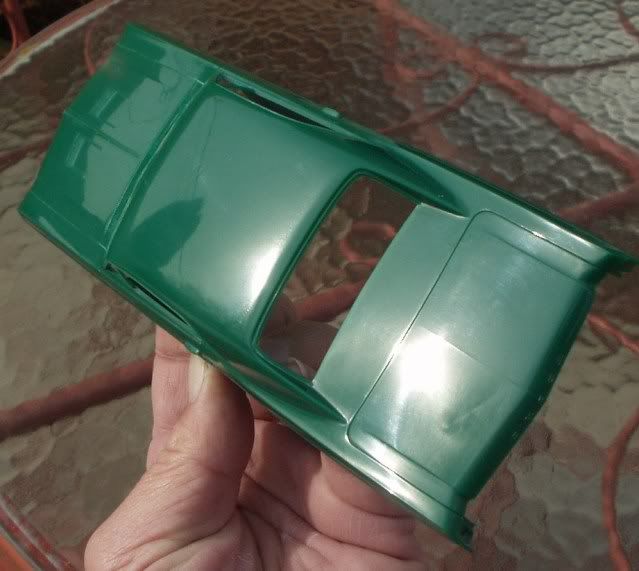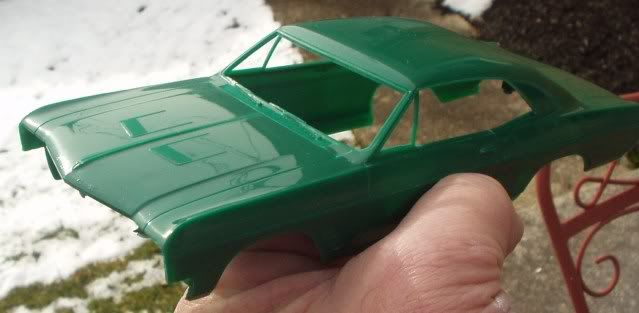 Spent the better part of an hour working on that left side profile issue with a rat-tail riffler file (wonderful tool for this!), and then fine sandpaper. Didn't get it quite to where it SHOULD be but I think this is about as far as I can go without screwing other stuff up. Dunno if the difference will show up in this pic, but it looks different and much better to me.
The chassis is now finished (with the exception of the wheels/tires, with somewhere between one and two hours work. Filed off the glue boogers, primed the frame with Krylon Sandable Primer, then shot it with Krylon Satin Black from rattlecans. Engine plate also primed, then shot with Walmart Color Place Red, then the flat area of the plate around the engine brushed black with Tamiya acrylic. On the chassis, I've given the exhaust system and gas tank a quick brushing of Testor Steel. This is all I'm gonna do to it.
Used V, wedge, and flat riffler files to remove glue and glue-damaged plastic from the front seats, then shot 'em with a light coat of primer to see how they looked. Not perfect but not horrible--think I'm gonna try to drive on and paint 'em white and use 'em.
Weiman Silver Creme is included in the photo just in case anyone wants to know what to look for at Walmart. Great stuff for polishing plastic and paint.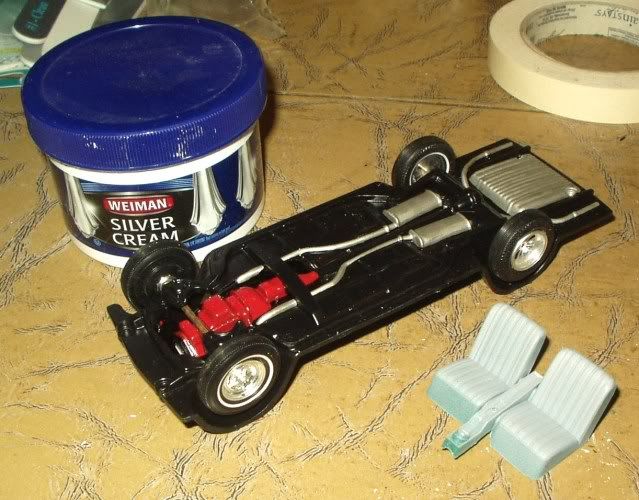 Steel cuts flesh. Steel cuts bone. Steel does not cut steel. --Stephen Hunter, The 47th Samurai.
We will march on a road of bones. --Hunter S. Thompson.
Sat Cong!