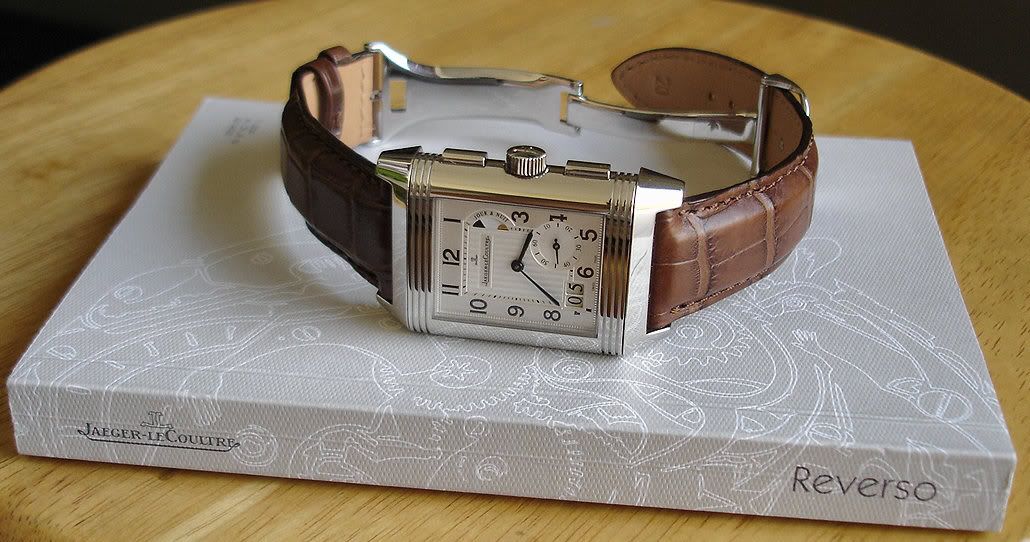 March 2005
INTRODUCTION
The flip side of a Reverso can be a space for engraving or for showing off the movement, but in my opinion the best utility for the flip side is to house a second face, especially a time telling face. This way you can have two different dial aesthetics (having a second time zone is a secondary benefit), almost like having two watches in one.
In that sense I was attracted to the Reverso Duo, but it didn't have enough "complexity". I later learnt about the Reverso Geographique, but that was beyond my budget (not to mention hard to find). For a while I despaired about not finding the perfect dual-faced Reverso for myself… then I read about the Grande GMT!
Talk about a feature packed watch! 8-day autonomy, power reserve indicator, GMT, big date, dual faces, night day indicator, etc. I had to see/try one and the first time I saw it I knew I had to have it.
CASE
No doubt the new XGT case is large, but not so large as to be uncomfortable to the eyes. I've certainly got used to it in the last few weeks and I think it looks fine on my 6.5" wrist. In fact, the normal GT case looks too "petite" now. If I had any issue it's that the height is a little thick at 12 mm. If it was 10 mm, the height would be perfect!
As it is, the watch will fit under some of my shirt cuffs, but not the tighter ones (oh well, during these times I'll just wear my RDM).
The case has a lot of polished surface area so it's a magnet for finger prints!
MOVEMENT
This is my first watch with a handwinding movement. In the past I avoided handwinds simply because I was too lazy to have to wind them every day or two (another reason why I avoided the Duo and Geographique). With the GMT I can stretch it to 8 days!
The winding is smooth, with a soft ratchety click. Takes me about 52-53 winds to power up the full 8 days (which I understand is very efficient). I was also pleased to know it has overwind protection (that was one of my fears about manual winding, that I'd accidentally overwind the watch).
Although the movement is officially labeled as 8 days, it's been said that it actually stores more than that. I decided to run down the watch fully just to see how much power it had, mine stopped after 9d 1h 6m. As for accuracy, here are the results of a recent timing test where the GMT is worn during the day and stored at night:
Day 1: -2 s
Day 2: -1 s
Day 3: +0 s
Day 4: +0 s
Day 5: +2 s
Day 6: +3 s
Day 7: +3 s
Day 8: +5 s
I'm happy with the results. For the curious people, I also timed the 9th day and it was -14 s.
OTHER THOUGHTS
I really like the reversing mechanism. Flipping the case I can feel the crispness and precision of the case and can appreciate the engineering behind it.
I prefer the night/day indicator on the Septantieme or Sun/Moon with the gradual transition against a bluish background. Looks more classic and classy.
I like the convenience of having the pushers to manipulate the GMT function. They have a nice and firm feel. The pushers also make the watch look "chrono-ish".
The watch fascinates my 4 year old son as I use it to show a "magic trick" - one moment white face, another moment black face.
CONCLUSION
Kudos to JLC for putting out such a wonderful watch. It's a watch I've been waiting for, for a long time - something that blends classic styling with technical excellence and comes with dual faces and many useful features. I'm so glad also that JLC makes their watches in SS and prices them reasonably (relatively speaking). Truly JLC is a gem in the industry!