I am so grateful I live in a town where having long beautiful hair at a much older age is common. It is wonderful, and most of these women are my age or much older... children of the sixties who mums had short bubble cuts. I just knew when I was 15 I would have long tresses even at an old age. Just like my Grandmother's Aunt Hope, she was a beautiful woman with a thick silvery braid that she wore in a bun... always. She never let go of her long hair even when her sisters cut and dyed their own and my Grandmother always kept hers short as well, and permed. What I don't know is if the other women in the family tried to persuade her to cut it. She was a stronger woman for not giving in to others' wishes, I think.
I have a picture of us, she with her long braided bun, and me with my long honey blonde hair, and between us all the shorties!
elvea rose
1c / ultra fine / i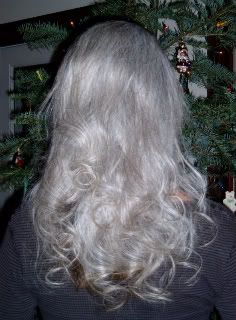 "...like the soft light of the moon,
silvering over the evening of life."
~a quote by Johann Paul Friedrich Richter
My hopes ~
Tresses to my hips and mock faerie-tale endings,
but what I need is a hefty dose of patience... and tyme!
And this is why...
June '07~ my last color enhancement treatment
March '09~ 23" all natural tresses
December '09~ 26" **first goal**
August '10 to May '11~ 28" **unwittingly kept there**
June '11 28 1/4"
Second goal... 30 inches
Third is 33 inches
Lastly... tb
A Loomie since May '04